This post is also available in: Hebrew
I feel like sometimes, I put too much focus on the mistakes I make and the frustrating things that happen to me. True, mistakes are frustrating, and when things don't turn out the way we want them to it sucks, but for some reason, my inner Pollyanna keeps trying to find the positive angle in every experience, I guess it is some kind of inner defense process.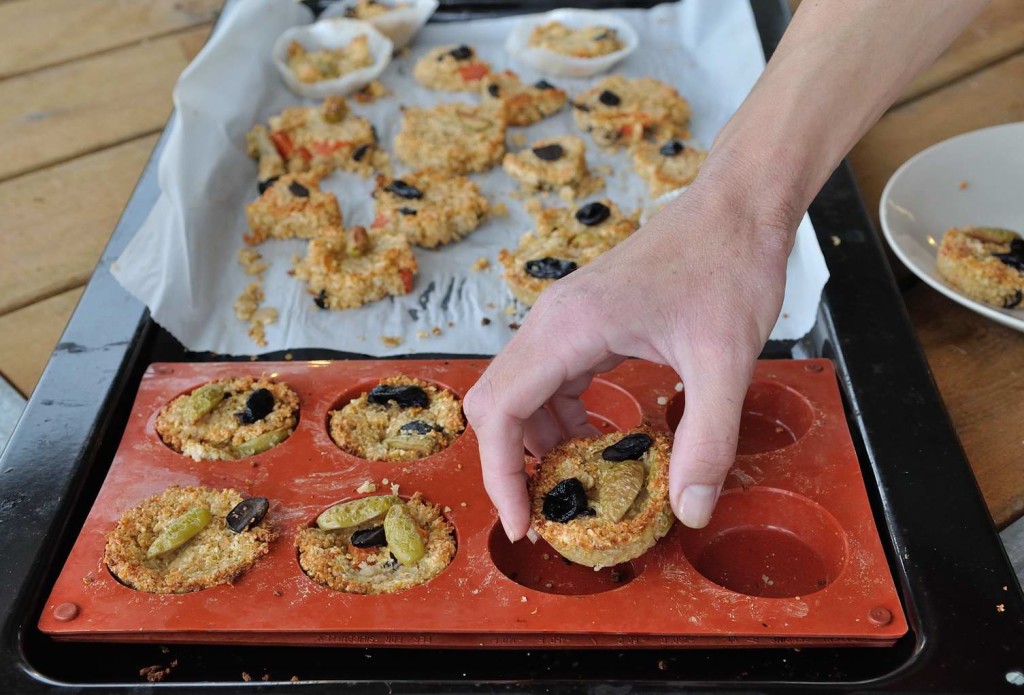 My first boyfriend, that broke up with me and at that time I thought I'd never find someone like him, well I was wrong (big time!), and lucky it happened actually or else I might have still be the spoiled girl who smokes cigarette after cigarette I used to be.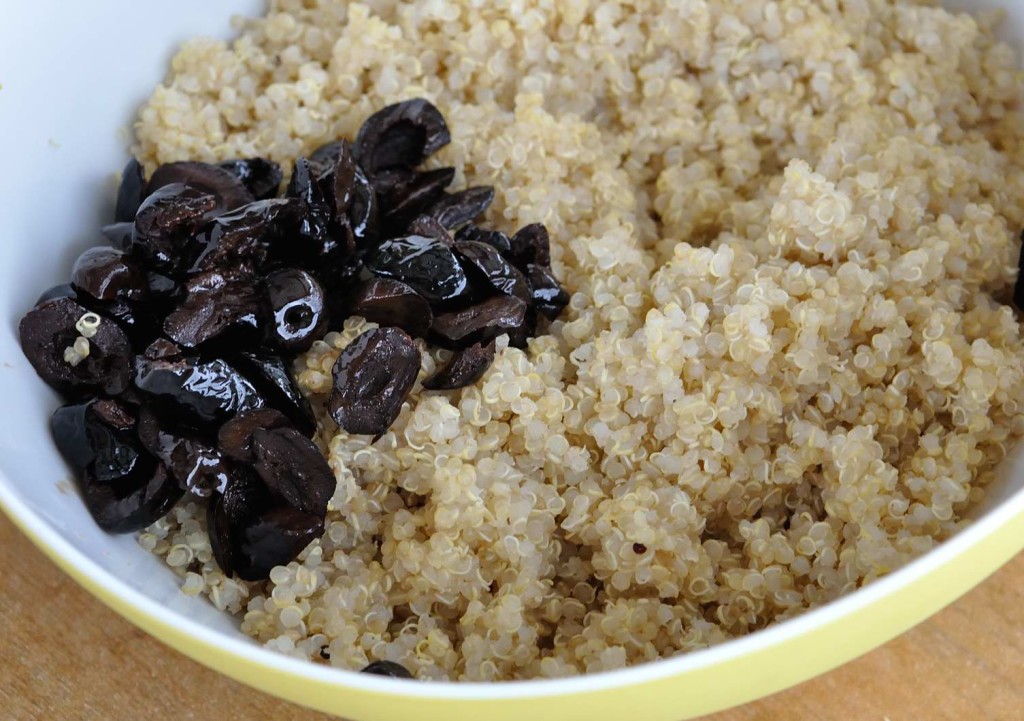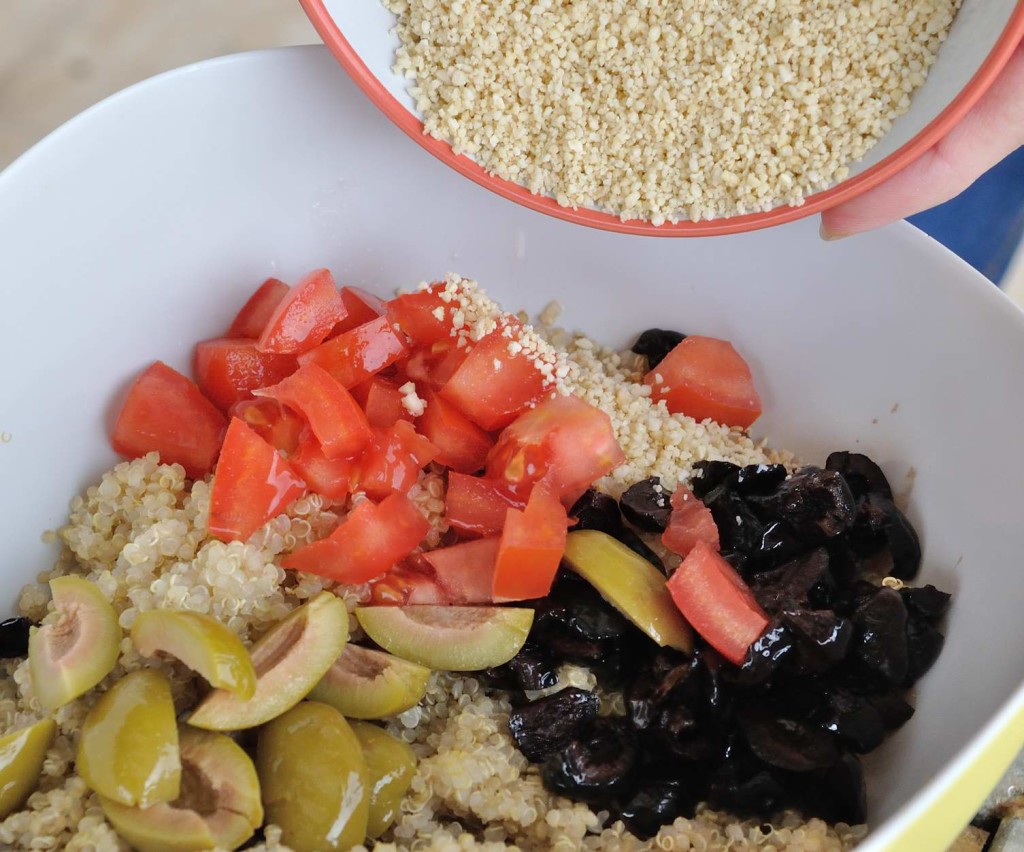 When I was working 2 waitressing jobs in parallel while studying at university, and did not get the job I was interviewing for at a high-tech company I really wanted to work for, well actually turned out good for me as the company I did get accepted to 2 years later is the one I am working for now and for the past 10 years, and where I met my husband and many of my closest friends.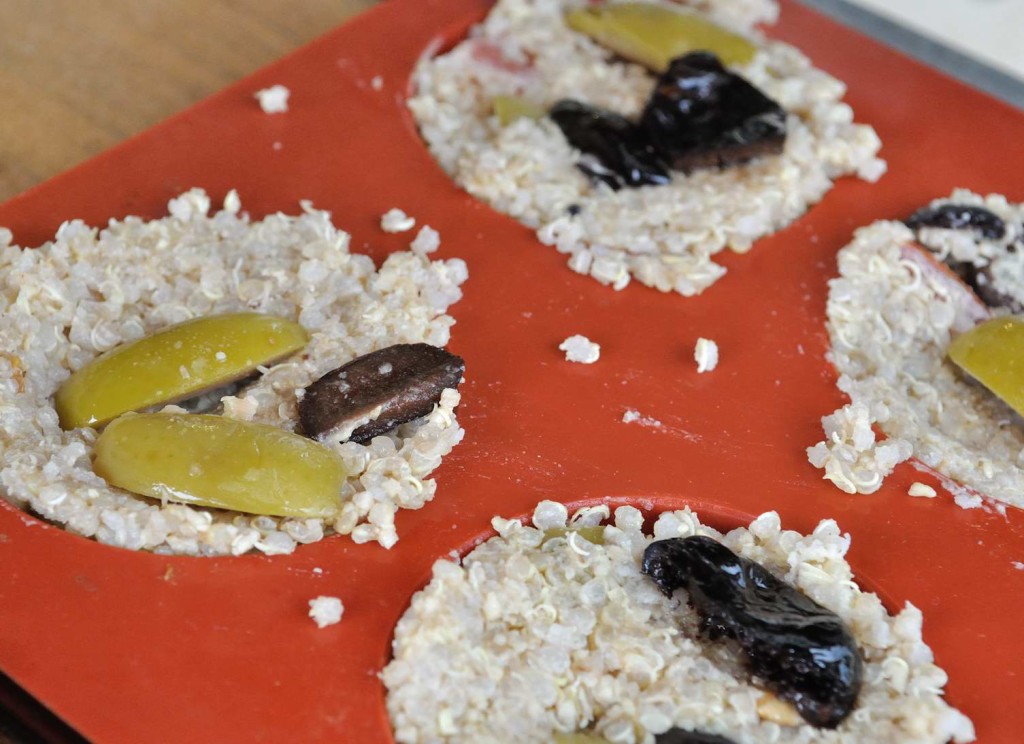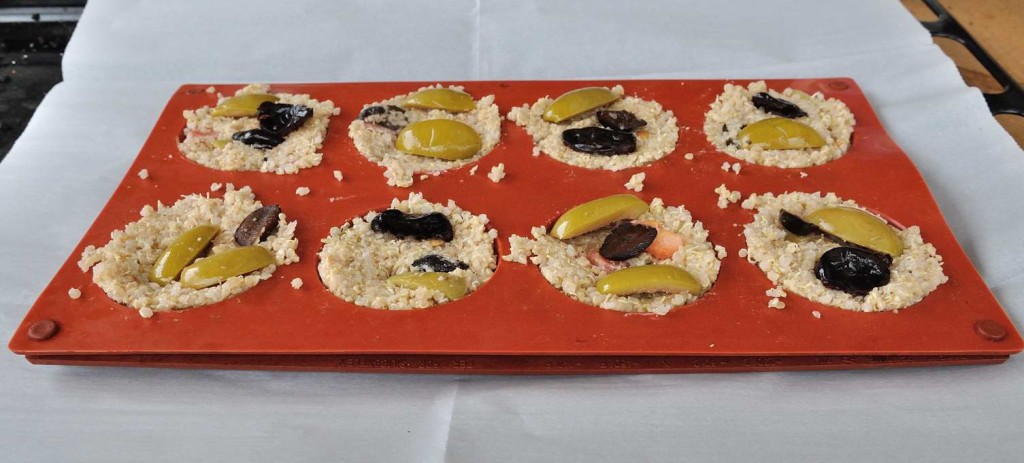 When we found out we need to pay huge amounts of money to the local bureau for a house we really wanted to buy and we had to withdraw our offer, we thought we'd never find a house that will suit us, well obviously we were wrong and we found an even better house.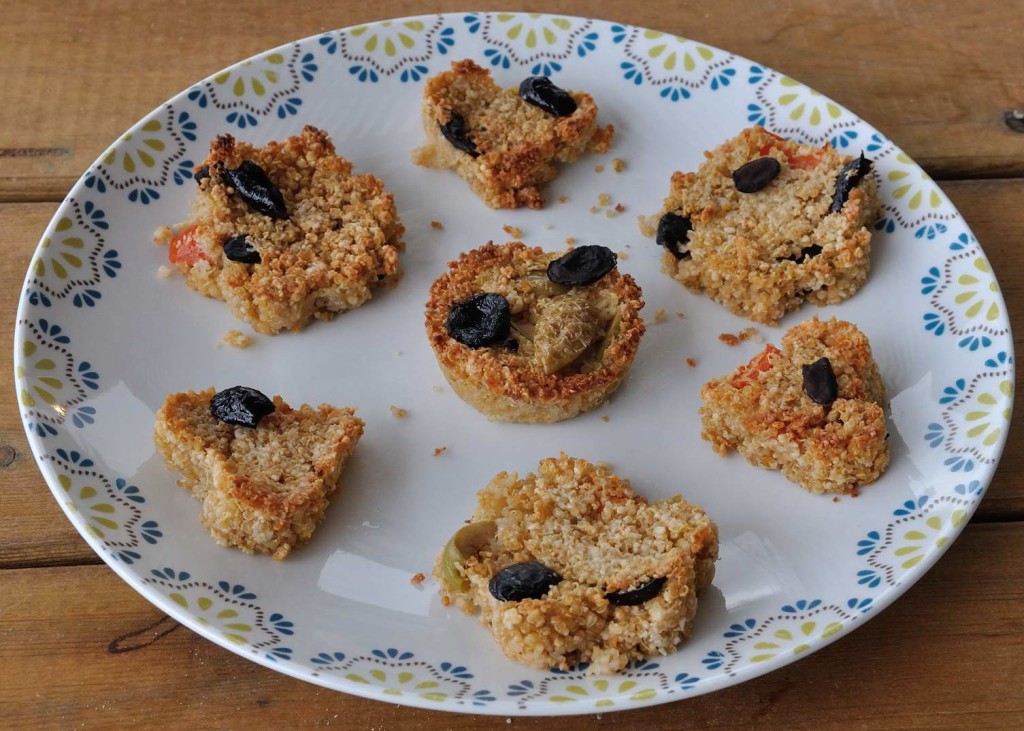 So it seems to me that its just the way it is, without using too much cliches, many times its true that the more haste the less speed, and it looks like change in plans and learning from our mistakes are actually a blessing, that somehow leads to better results, in a winding road that sometimes confuses us when we are walking on it, but if we can imagine we watch it from a bird's view we can see the big picture better (or at least that's what I try to remind myself in such moments).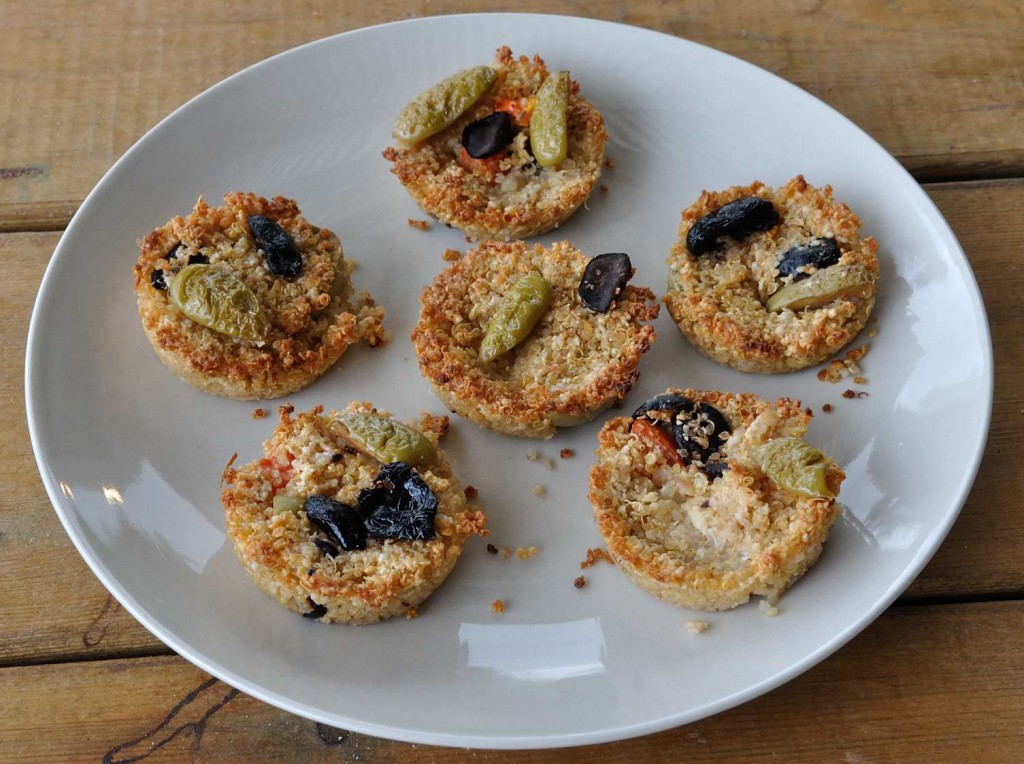 These quinoa bites, started as a failed quinoa salad, that turned out too moist and not inviting at all (which made me upset obviously), so I turned it to quinoa cakes, that I found nice but not amazing, but then my toddler ate them with pleasure (which is a huge deal here, mind you), so I decided to upgrade them some more, and turn the salad failure into baked quinoa cakes success.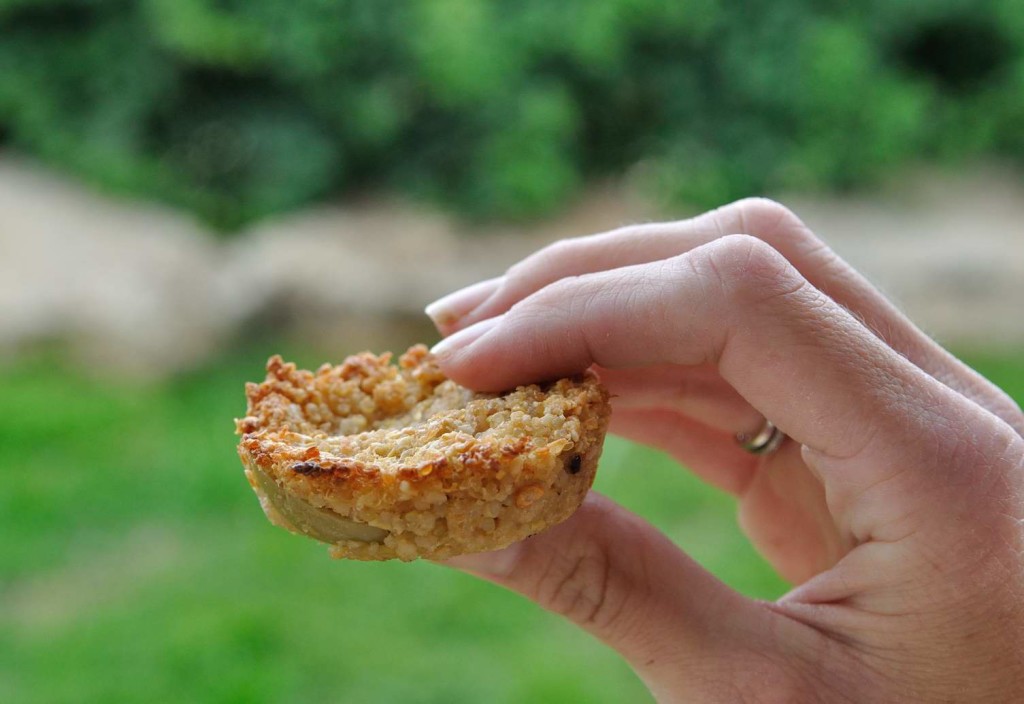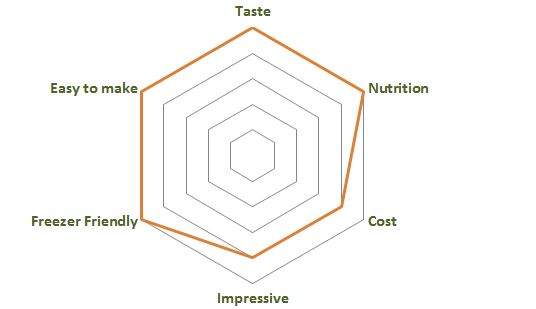 Baked quinoa cakes
Delicious quinoa cakes, great as toddler "finger food" or a side dish for anyone.
Ingredients
1 cup dry quinoa
150 g cashews (about 1 cup)
½ tomato, cubed
2 table spoons almond butter
1 table spoon balsamic vinegar
about 20 olives, sliced
1 tea spoon salt
Instructions
Cook the quinoa like pasta: bring a big pot with salt to a boil, add the quinoa, and cook until it is ready (it should take about 20 minutes, you can taste 1 tea spoon after about 15 minutes to check. You'll also notice the germ of the quinoa kernels becomes almost transparent when the quinoa is ready).
Grind the cashews to flour using a herb/coffee grinder or a food processor.
Drain the quinoa (note not to rinse it in water after it is cooked to keep is sticky), and mix in a bowl with the cashew flour, tomato cubes, almond butter, balsamic vinegar, salt, and half of the olives slices. Mix well, while pressing down the quinoa with the table spoon to help it become stickier.
Fill up mini muffin molds with the mixture, pressing it into the molds using the back of a table spoon, to make sure it is packed. Place the rest of the olives slices on the quinoa cakes tops, and bake in an oven pre-heated to 180C for about 25 minutes (until the tops start to brown and the inside is still softer).
Tips: * If you don't have mini muffin molds, use standard muffins, but do not fill the molds completely, rather up to 2 table spoons in each mold. * If you cook the quinoa in vegetables broth, it will take it to the next level, taste wise!
P.S.
If you liked this and want to be updated with new recipes, Like VeganHightechMom on Facebook or register to get updates via email (This is mostly recommended as it is the only way to ensure you'll receive the recipes. And check your spam or "Promotions" tabs, as these email might end up there sometimes).
Moran