This post is also available in: Hebrew
Let's talk about granola for a minute.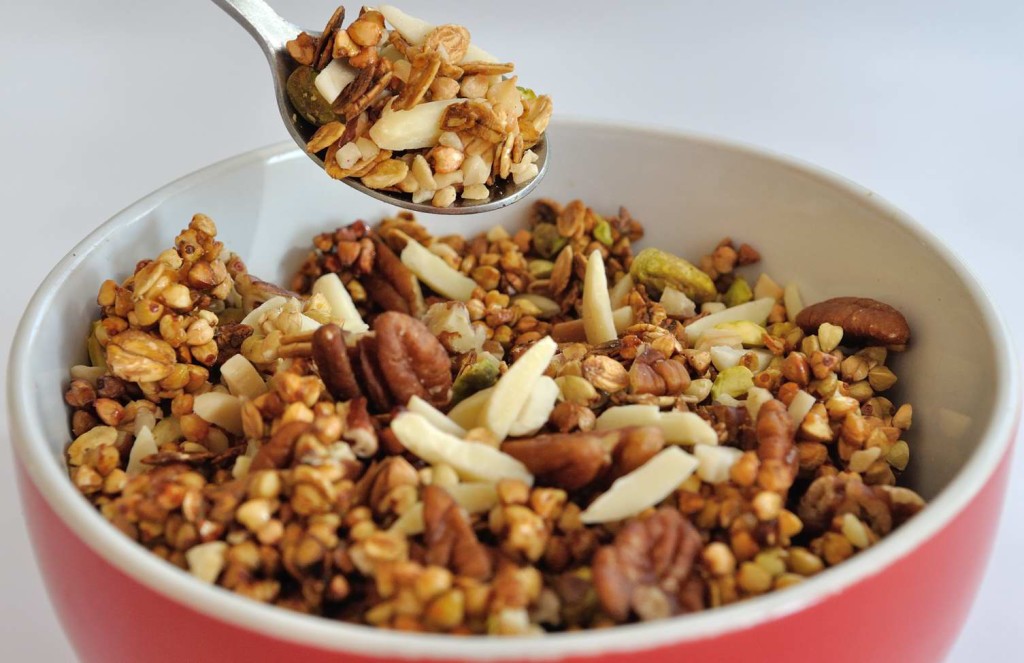 I'm crazy about granola, totally nuts, I can eat so much of it, it has always been this way, and why wouldn't it be actually? It's crunchy, sweet, you can put pretty much anything in it, and it even enjoys great publicity as a wellness product. Well here I have a small issue, with the store bought ones: if you take a look at the granola section in your local store next time you are there, a quick check on the back of most of them and you'll find they usually contain loads of added sugars, sometimes butter, and what not. But really, forgive me granola manufacturers, there's just no reason to get store bought granola. and this is not just a slogan, home made granola really sums up to putting some ingredients into a bowl, mix with your desired sweetener, and send to the oven. That's it, no catch.
I also wanted to share, that granola doesn't have to be based solely on oatmeal, rather, buckwheat can also be a great base for granola.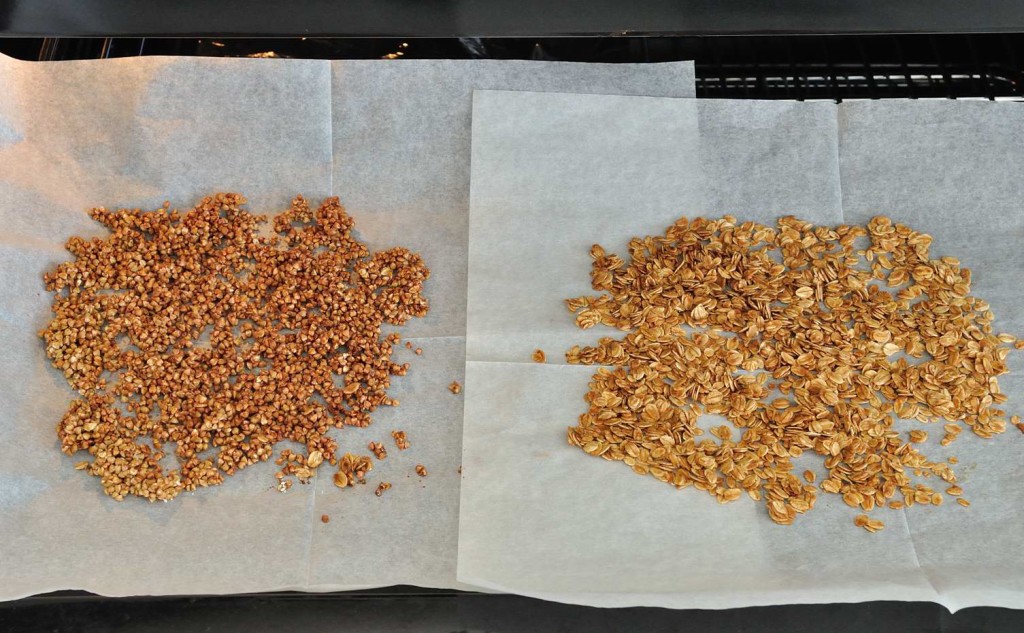 Now one second all you buckwheat haters, before you turn your head in disgust, i am not referring to the brown baked buckwheat, rather the green one, which is the natural one, and it is not being cooked either, so this granola is nothing like the cooked buckwheat you may know and don't like. The green buckwheat groats, when they are covered with maple syrup and get baked in the oven, turn crunchy and totally tasty, and adds texture and taste to the granola. You could also use sprouted buckwheat groats here.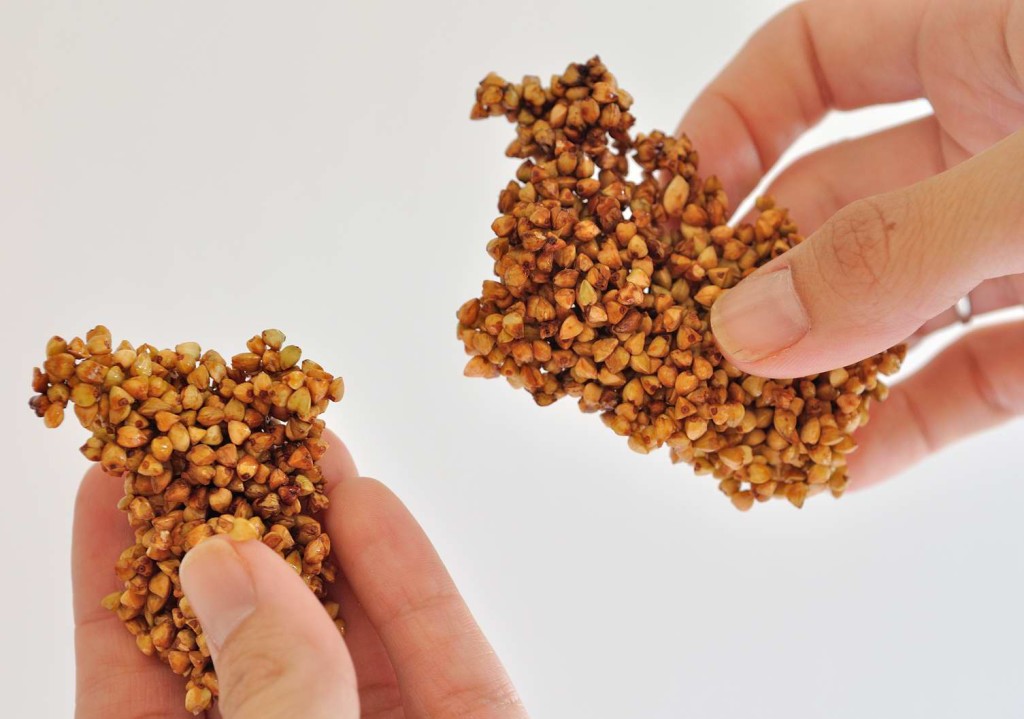 What else can you add to this party? Any nut of your choice actually: walnuts, pecans, pistachios, cashews, macademias, hazelnuts, brazil nuts, peanuts, sesame and more.. You could bake them along with the oats and the buckwheat, but there are claims that it hurts their nutritional values, so I tend to add the nuts (cut thinly) after the oats and buckwheat are ready.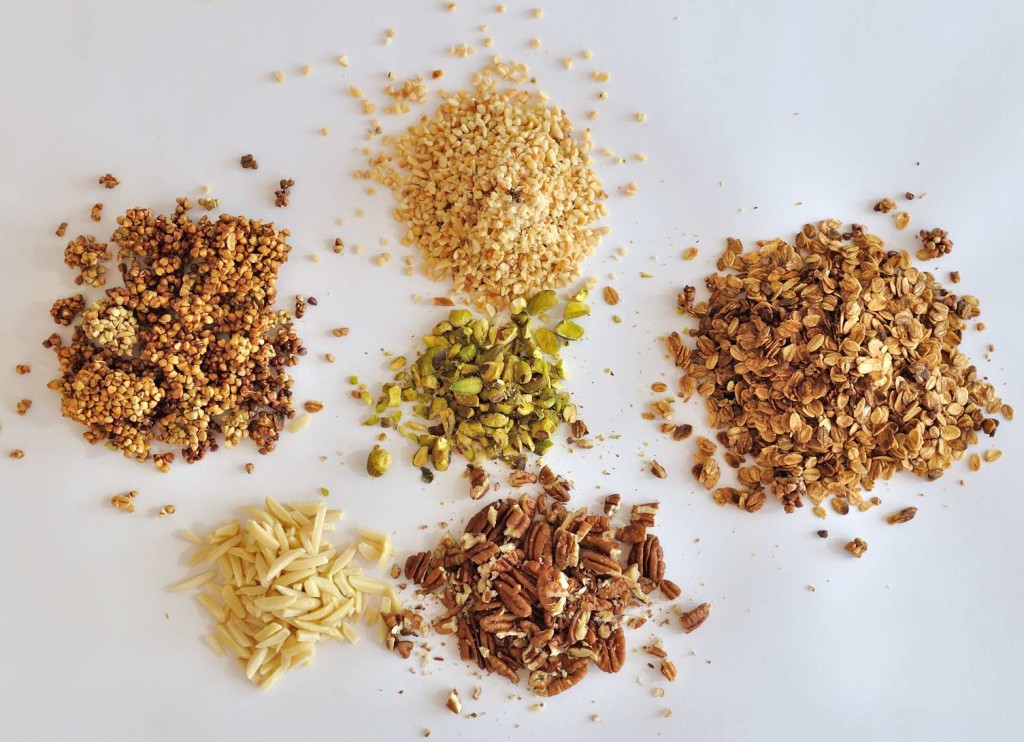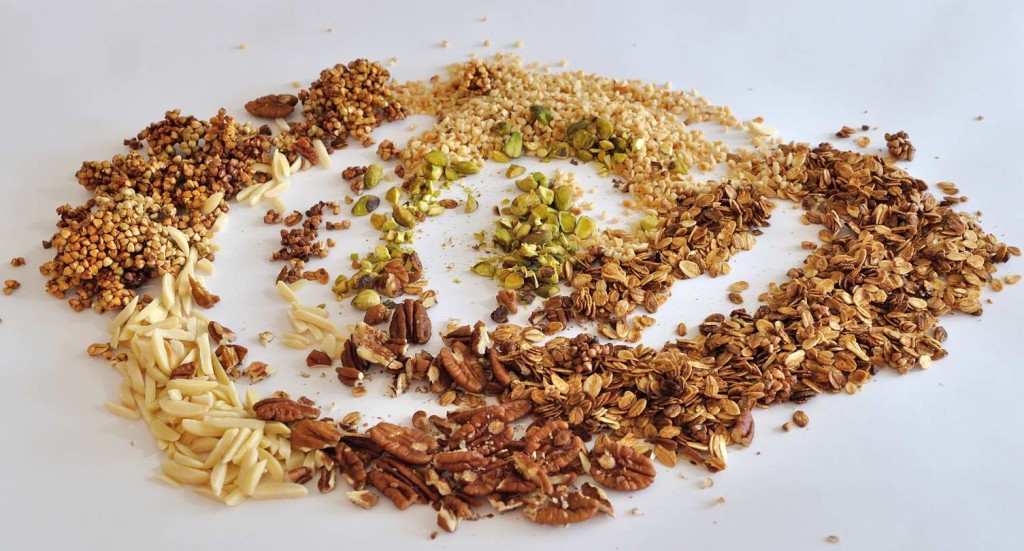 What do I use for sweetening? Pure maple syrup if I feel like spoiling myself, or pure apple concentrate if I feel like I want to be cheap on calories plus spread some wonderful apple cake flavors all around the house. Either way we are talking about one or two table spoons of sweetener to every half a cup of grain, so it doesn't really matter..
What can you eat it with? Whatever you like: with yogurt (soy, almond, homemade, etc.), in an acai bowl (try to blend acai with banana and add the granola, superb!), just like that out of the box (while hiding, say if you are my husband 🙂 ), or, the way I like it the most lately, is to put it in a bowl, add one table spoon of almond paste, one tea spoon of cocoa powder, and one tea spoon of maple syrup, and mix thoroughly. It produces a chocolaty spread and it is so good together.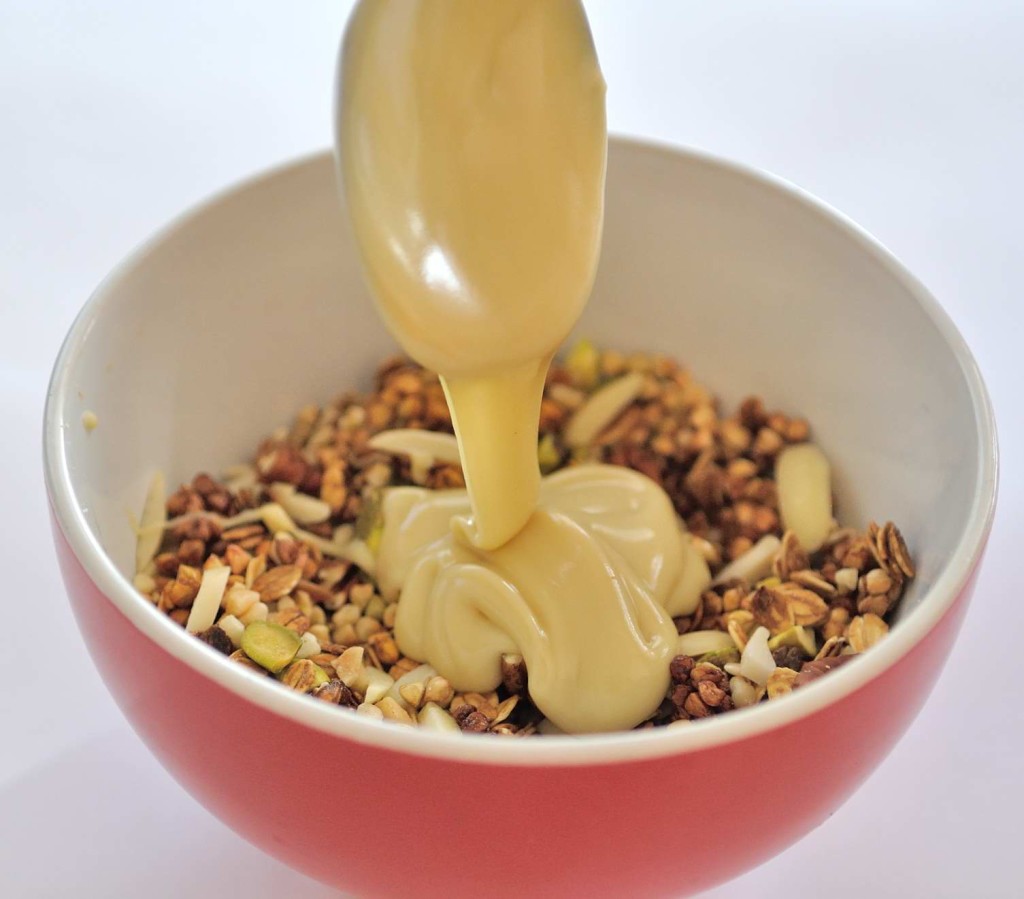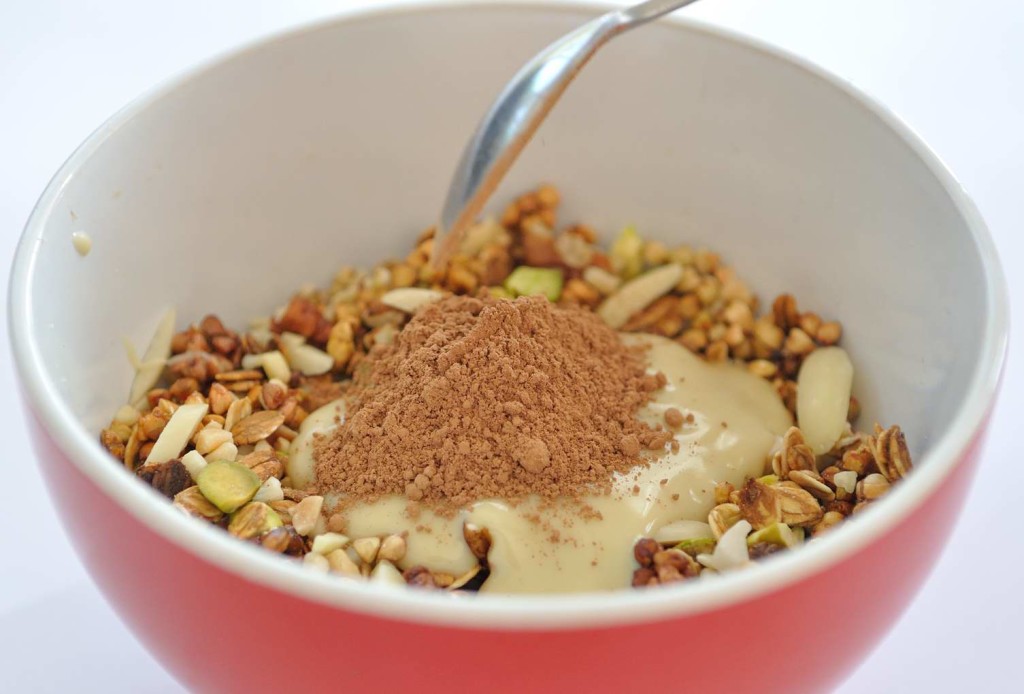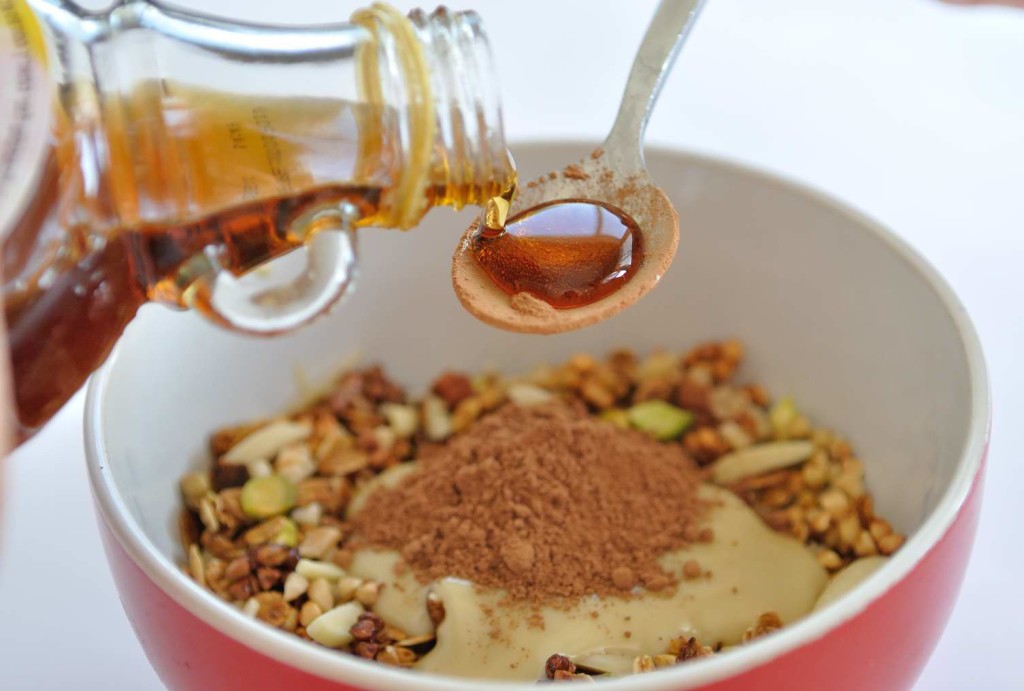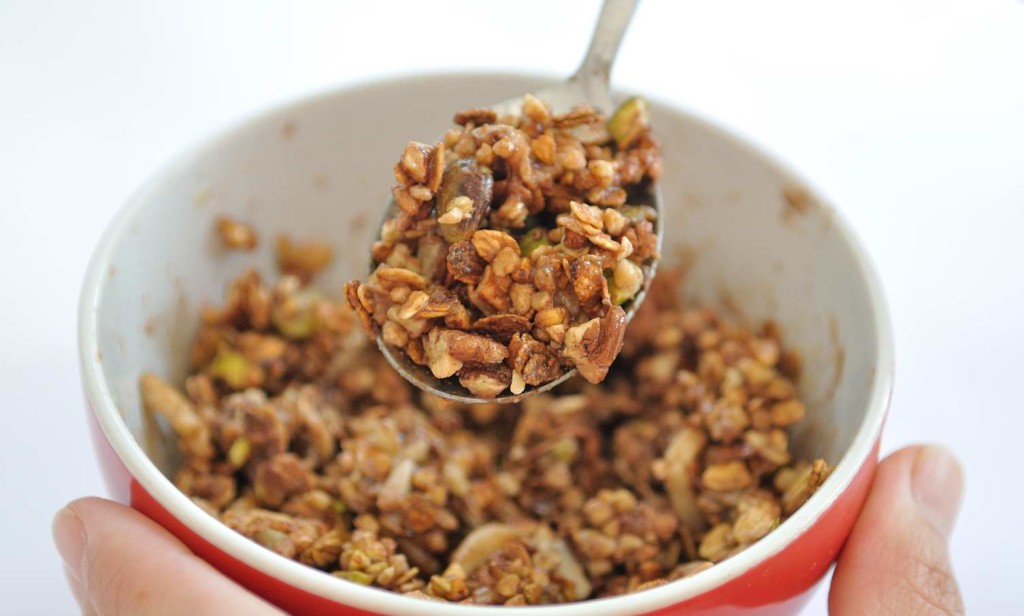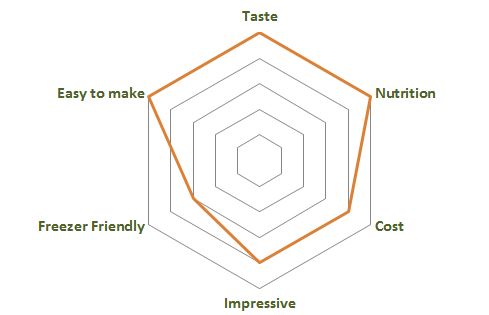 Buckwheat (and some more) Granola
Simple to make homemade granola, with minimum efforts and contains no un-needed add-ons. Combines raw buckwheat groats and more!
Ingredients
½ cup rolled oats
½ cup raw buckwheat groats
3 table spoons pure maple syrup or pure apple concentrate
Pinch of salt
Optional: all the nuts, seeds, and dried fruit you like
Instructions
Place all ingredients in a bowl and mix thoroughly until all the oats and groats are well covered with the sweetener (I add the nuts and seeds only after the oats and groats are already baked, but you could also bake them if you wish. The dried fruit on the other hand, should be added without heating anyway).
Spread on a baking sheet as thinly as possible (in one layer), and place in a an oven pre-warmed to 180 C for about 20 minutes. Open the oven door from time to tome and mix the granola so that it bakes evenly. It could take a bit more than 20 minutes, depending on your oven, and on how crunchy you like your granola (take some out, taste, and decide if it need some more time or not). *Read the post for some interesting serving suggestions.
P.S.
If you liked this and want to be updated with new recipes, Like VeganHightechMom on Facebook or register to get updates via email (This is mostly recommended as it is the only way to ensure you'll receive the recipes. And check your spam or "Promotions" tabs, as these email might end up there sometimes).
Moran