This post is also available in: Hebrew
I used to think that making gnocchi is complicated and burdensome and that it implies flour everywhere. After making these gnocchi 5 times in a row on the same day (wanted to check a few versions of them in order to make them just perfect for you, to try and create the gnocchi known stripes without having the special equipment, an idea I gave up BTW, to check how they turn out after freezing them, etc.), my conclusion that it is not complicated at all, and not even that burdening, however it does mean flour everywhere and you need to be willing to get your hands dirty.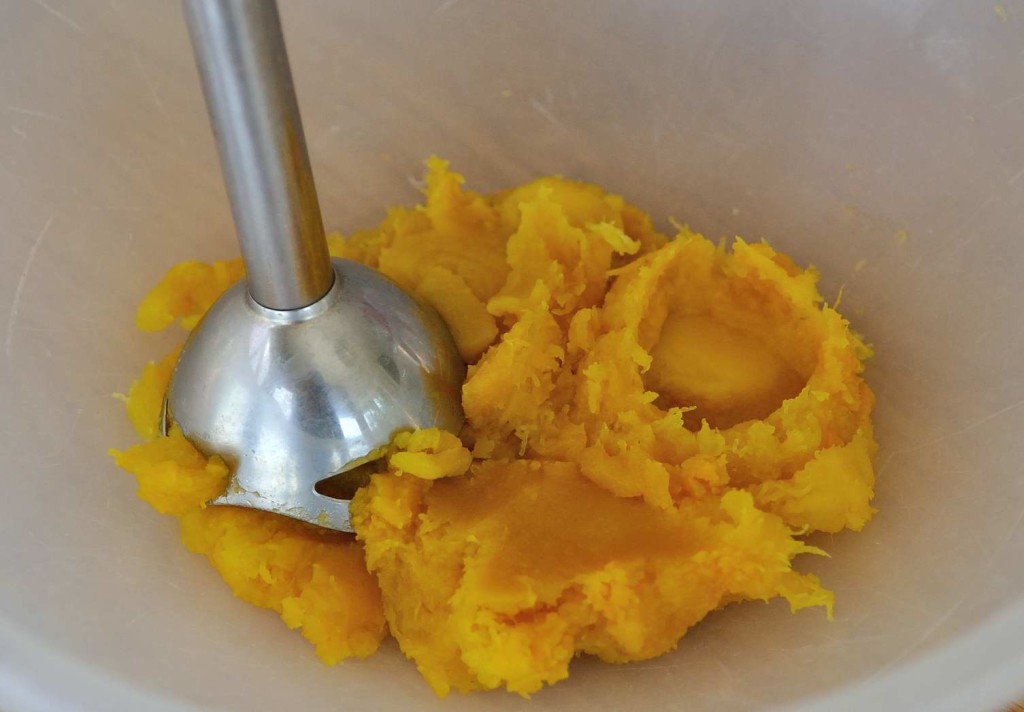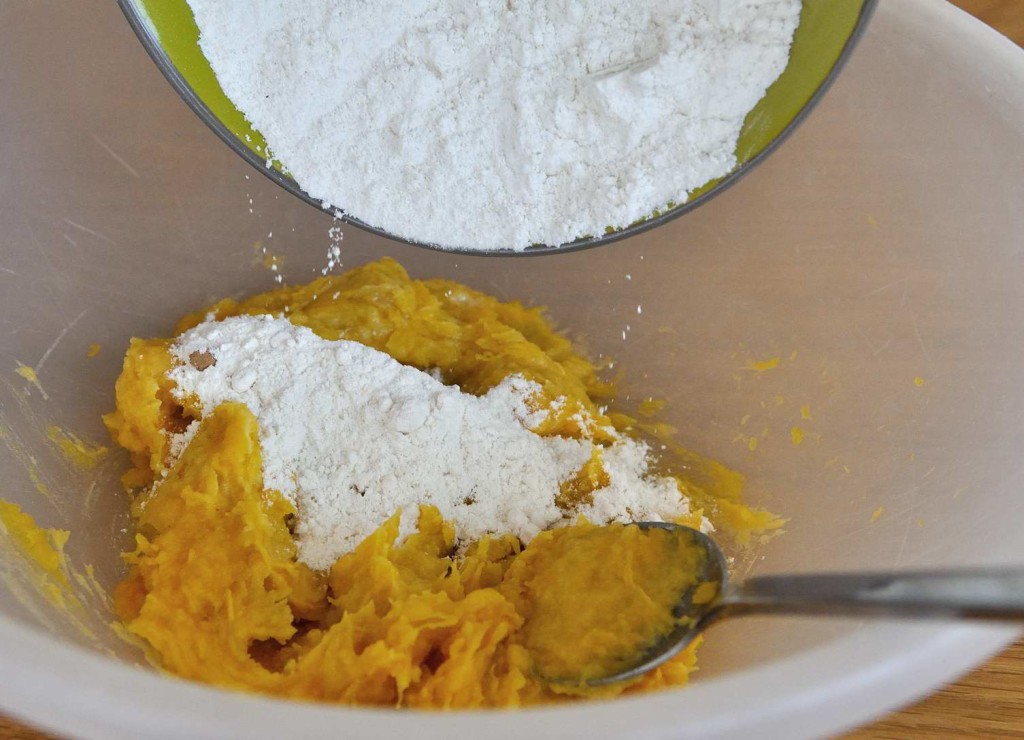 I started exploring these gnocchi for my vegan Rosh-Hashana special, however I fell in love with them (acorn squash is just so tasty, you have to stop yourself from not eating all of it with a spoon when it comes out of the oven), and ever since when I make them I simply make a big batch and freeze most of it, and then they are ready in the freezer for a quick dinner (only require about 2 minutes of cooking then another few minutes in the pan) .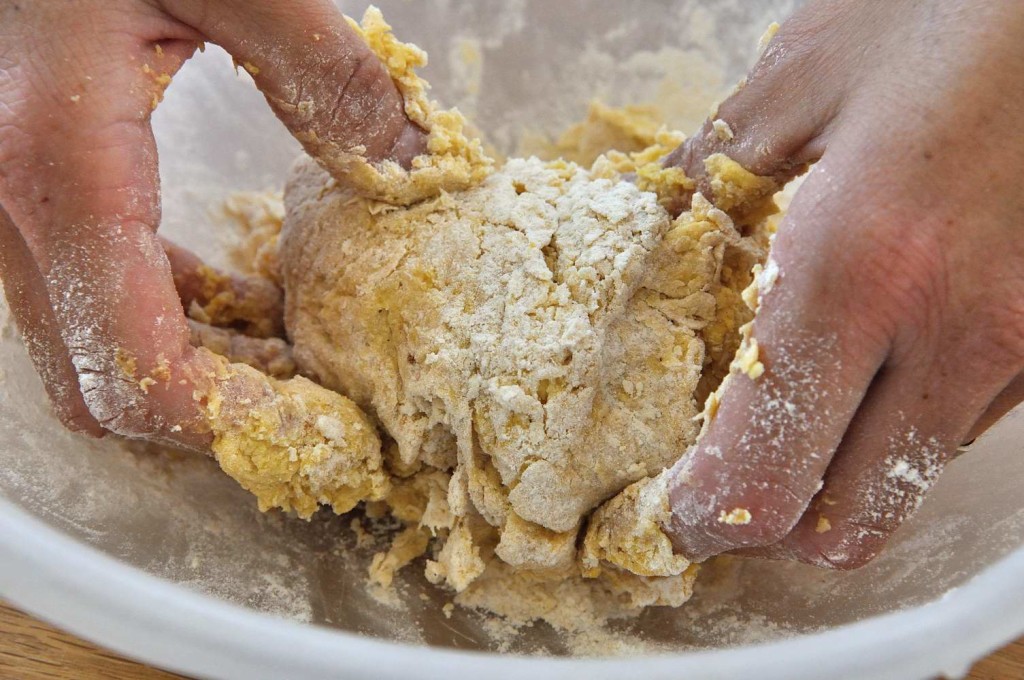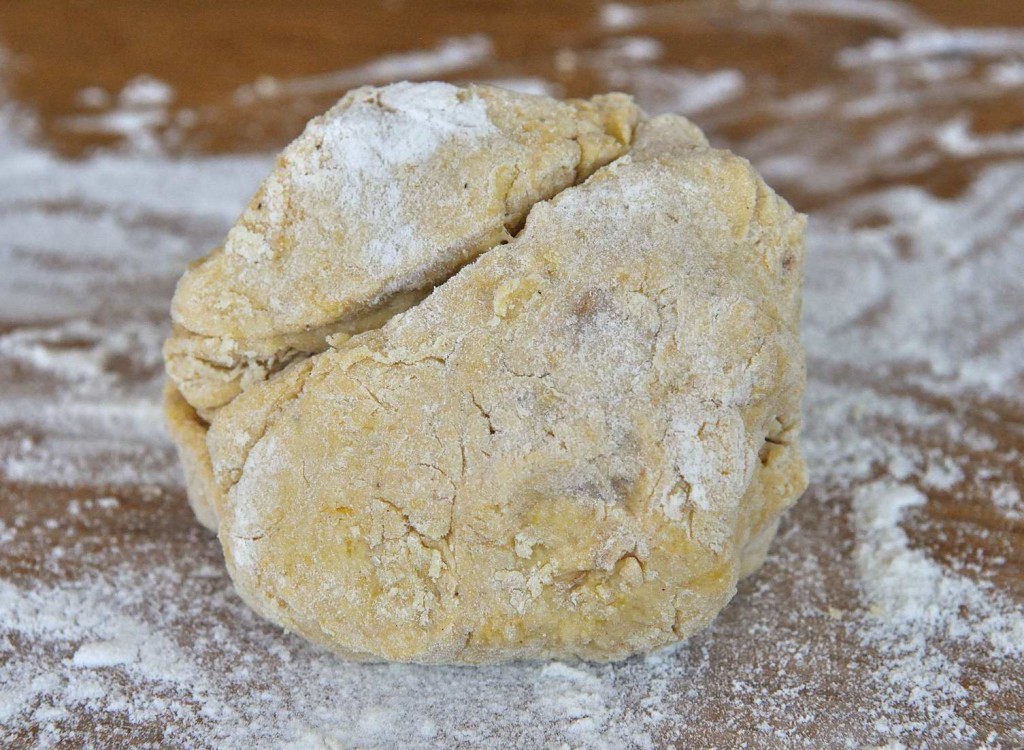 Based on the gnocchi recipe from here (Hebrew).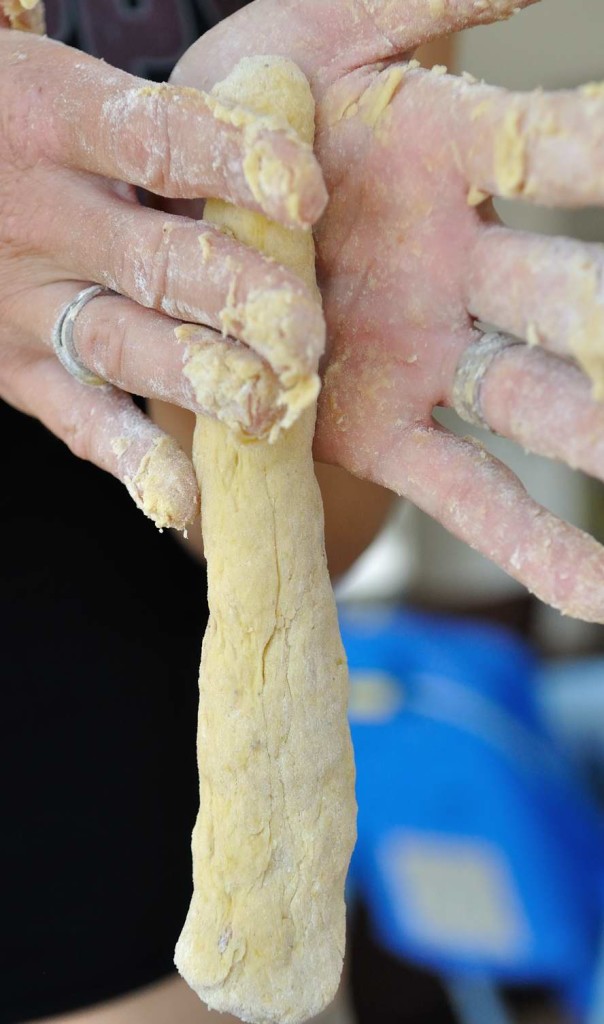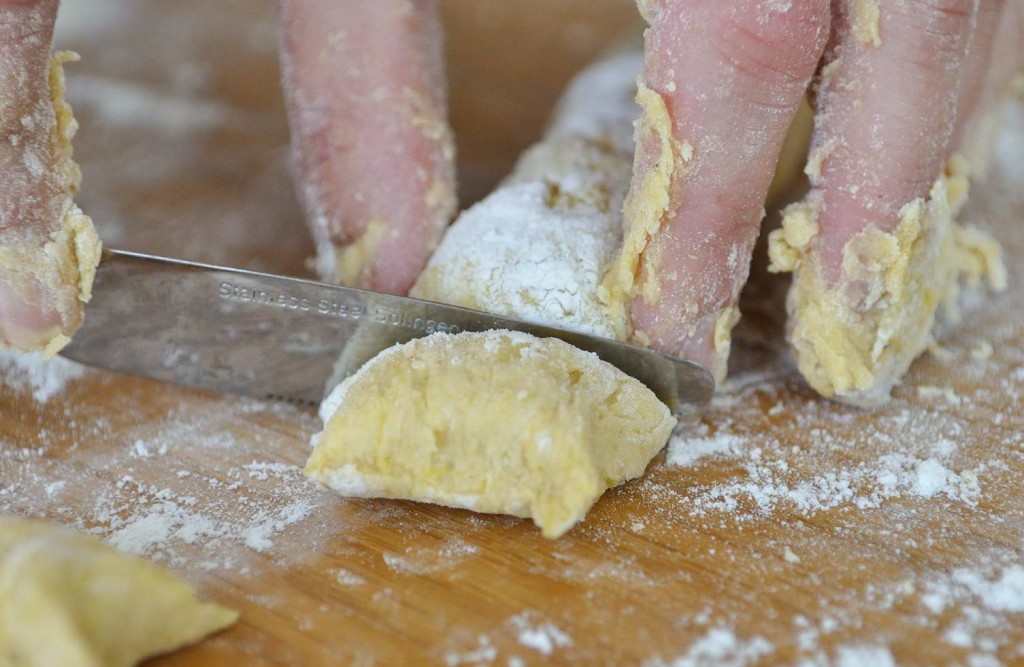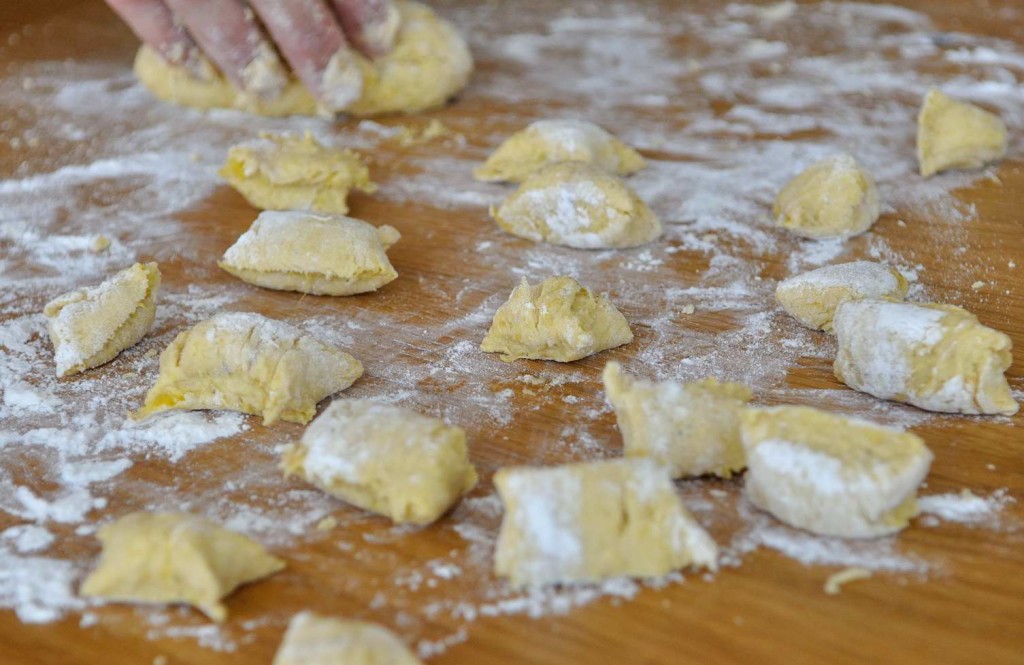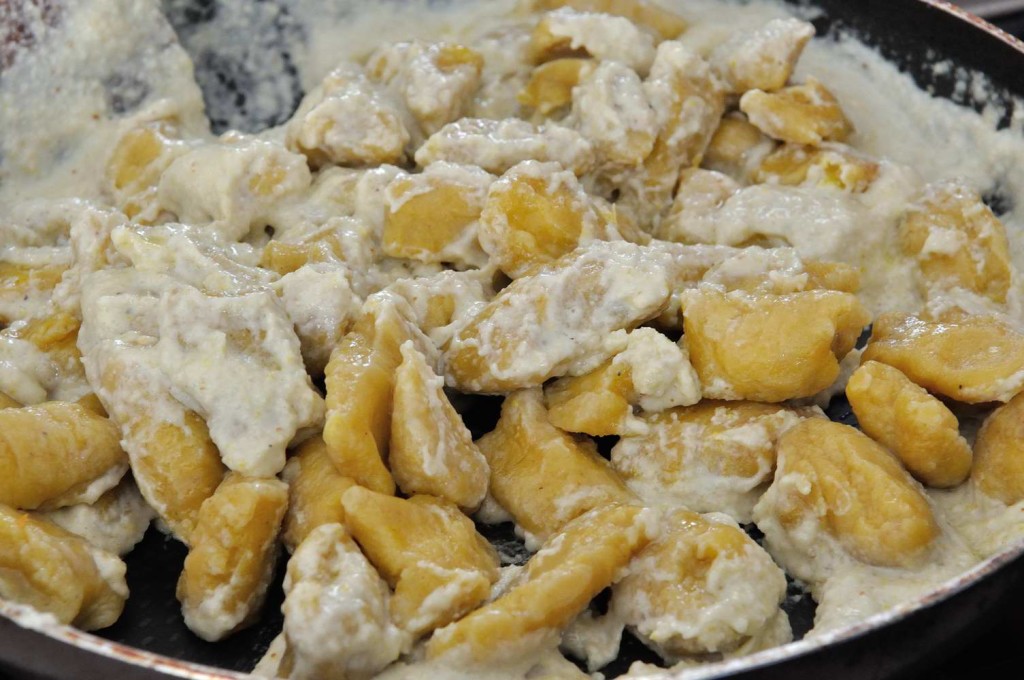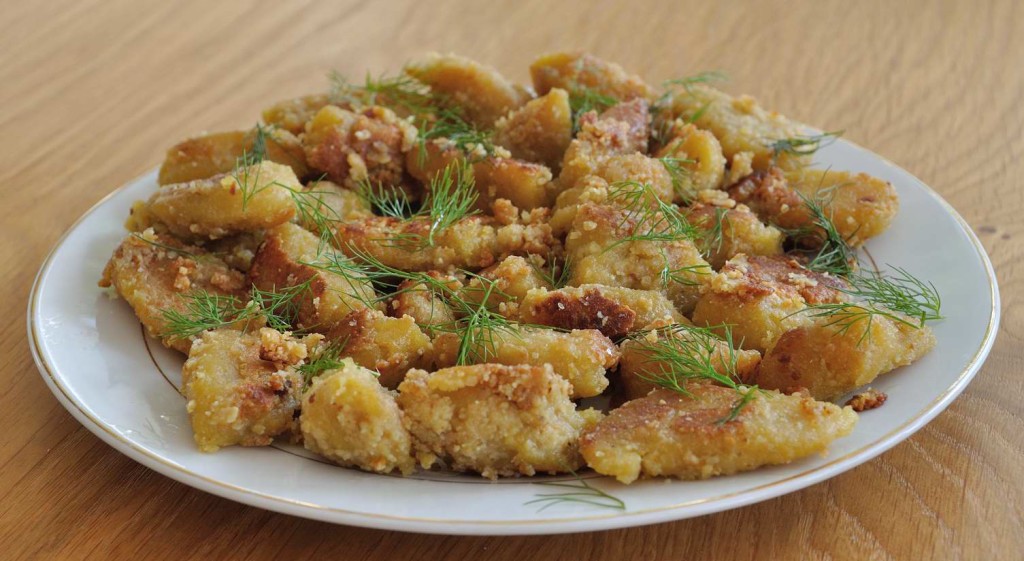 This recipe is part of a special vegan Rosh Hashana dinner menu I made Along with a blogger friend, so if you are interested in Almond Lentils patties, hemp seed tabouli, 3 color peppers quiche and more, hop on here for the full dinner menu and recipes.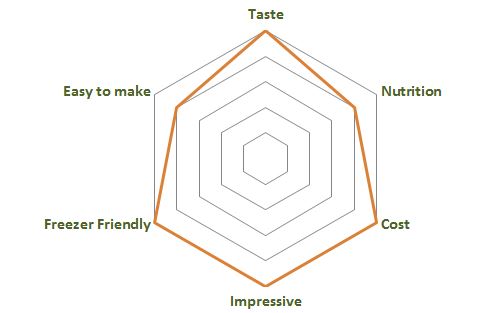 Acorn squash gnocchi with roasted garlic and sunflower seeds aioli
Easy yet impressive dish, acorn squash gnocchi, with sunflower seeds vegan aioli
Ingredients
For the gnocchi:
2 medium acorn squash
1 cup white flour
1 table spoon almond paste (optional)
1 tea spoon salt
½ tea spoon nutmeg
For the aioli:
1 whole garlic head
¼ cup sunflower seeds
¼ cup olive oil
¼ cup water
2 table spoons rice vinegar
2 table spoons mirin
1 tea spoon mustard
½ tea spoon salt
Instructions
Wrap the acorn squash with aluminium foil and bake at 200 C degrees for about 30 minutes, until they are soft enough (check whether a fork goes through them easily).
Place the garlic in the oven (whole, as is) along with the acorn squash. The garlic will be soft and ready much faster than the butternut squash, check it using a toothpick after about 15 minutes.
Prepare the aioli: After the garlic is soft enough and has cooled, cut the skin slightly around each clove and use your fingers to squeeze the roasted garlic cloves out of their skins.
Place all the aioli ingredients in a jar except for the olive oil. Puree with a hand blender and drizzle the olive oil as you do. Keep aside until the gnocchi are ready.
When the acorn squash is cool enough for touching, cut it to half and remove the seeds. Using a tea spoon, remove all the acorn squash insides to a bowl (this recipe calls for ¾ cups tightly full of acorn squash, if you have extra eat as is or keep in the fridge for another recipe).
Puree the acorn squash with a hand blender until smooth (optional but does make it much smoother and easier for handling). Mix in a table spoon of almond paste.
In a second bowl mix the flour (1 cup), salt (1 tea spoon) and nutmeg (1/2 tea spoon), and combine with the acorn squash puree.
Mix using your hands (yes, it is sticky and messy) and create a sticky ball of dough. Divide to 3 smaller balls.
Take one ball, place flour on your hands, and create a long roll with your hands (see picture above).
Flour your working surface and place the roll on the table. Flour a knife and cut every 2 cm to create the gnocchi. If it gets too sticky flour your hands and the knife again.
Repeat with the rest of the dough.
Now you can choose to freeze the gnocchi. If you chose to proceed:
Boil water in a medium pot, when it is boiling add a tea spoon of salt.
Place the gnocchi in the boiling water (would have to do this in a few batches), and wait for a minute or two, the gnocchi is ready when it starts to float. Take each gnocchi out of the pot as it is ready and keep aside. Drizzle some olive oil on the gnocchi that are waiting aside to keep them from sticking to each other (or use one or 2 table spoons of the aioli for that).
When you are done with all the gnocchi, warm a pan with the aioli in it, after the aioli starts to reduce (2-3 minutes) add the gnocchi, and keep frying while occasionally stirring, about 5 minutes, until the aioli has thickened and the gnocchi has browned.
Note: if you are cooking the gnocchi after they were frozen, and you also pre-made the aioli, add some water to the aioli to thin it, as it will thicken in the fridge.
P.S.
If you likes this and want to be updated with new recipes, Like VeganHightechMom on Facebook or register to get updates via email (up on the right of the page).
Moran