This post is also available in: Hebrew
Before I knew my husband, gazpacho was the only chilled soup I knew existed. And I was never a big fan of chilled soups in the first place. But in his family, Svekolnik soup, which is the Russian name for chilled beet soup, is a big thing. They all grew up eating it, and where we live the summers are extremely hot, which makes them prepare this chilled soup even more frequently. No wonder I guess, as it is so simple to make, tasty, calls for cheap ingredients, healthy, and suits a warm summer day perfectly.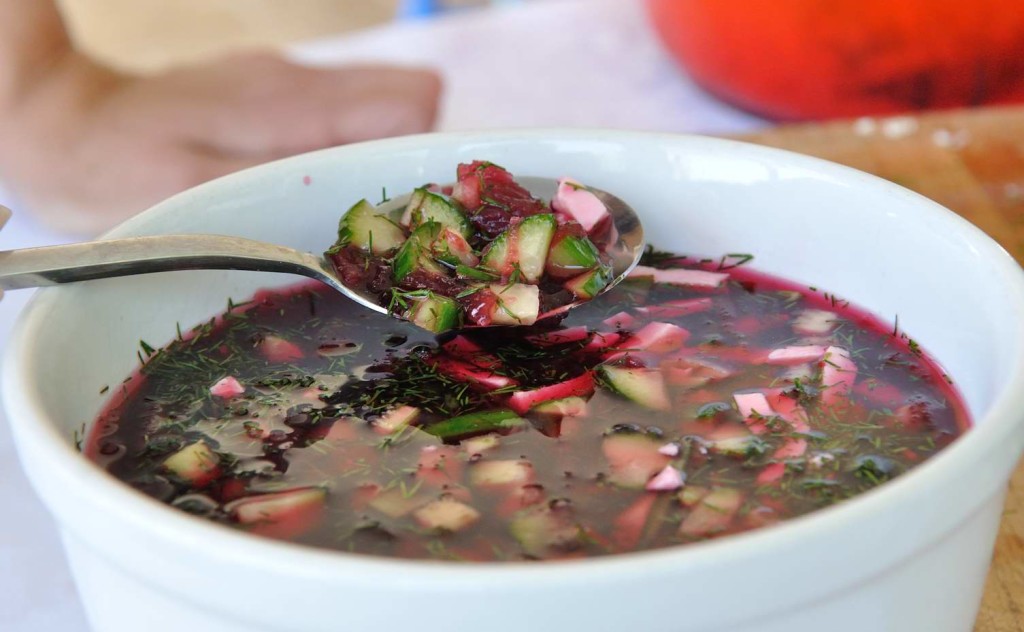 Truth is, my husband likes this soup so much, that I was kind of intimidated to try and "veganize" it, as you should never mess between a man and his favorite mom's dish :). But it is such a simple and tasty recipe, that it would be a shame if I don't share the recipe plus the "veganizing" process with you guys here.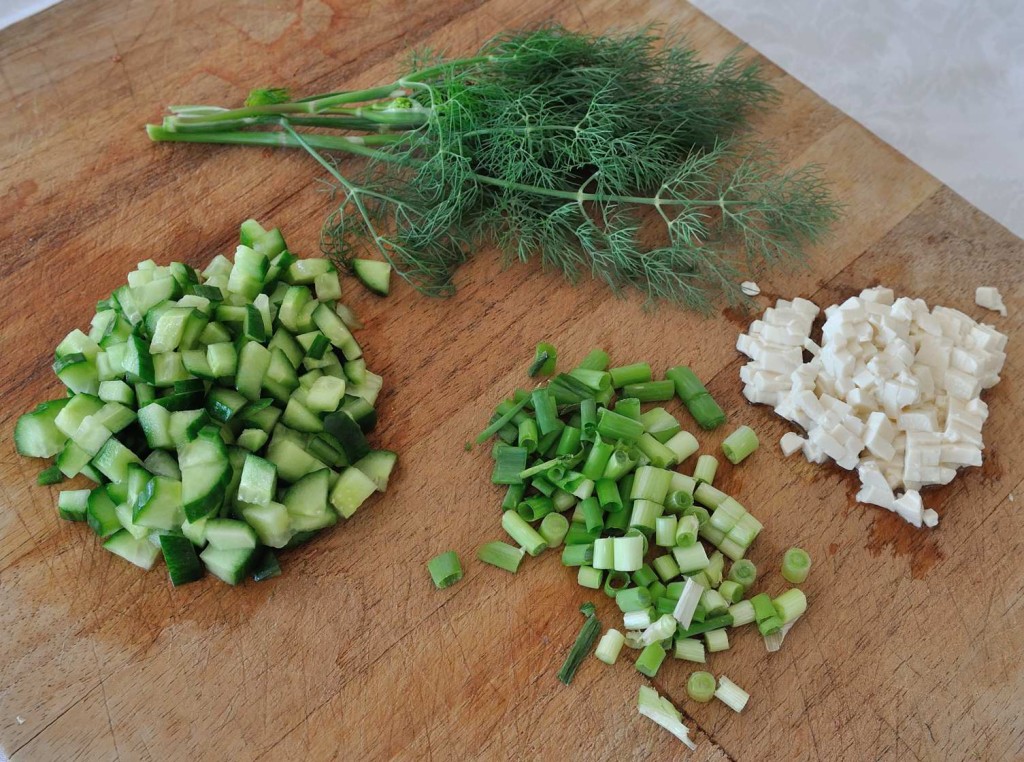 The original Svekolnik version, after the soup has spent a few hours in the fridge and is well chilled, each person is served with a bowl full of soup, that is topped with diced cucumber, chopped scallions, chopped dill, and diced hard boiled egg. I chose to replace the hard boiled egg with silken tofu, which is kind of similar in it's texture to a diced hard boiled egg (and here are some more cool ideas for what to do with your old pre-vegan kitchenware).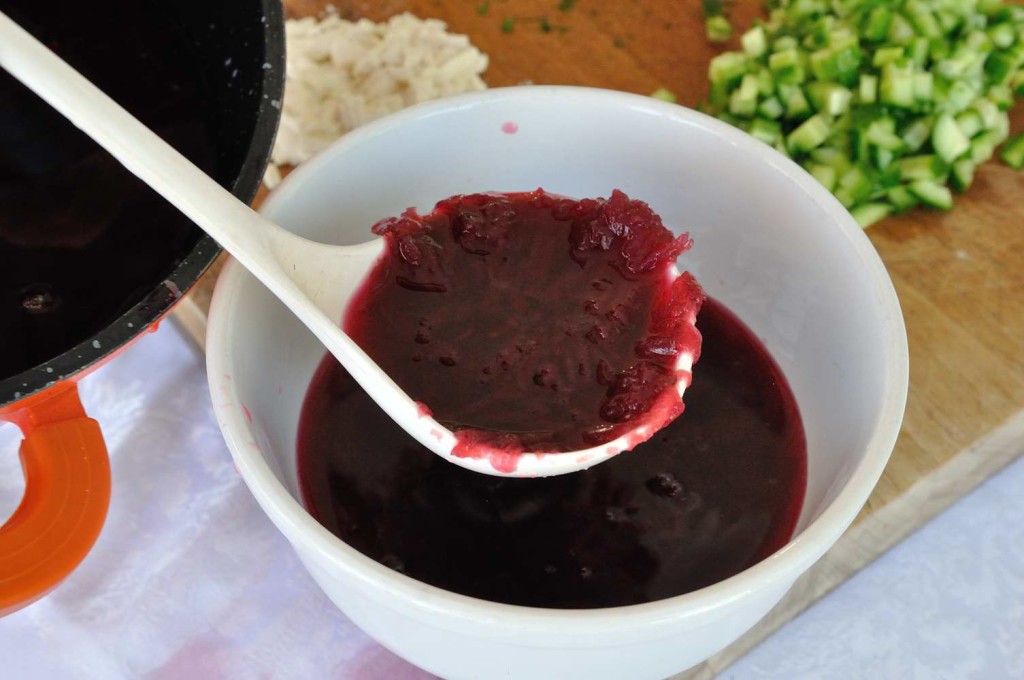 Frankly, I was skeptic about the silken tofu as a worthy egg replacement here, but towards the end of the shooting for this post, my husband walked in and obviously quickly reached to the Svekolnik bowl and started eating straight away, then asked (with a surprised look on his face): "what, you used eggs?" :). As he is one of those tofu haters, this meant to me the case is closed and the tofu works perfectly here…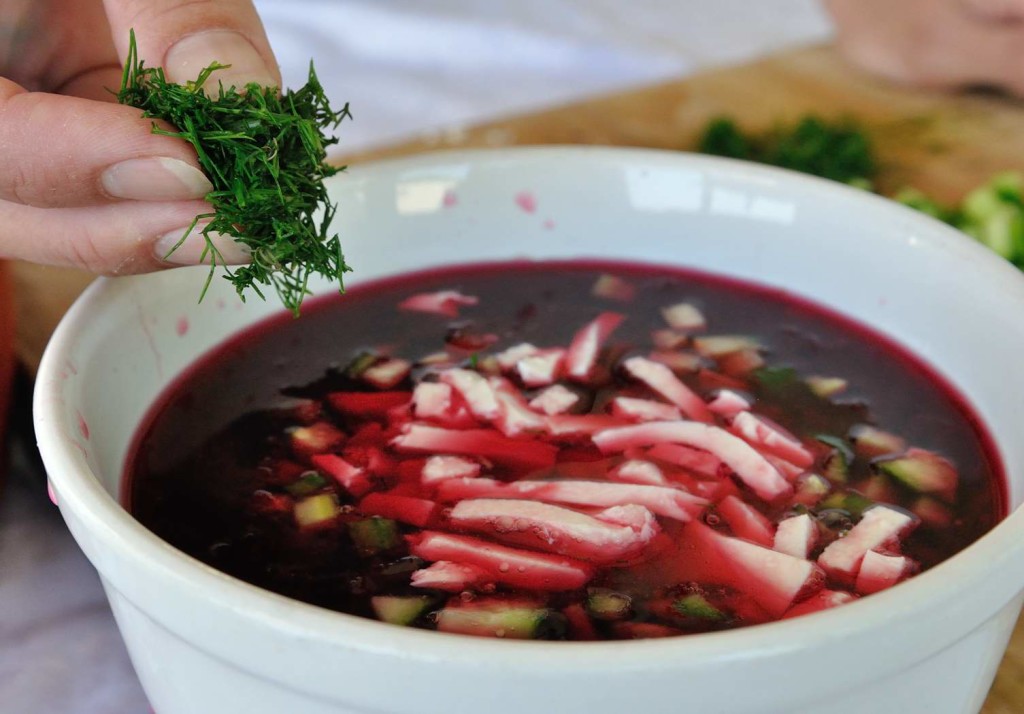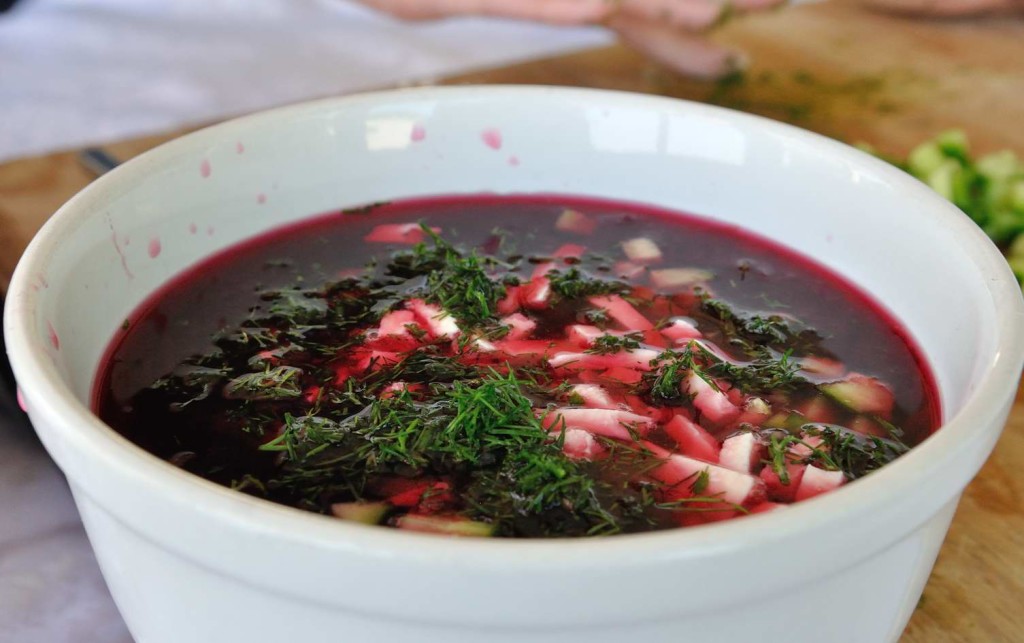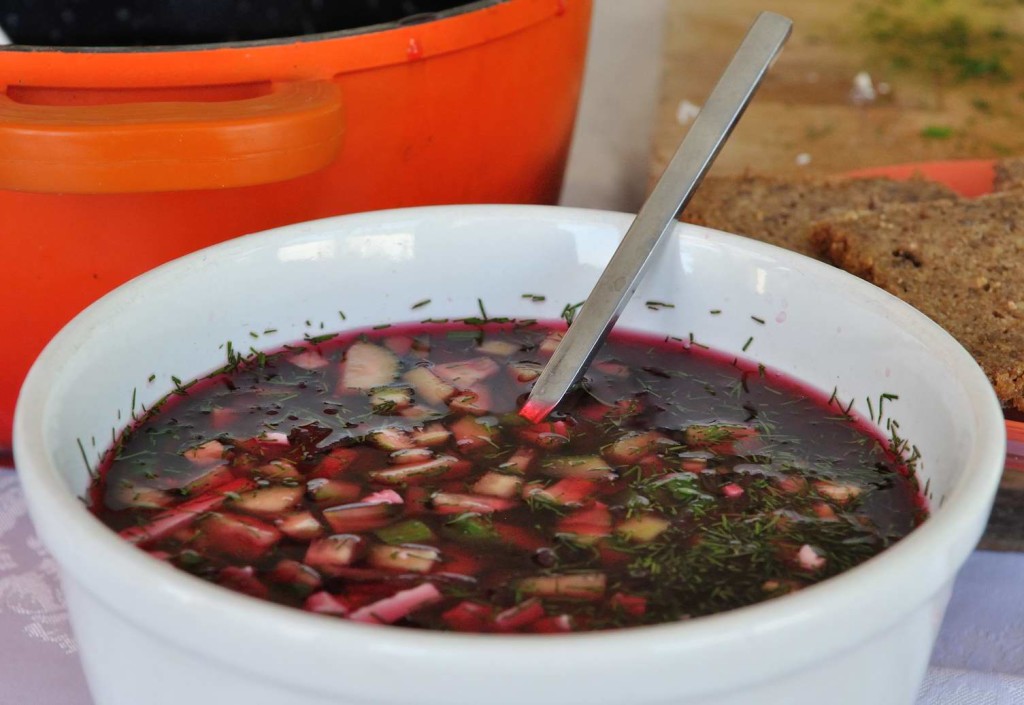 And just to give you an idea of how serious they are in his family about this soup, that's him, eating it many many years ago, somewhere in the Ural mountains area in Russia.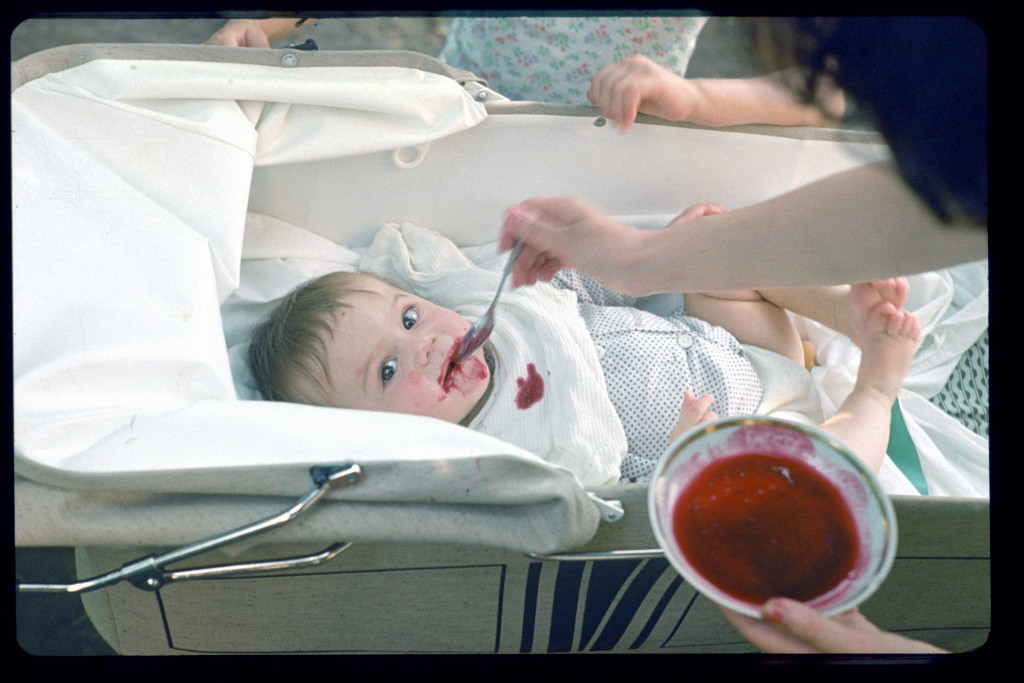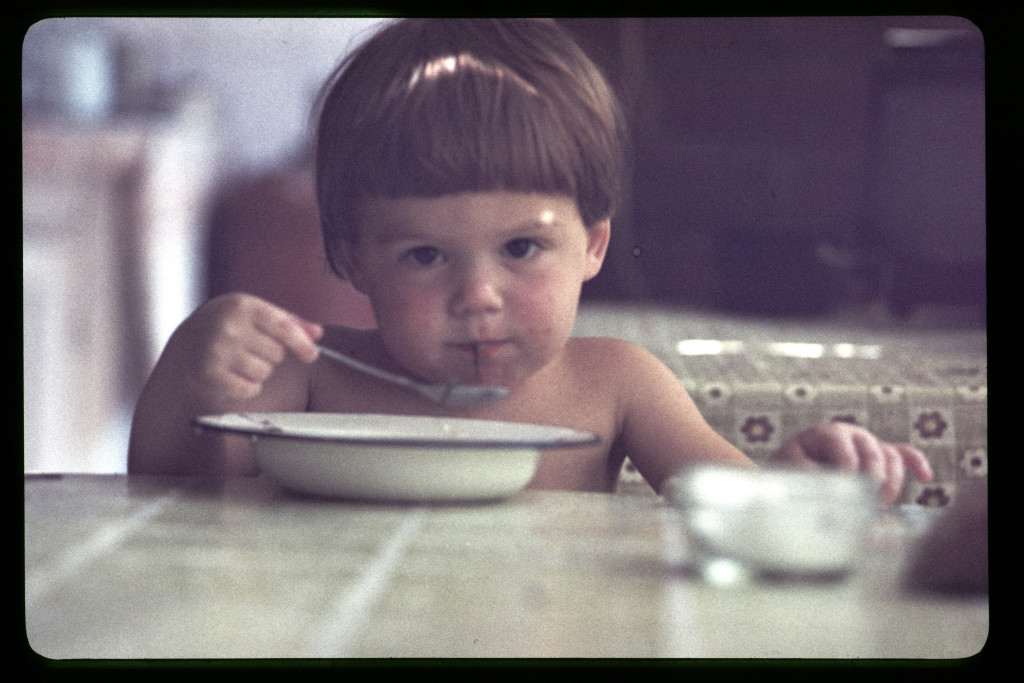 I suggest we go to the recipe now, as it is seriously hot here…
The Dishometr Rating:
Chilled Vegan Beet Soup
Tasty, easy, and healthy cold beet soup
Ingredients
For the soup:
3 Liter water (a bit over 3 quart)
3-4 medium beets
3 table spoons vinegar or lemon juice
1 table spoon salt
1 table spoon sugar
For serving (per 2 plates, multiply as needed):
4 table spoons diced silken tofu, 4 table spoons chopped dill, 2 table spoons chopped scallions, 1 diced cucumber
Instructions
Peel the beets and cut them to halves (3-4 medium beets).
Bring 3 Liter water (a bit over 3 quart) to a boil in a big pot, add 1 table spoon salt, 1 table spoon sugar and the beets halves.
When the beets become soft (start checking with a fork or a toothpick after 30 minutes or so) turn the heat off.
Wait for the soup to cool off, and when it is cold enough so you are able to touch the beets with your hands, use a grater and grate them back into the water.
Add 3 table spoons vinegar or lemon juice and stir.
Put the soup in the fridge and wait for it to cool (a few hours).
For serving (do this only when ready to serve and according the the number of diners, then put the soup back in the fridge and make new toppings fresh when needed):
Serve each plate full of soup and top with 2 table spoons diced silken tofu, 2 table spoons chopped dill, 1 table spoons chopped scallions and half a cucumber (diced).
This is not exact science here, so if one of the diners likes more cucumbers feel free to add in more of those.
Serve cold.
P.S.
If you likes this and want to be updated with new recipes, Like VeganHightechMom on Facebook or register to get updates via email (up on the right of the page).
Moran