This post is also available in: Hebrew
I've wrote here in the past about the fact that I stopped buying granola years ago. One of the reasons is that the store bought granola is usually full of added refined sugars, and honestly homemade granola is just one of the easiest things one can do.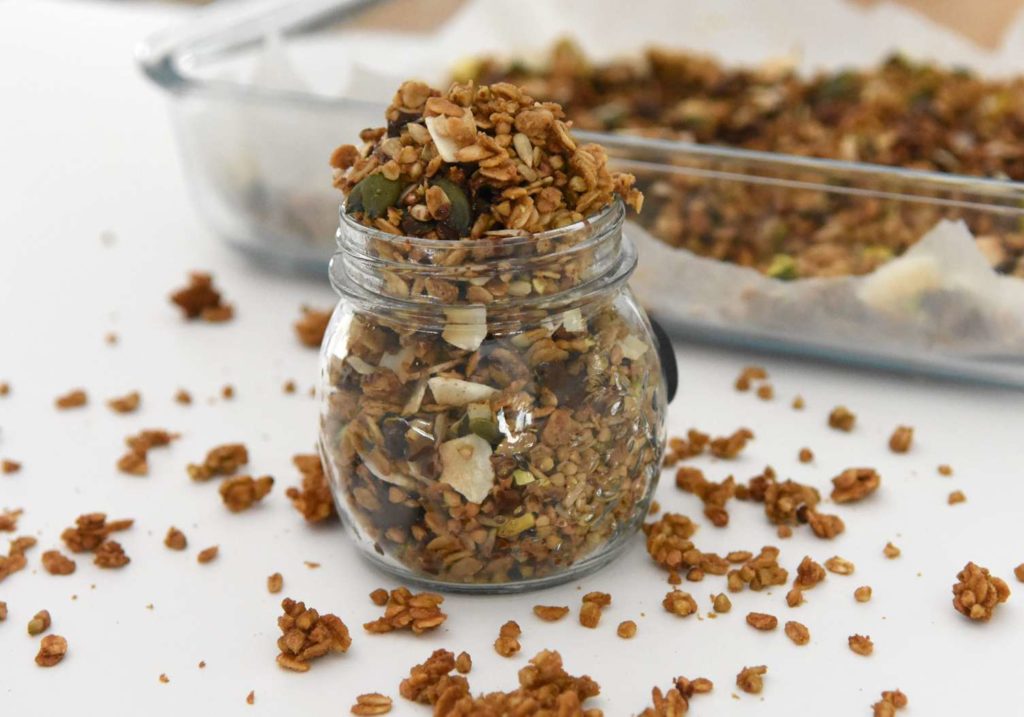 You mix it, throw in the oven, and that's about it, you can then store it in an air tight container and it keeps for a long time and serves as a great breakfast or dinner option, especially when you are too busy to make anything more fancy.
It's also a great edible gift, BTW, I happened to give my granola in several occasions as a small present and it always makes people happy.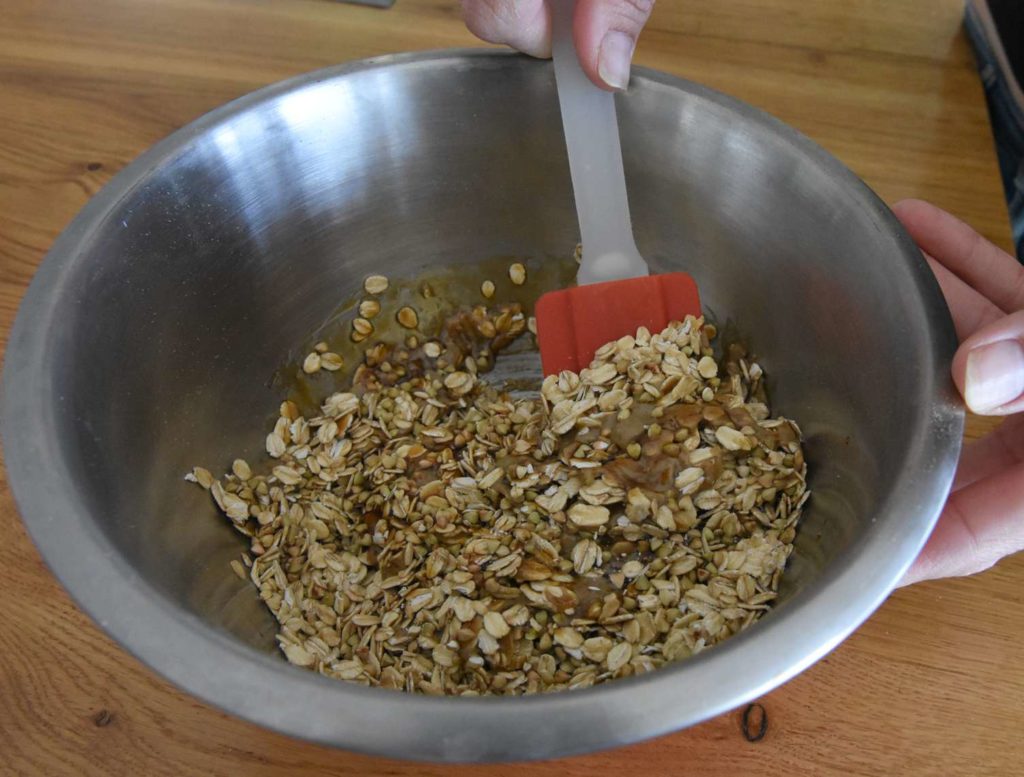 I almost never make the same granola twice, as the fun thing about it is the playing with the ingredients, however this one turned out extremely well I just had to share.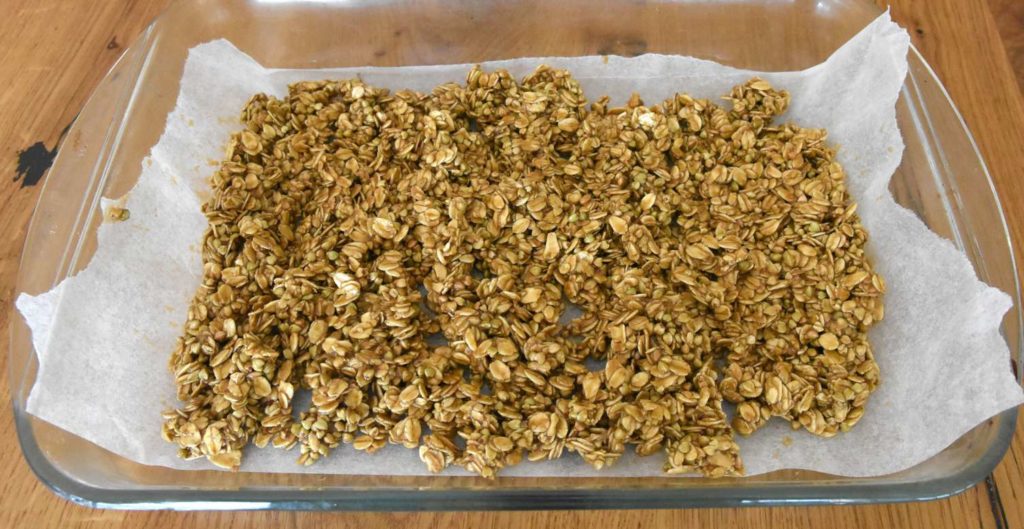 Note that I use buckwheat in my granola, and for those of you still a bit septic about buckwheat, don't judge before you try it out, buckwheat (the green, un-roasted type!) in granola adds a great crunchiness that you just have o take my word for it.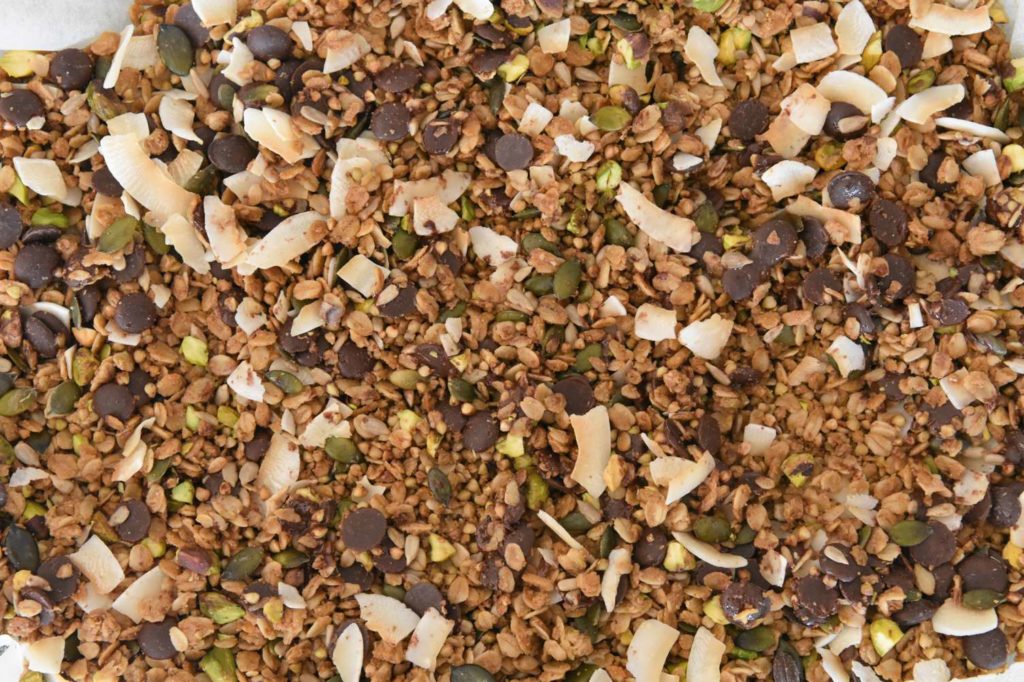 Halva Flavored Granol
Easy, tasty and full of healthy ingredients home made granola.
Ingredients
2 cups oats
1 cup green buckwheat
½ cup raw tahini
between ⅓ to ½ cup pure maple syrup
a pinch of salt
Optional add-ins:
Your favorite nuts, seeds and dried fruit
Dark chocolate chips
Or anything else you can think of here
Instructions
In a bowl, mix well the oats and the buckwheat with the tahini and the maple syrup.
Spread it out evenly on a pan and place in an oven pre-heated to 150 C degrees. You should open the oven and mix the granola in the pan about every 15 minutes so it will be baked evenly.
minutes before you are ready to take the granola out is the time to add in the optional add-ins, or you can choose not to roast them at all and only add them after taking the granola out of the oven. The granola is ready when it is brown and crispy (mine took about 40 minutes).
Keep in an air-tight container.
P.S.
If you liked this and want to be updated with new recipes, Like VeganHightechMom on Facebook or register to get updates via email (This is mostly recommended as it is the only way to ensure you'll receive the recipes. And check your spam or "Promotions" tabs, as these email might end up there sometimes).
Moran