This post is also available in: Hebrew
Rafi came here when he was 8 YO. He entered his new classroom and the teacher asked him for his name.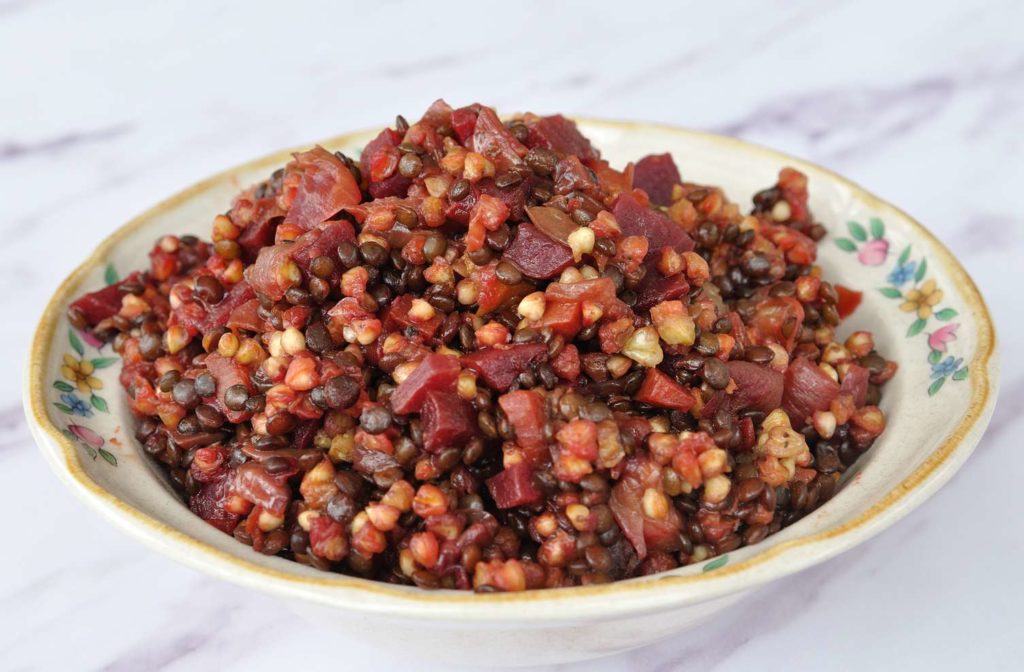 "Peter", he answered. "Well, Peter is too hard to pronounce, you'll be named Rafi", she decided.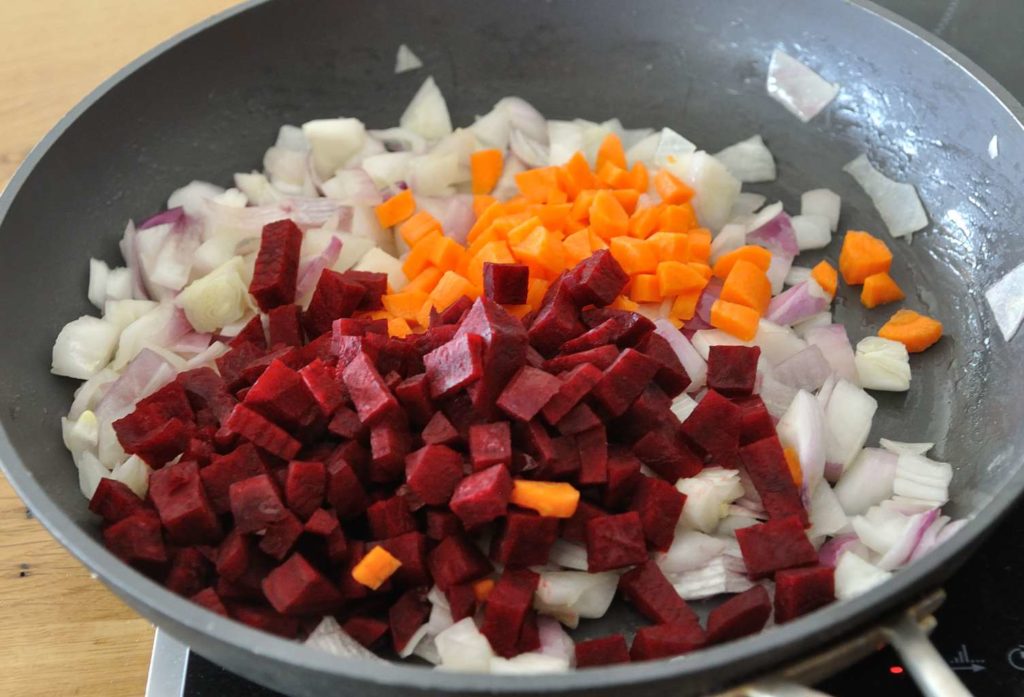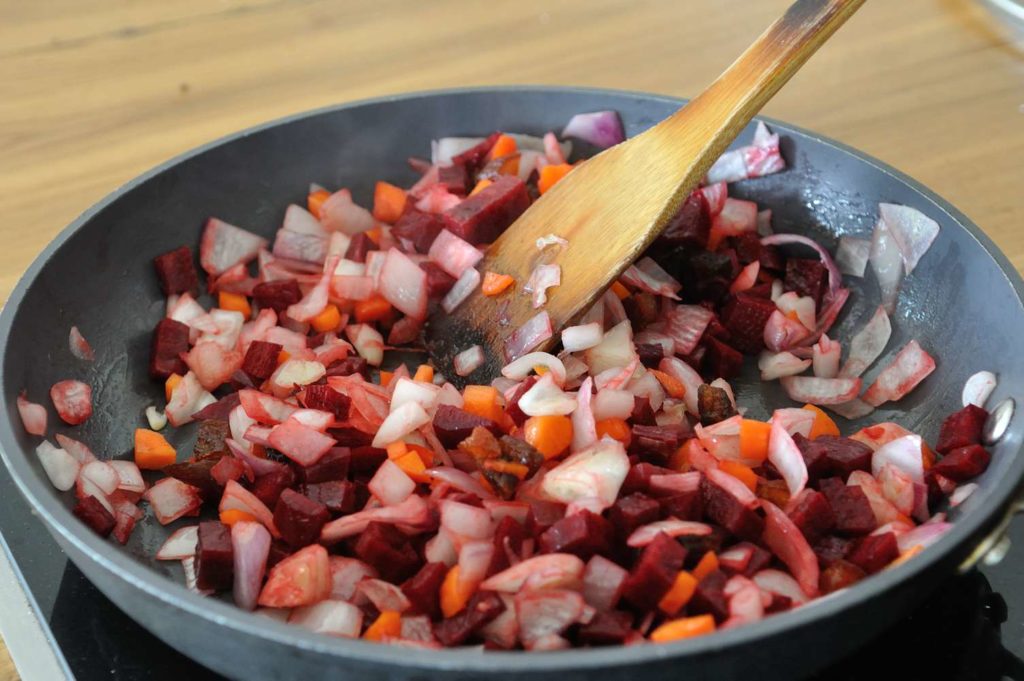 Such a big desicion, that passed so easily back then, seems crazy to me. Anyway that's how my Rafi bacme Rafi.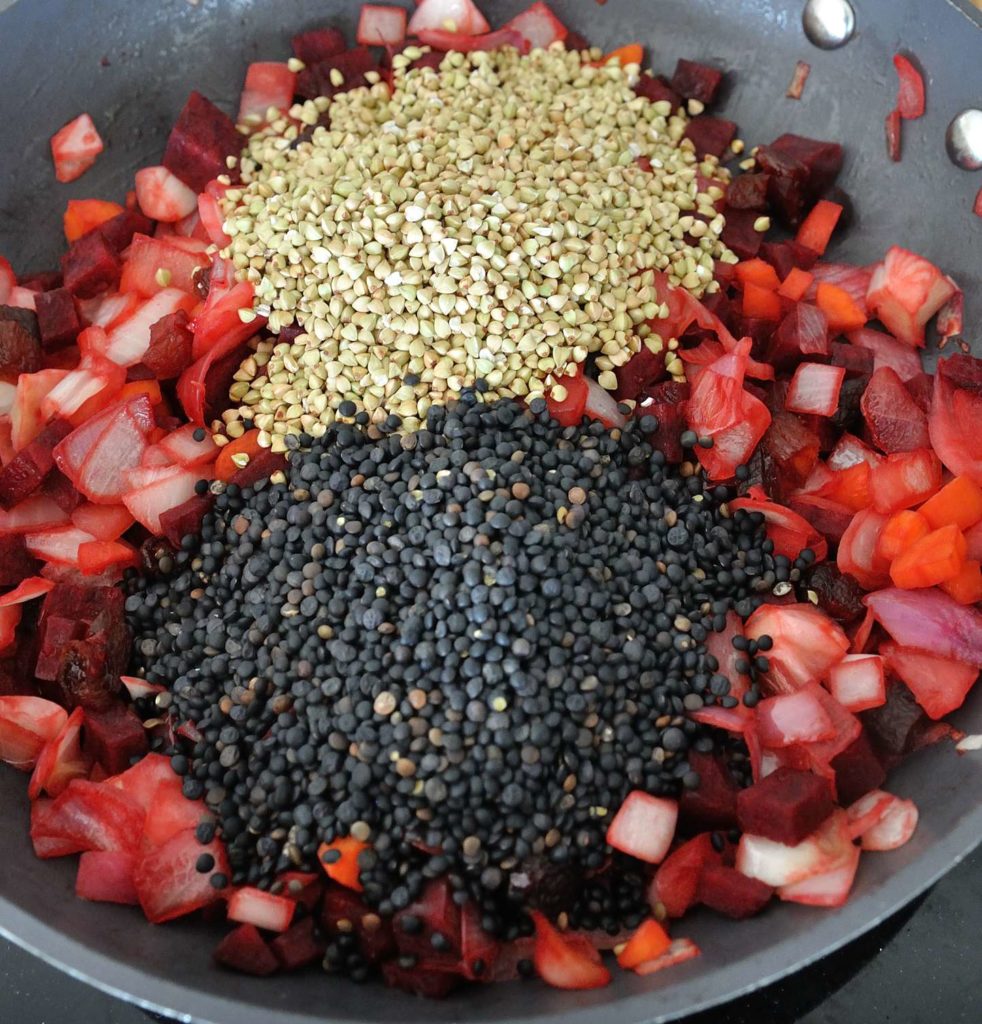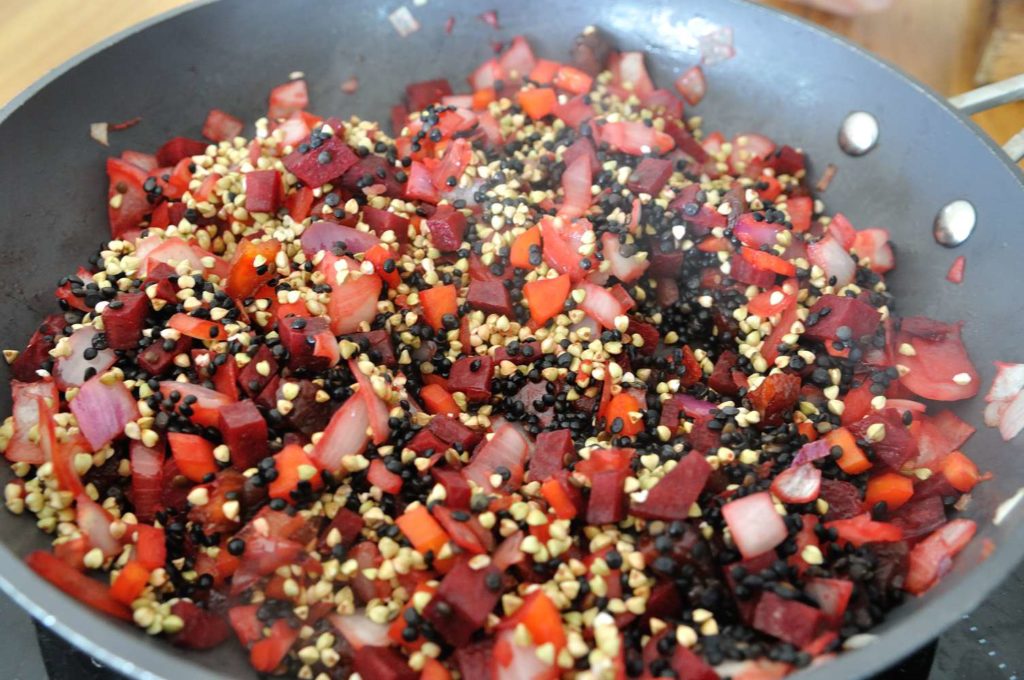 When he first visited the Jordan river, he didn't understand where's the river they promised they were going to, the memories from the raft trip he took the summer before with his dad in one of Russia's huge rivers were still fresh in his mind.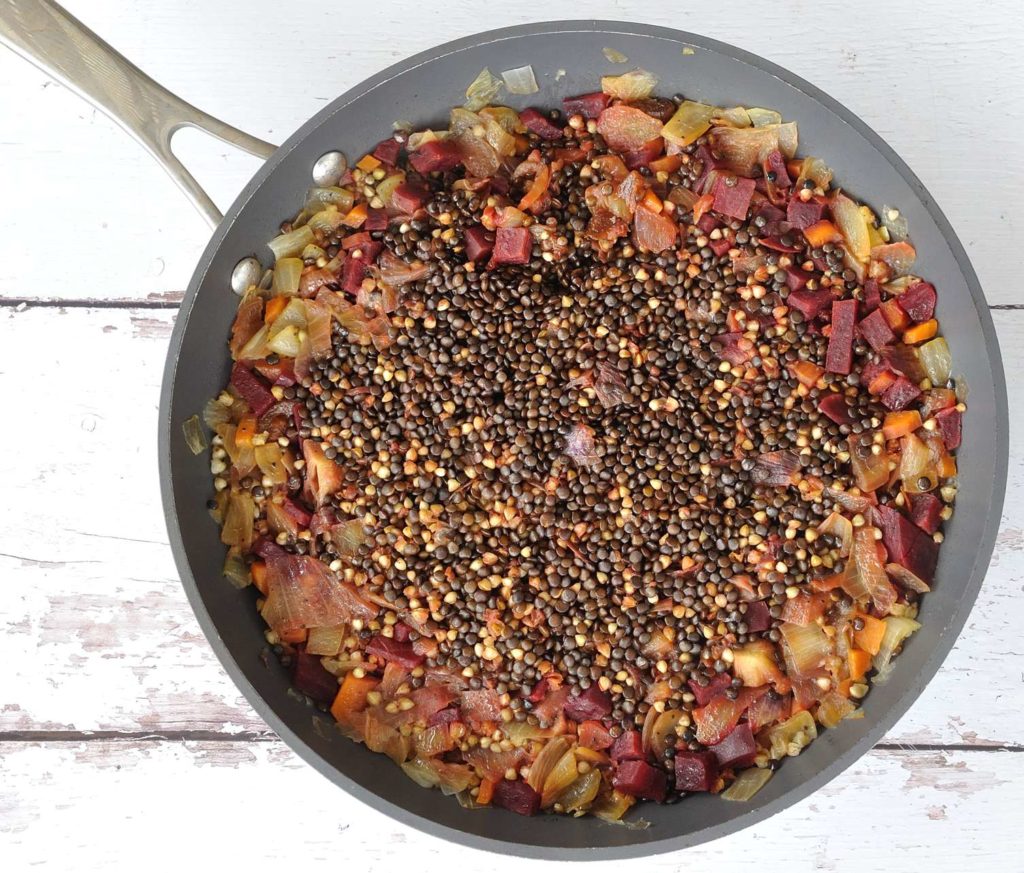 When we wanted to get married, they asked us to "prove he was Jewish", hm.. Did not want to do that.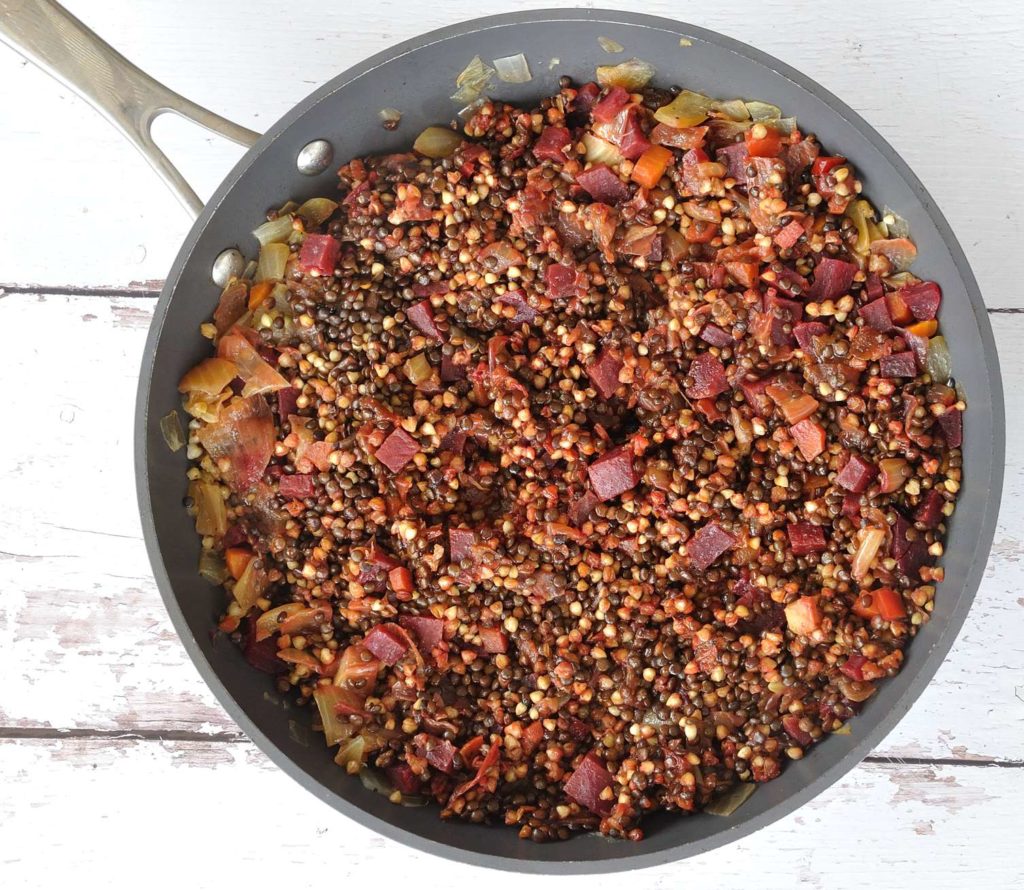 When our oldest doughtier was born, I was expecting a Russian Babushka to enter my livingroom and never leave, like everyone said she would 🙂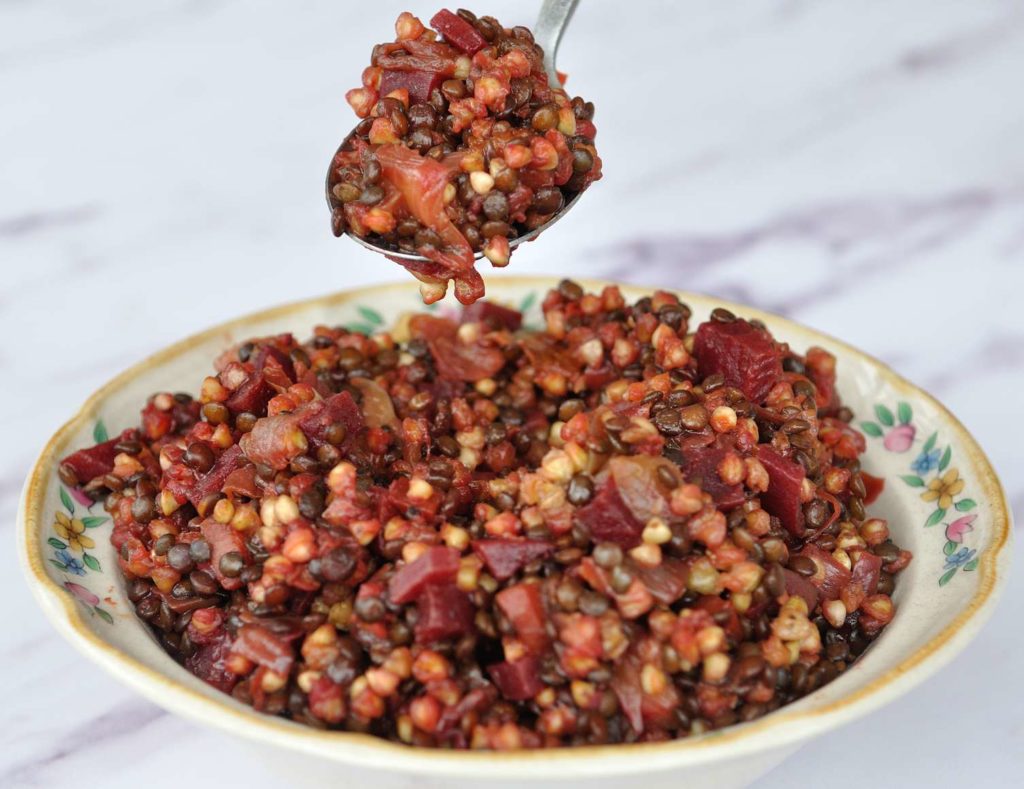 I learned from his parents how to make Borscht, Svekolnik (a cold beets soup), Syrnikis (here my own vegan version for them), vinaigrette salad and much more.. The recipe for this Russian Majadera (yes, I know there is no such thing) I took from one of my lovely customers, and fell in love with it. Always nice to have a recipe for a quick, helthy, satisfying meal.
The Dishometer Rating: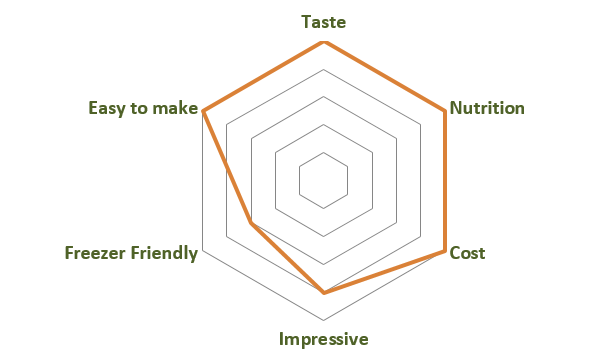 Russian Majadera
Delicious, hearty, healthy, quick (plus gluten free) main course.
Ingredients
1 onion, diced
1 beet, cut to small cubes
1 carrot, cut to small cubes
½ cup raw buckwheat (the green, not brown type)
½ cup black lentils
salt and pepper, to taste
¼ tea spoon cumin
2 table spoons olive oil
2 cups of water
1 table spoon soy sauce (or tamari, for gluten free option)
a handful of dry apricots (or dry cranberries)
Instructions
Warm a large non stick skillet over medium heat, add the olive oil and saute the onion for a few minutes, add the beet and carrot cubes and continue cooking for a few more minutes while stirring occasionally. Add the buckwheat and lentils, 2 cups of water, salt, pepper, cumin and soy sauce, mix and cover.
Cook until all water have absorbed, then let sit covered for another 5 minutes and serve.
P.S.
If you liked this and want to be updated with new recipes, Like VeganHightechMom on Facebook or register to get updates via email (This is mostly recommended as it is the only way to ensure you'll receive the recipes. And check your spam or "Promotions" tabs, as these email might end up there sometimes).
Moran