This post is also available in: Hebrew
I looked at my recipes page this week and noticed that while I go on and on about healthy food all the time, I have only 2 salads there, compared to a handful of sweet recipes. So granted, this blog is new and it takes time to update recipes (much much more than I ever imaged it will), but some will say you cannot live off of sweets only.. So for those some, I'll share a recipe today for a super healthy salad, that can be served as a first course in a big meal, or as the meal itself for a lighter lunch/dinner.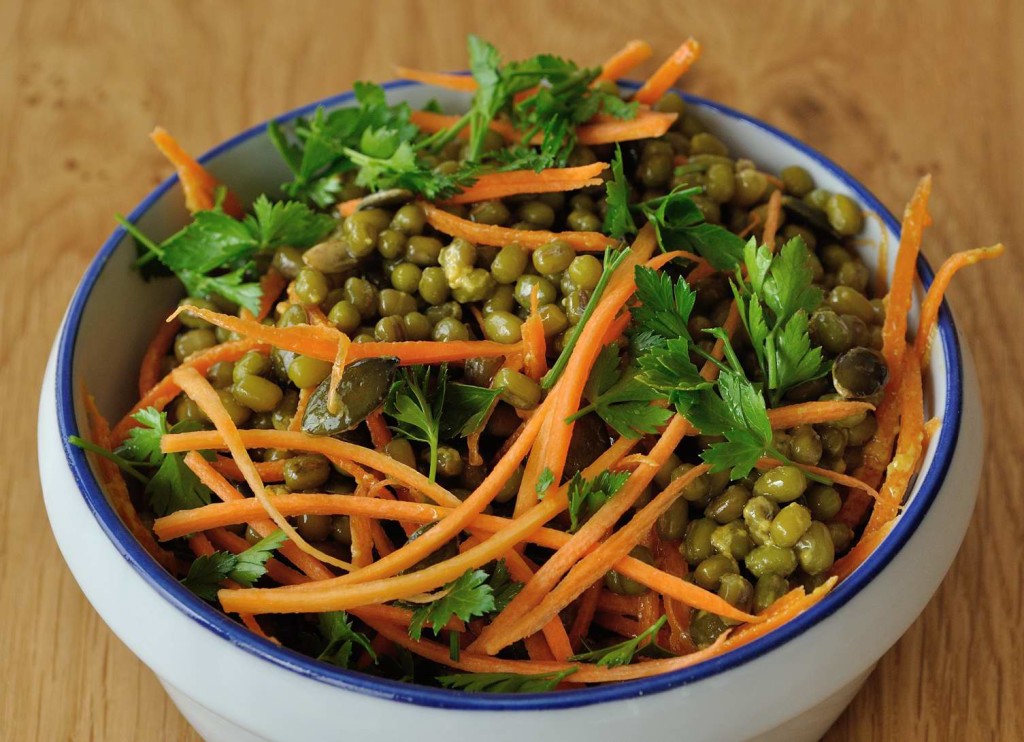 So what is so healthy here anyway? So to start with, the mung beans, which are rich in Vitamin B, Vitamin C ,Proteins, Manganese and a lot of other essential nutrients required for effective functioning of the human health. It also has a low glycemic index value, and it is more easily digested than   other legumes. If you choose to sprout it you'll enter the health advocates hall of fame, as eating sprouts is associated with many health benefits, from neutralizing Phytic Acid, through aiding digestibility, to increasing the vitamin B content. In any case, you don't have to sprout your mung beans for this recipe, but it is highly recommended.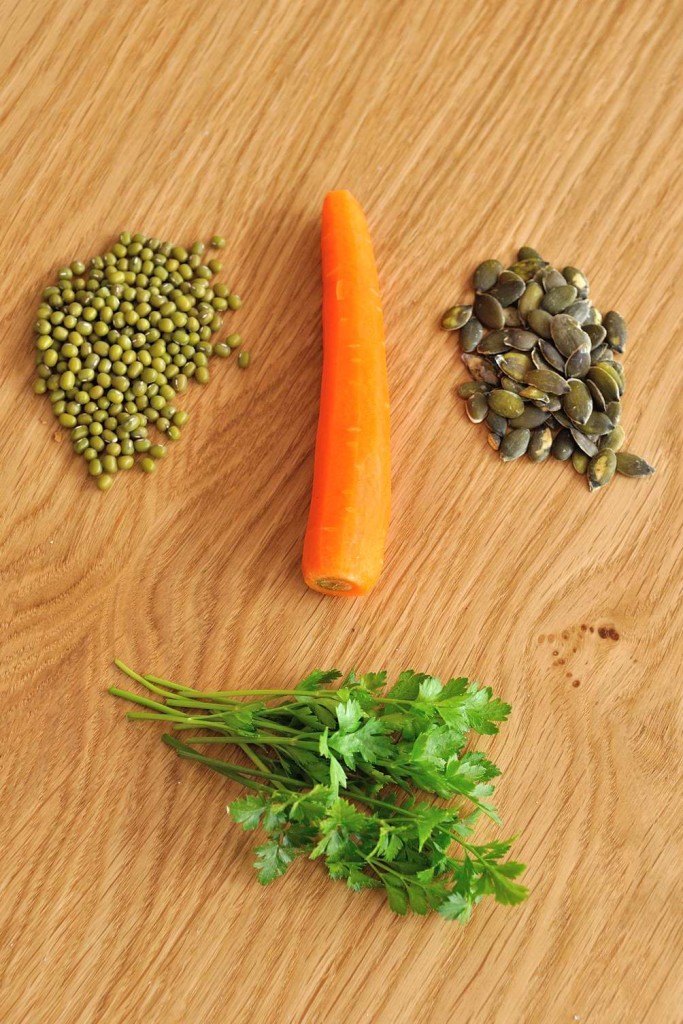 In this recipe we'll be steaming the mung beans. Steaming is considered to be one of the most healthy ways to cook, as it preserves most of the ingredient original nutritional value and it doesn't require added oil.
By the way, in order to save time as well as reduce the number of dishes I need to wash afterwards (don't laugh at me!), I usually use the boiling water in the pot underneath the steaming basket to cook some carrots for my baby. As I cut the carrot to juliennes with a juliennes peeler I usually end up with half of it anyway so I just throw that half into the water. The steaming leaves the mung beans a bit on the crispy side, which combines perfectly with the pumpkin seeds crunchiness.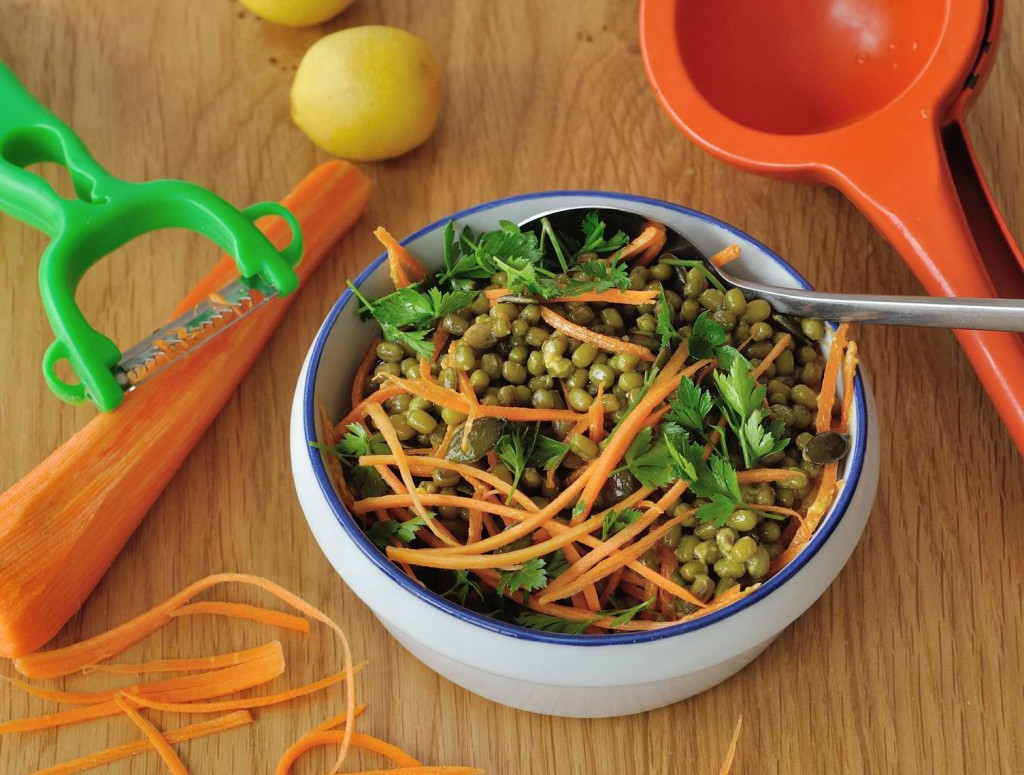 This post was also linked up to Gluten Free Fridays.
The Dishometer Rating: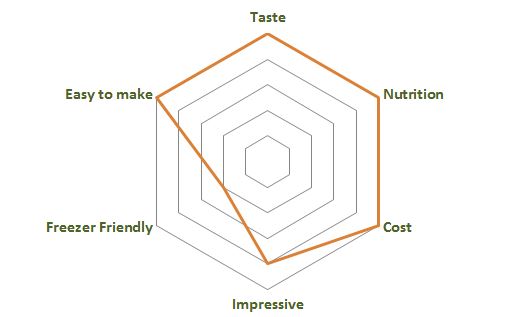 Steamed Mung Beans Salad
Quick and healthy steamed mung beans salad
Ingredients
Half a cup mung beans soaked in water for 12 hours
1 carrot, Julienned
3 table spoons olive oil
juice from half a lemon
1 tea spoon mustard
salt, to taste
2 handfuls of pumpkin seeds
handful of chopped parsley leaves
Optional: raw sesame paste
Instructions
Drain the mung beans and place them in a covered steaming basket over boiling water.
Check one bean after about 15 minutes, it should be tender yet crisp (and not as soft as when cooked). If it is not tender enough yet keep steaming and check 3 minutes later.
In parallel, put the gravy ingredients (3 table spoons olive oil, juice from half a lemon, 1 tea spoon mustard' salt, to taste) in a small jar and mix thoroughly.
When the mung beans are ready move them to a bowl, add the carrot Juliennes (from 1 carrot), the pumpkin seeds (2 handfuls) and the chopped parsley leaves (handful), pour the gravy on top of the salad and mix.
As I am a big fan of sesame paste, I recommend adding one table spoon of raw sesame paste on top of the salad while it is still warm, it combines great! up to you.
P.S.
If you liked this and want to be updated with new recipes, Like VeganHightechMom on Facebook or register to get updates via email (This is mostly recommended as it is the only way to ensure you'll receive the recipes. And check your spam or "Promotions" tabs, as these email might end up there sometimes).
Moran