This post is also available in: Hebrew
I'm hooked on food photos.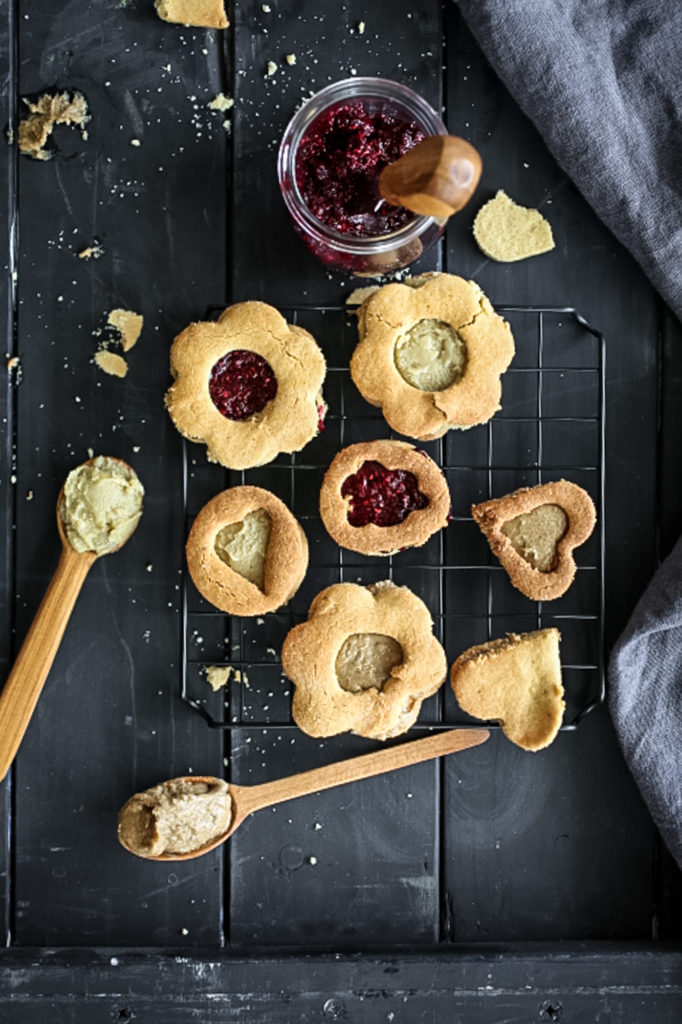 I can spend hours in front of my full of food pictures feed, search all the food agregators I know, endlessly scroll through on my Instagram, or move slowly, page by page in food journals (if I may be old-fashioned for a minute) and hang on each picture..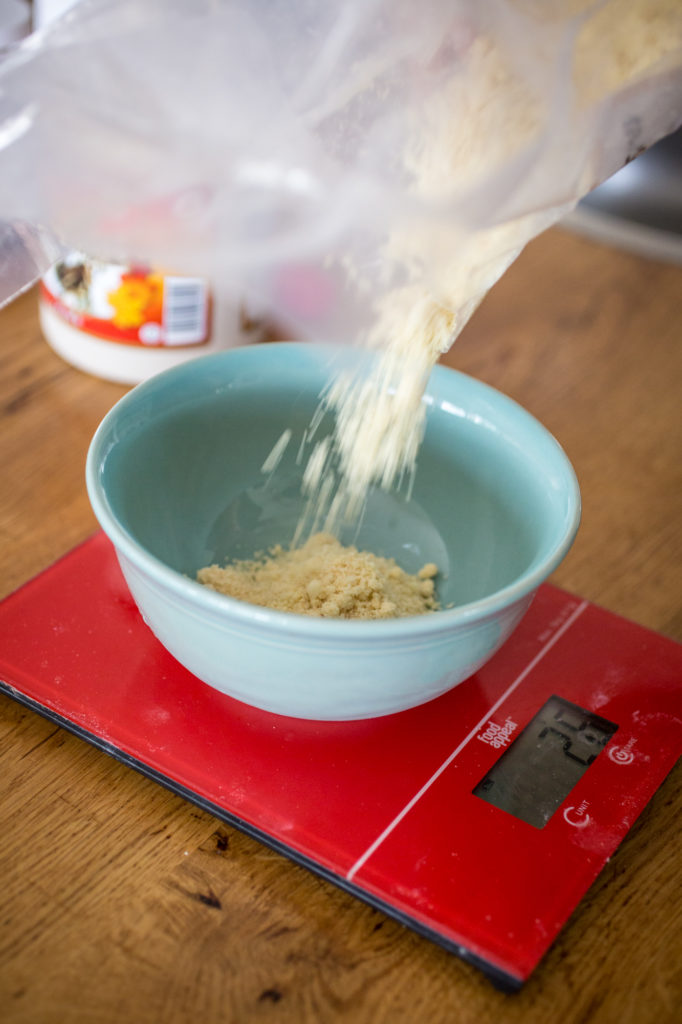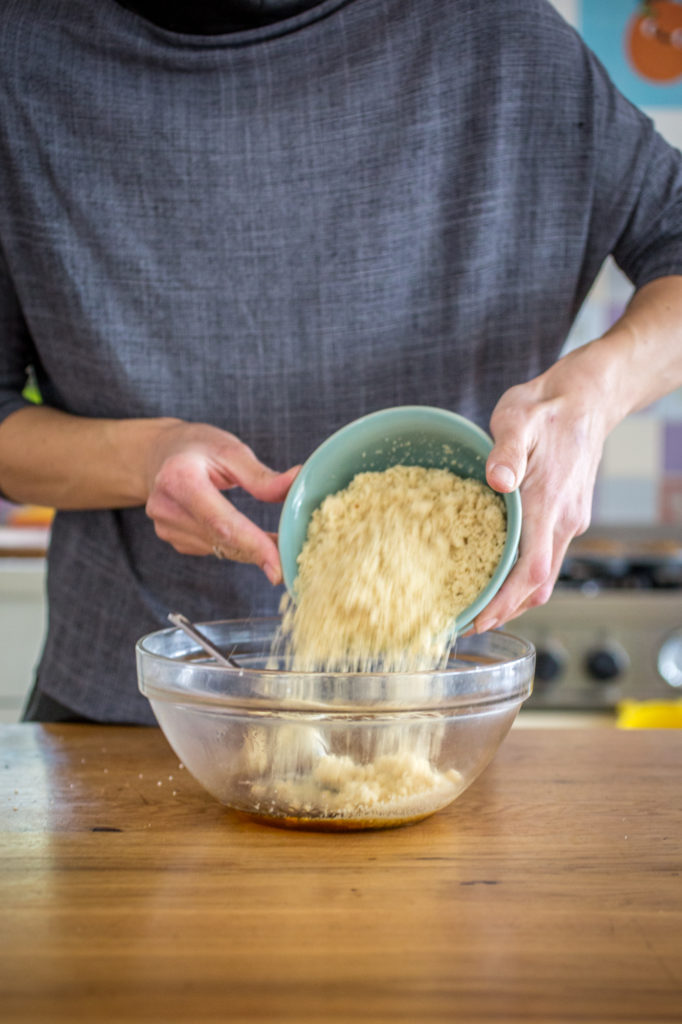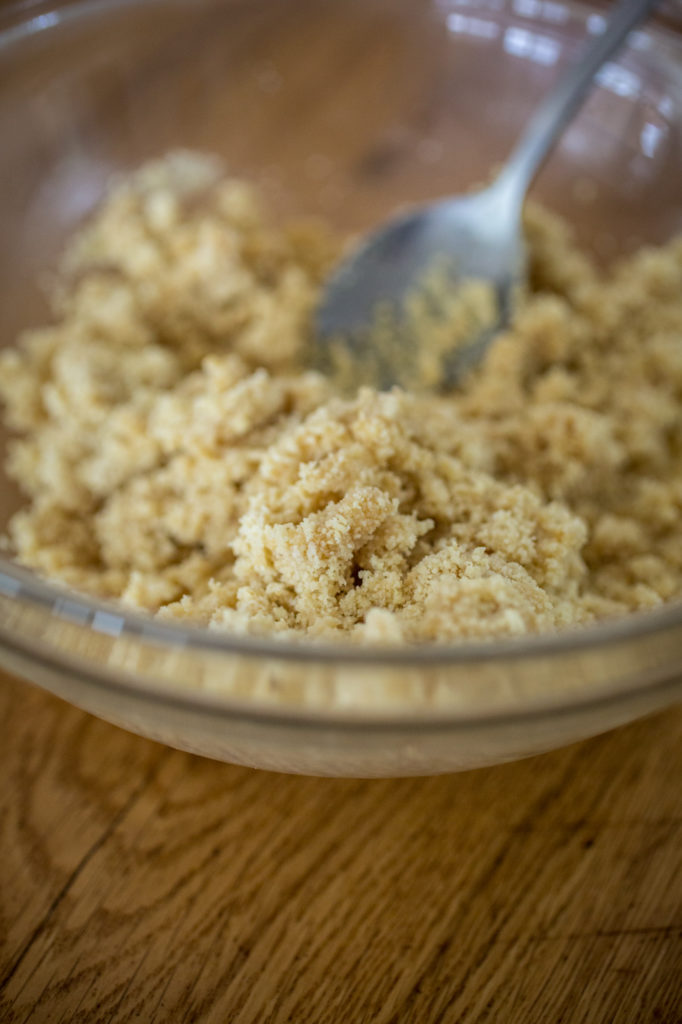 Among all the wellness of great pictures there are out there these days, and honestly there's such a variety, and such creative photographers, it only rarely happens that I search for the person behind the camera. That's how I got to know Alona's Instagram's account, picture after picture she made me curious and want to check who's behind it, and when I found out she was also vegan, I felt like it was just meant to be, i h-a-d to meet her.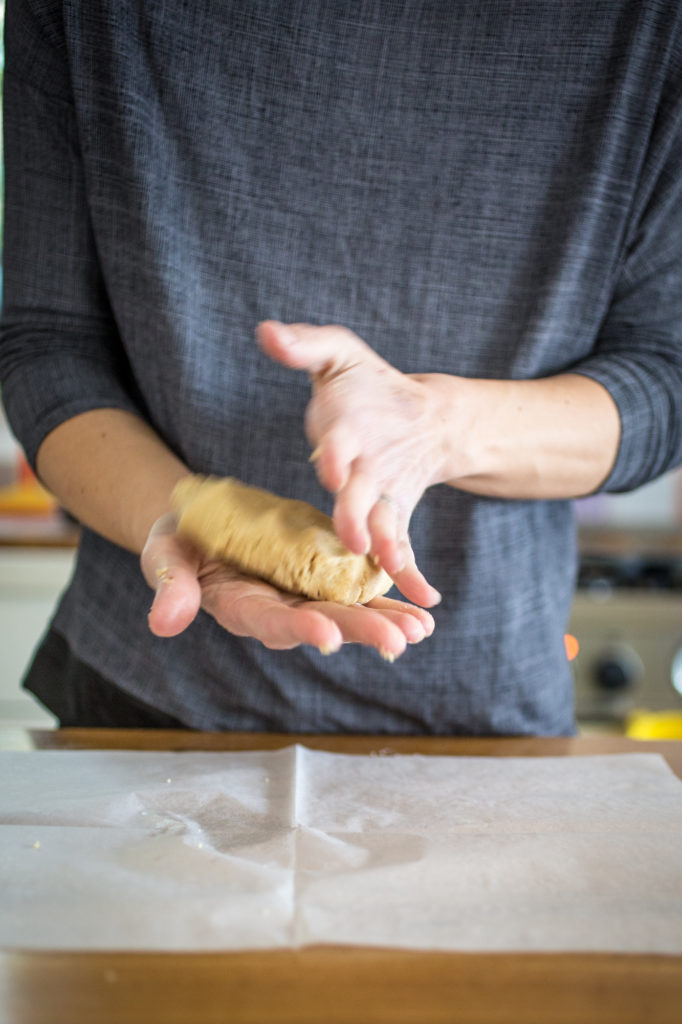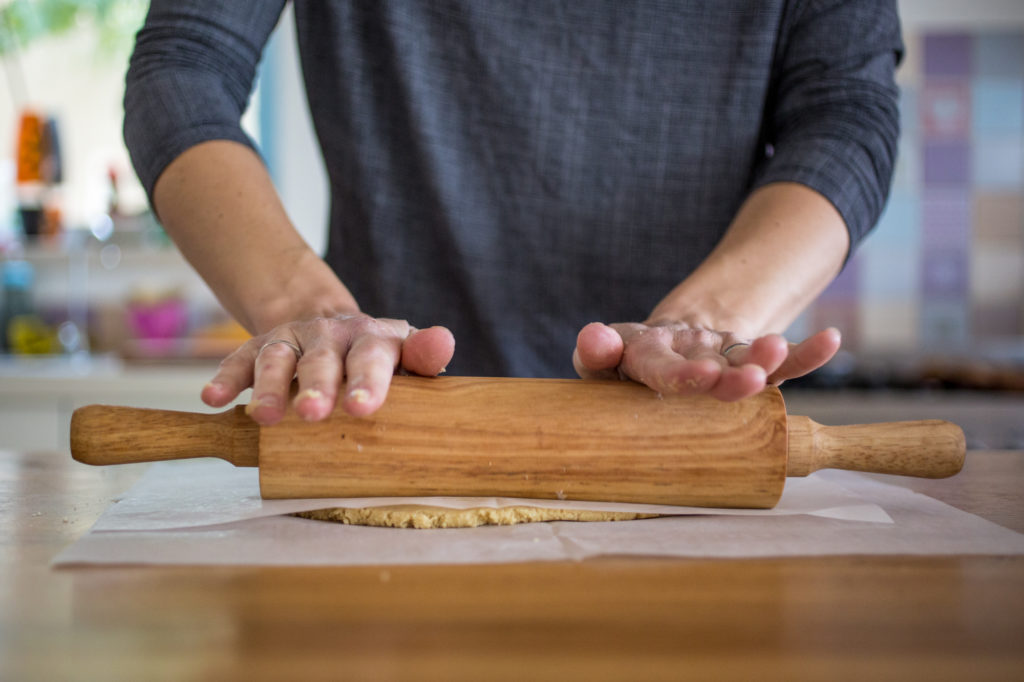 So she came over, and we had a perfect morning, that included these Linzer cookies, great savory muffins (recipe coming soon), peanut soup and almond maple coffee cake. Did I mention it was perfect?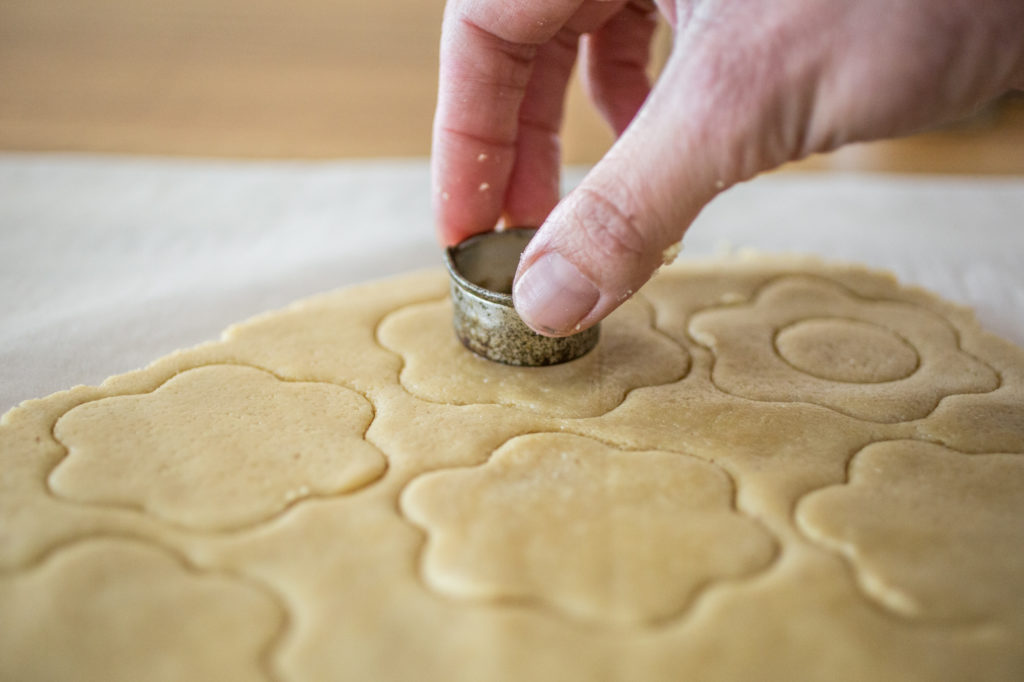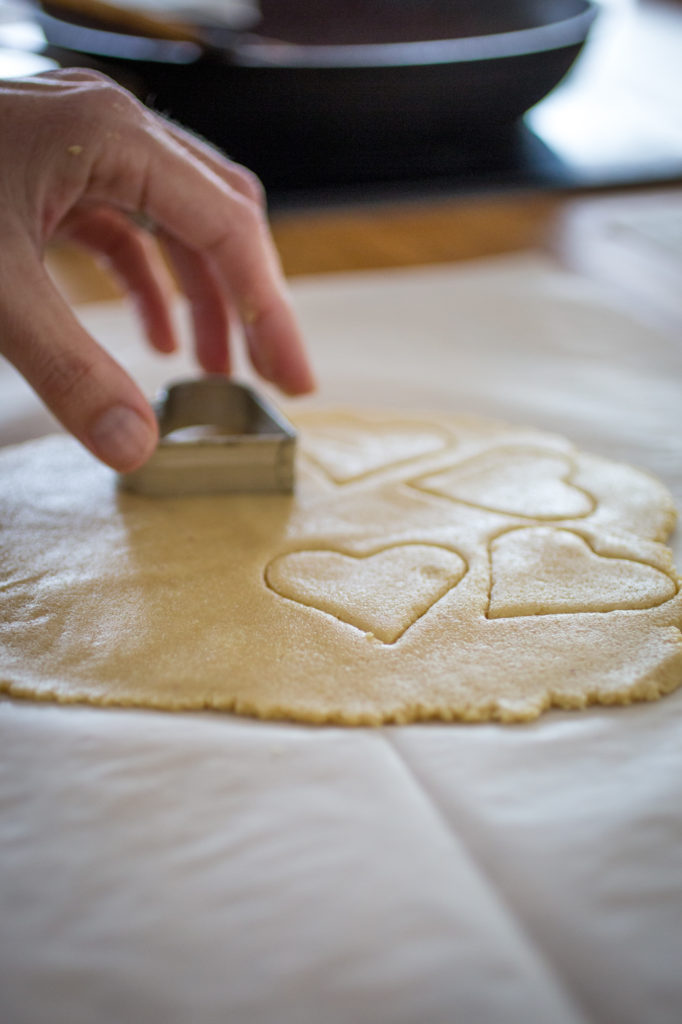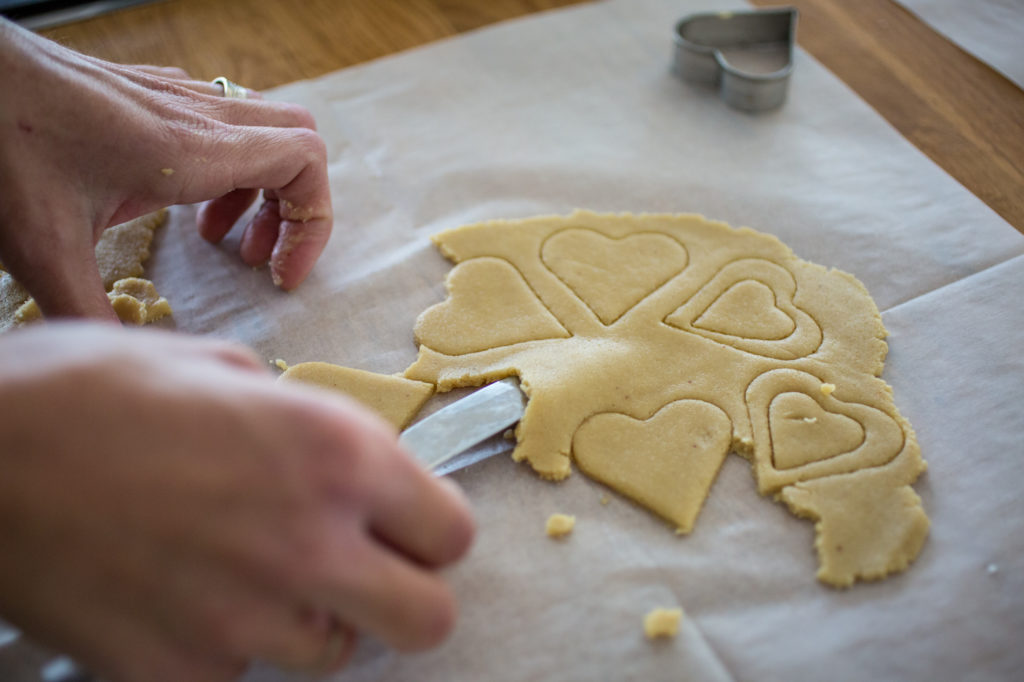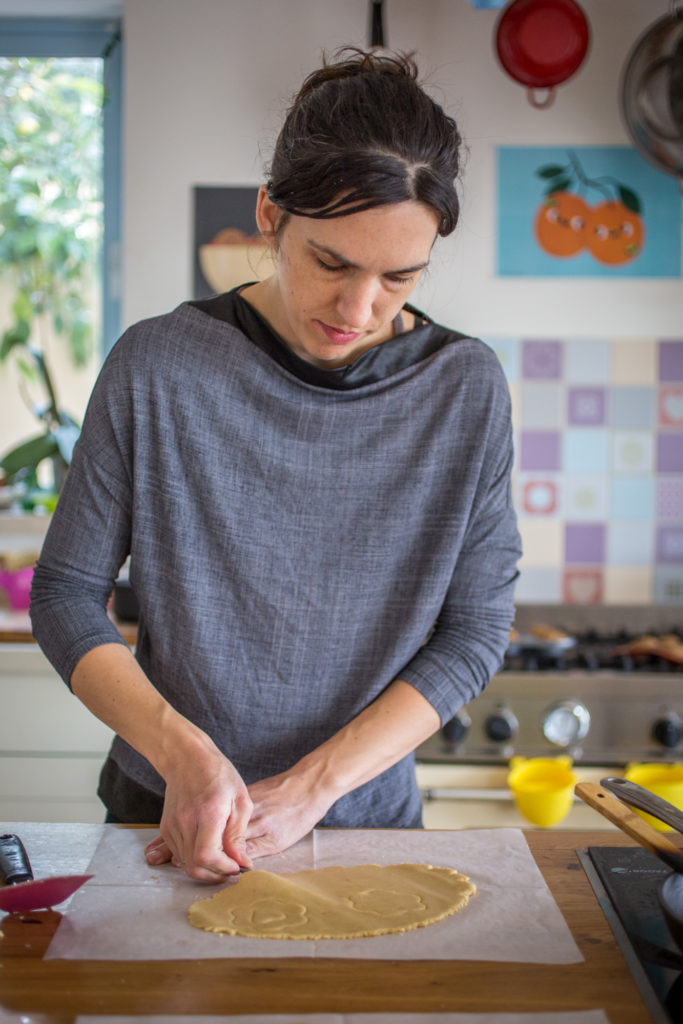 A word about the cookies: they are tasty, vegan of course, plus gluten free. The plus side is their taste and the nutritional value, but the down side is that they are kind of fragile so you have to be careful with them while cutting and taking out dough leftovers.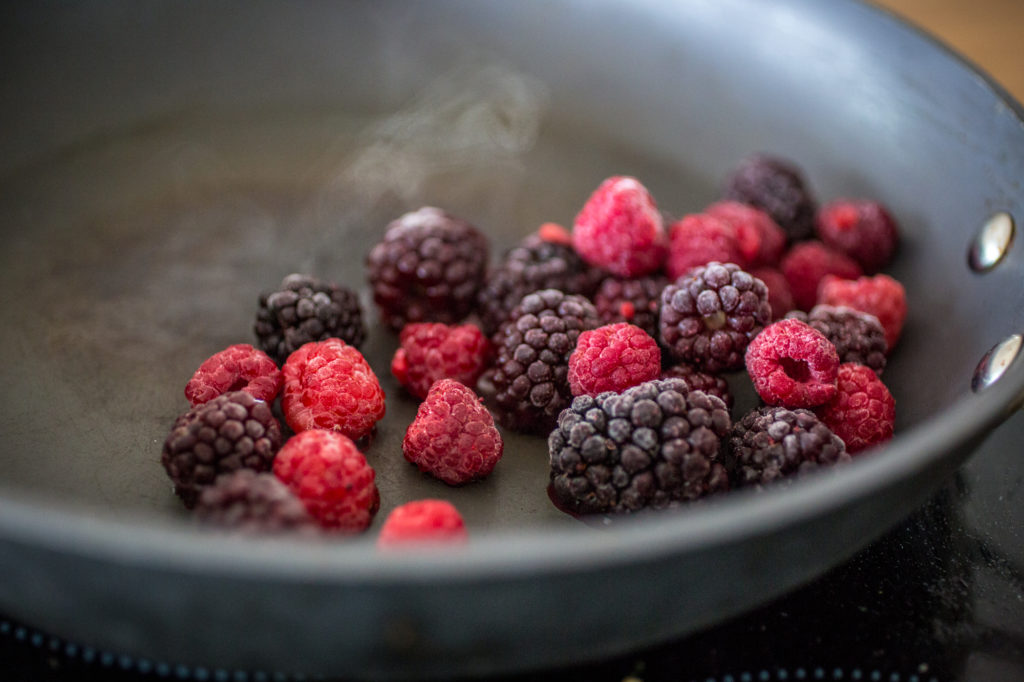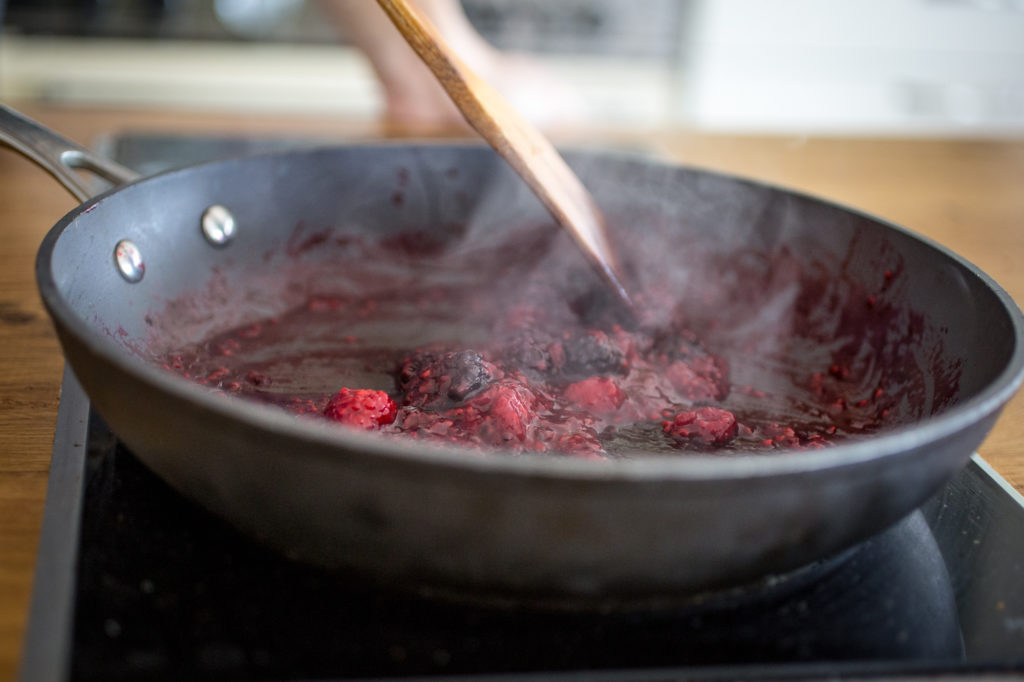 The filling can be anything you like, I added 3 of my favorite options. Note it is recommended to fill the cookies only right before serving.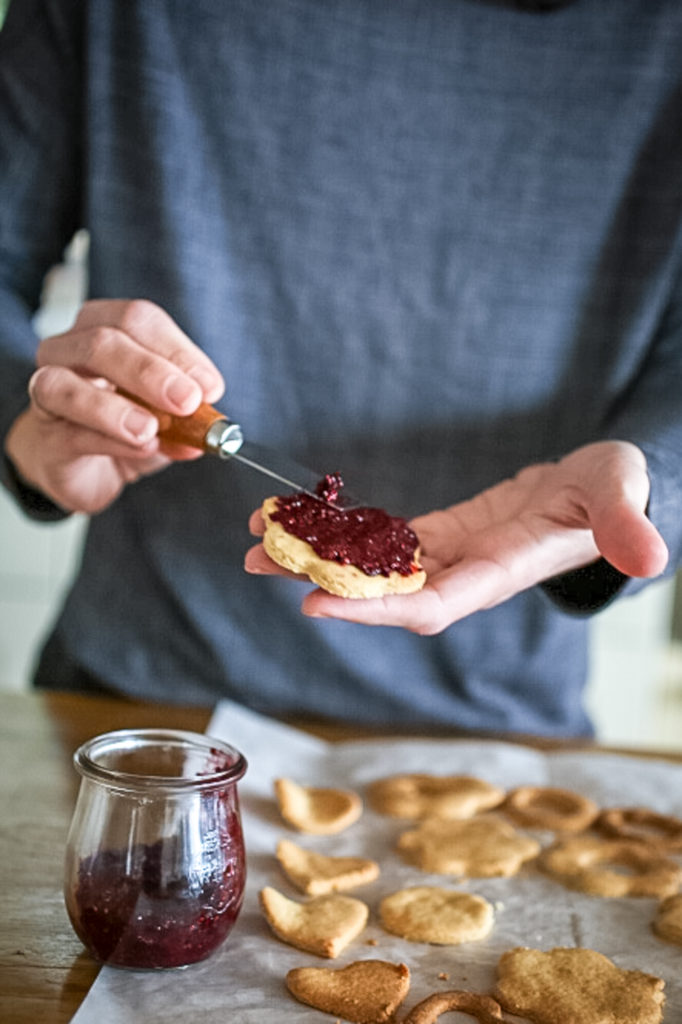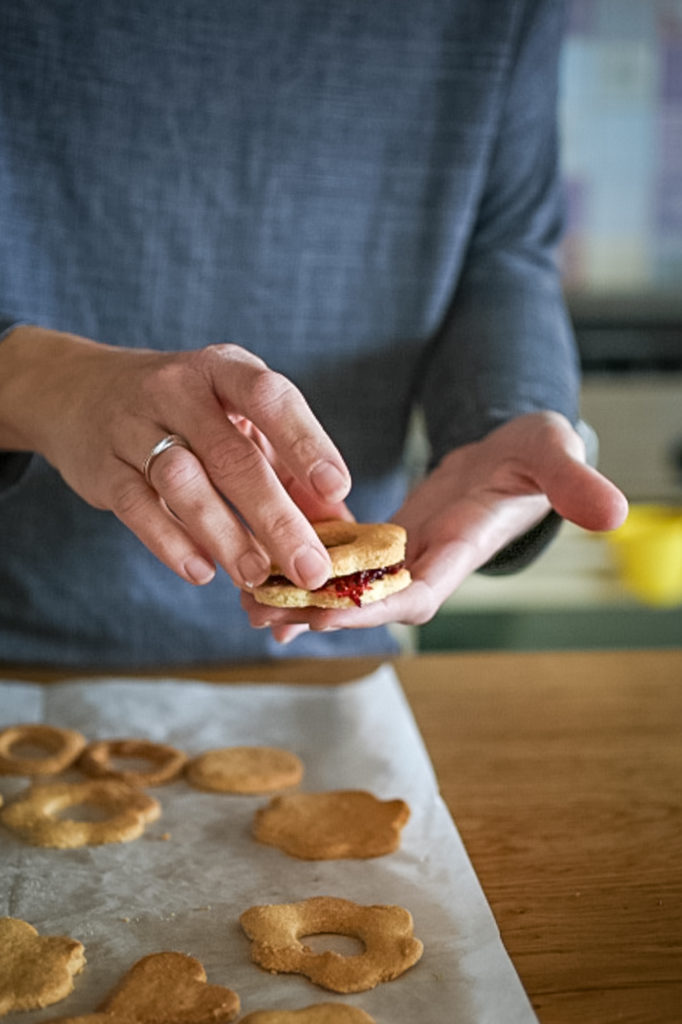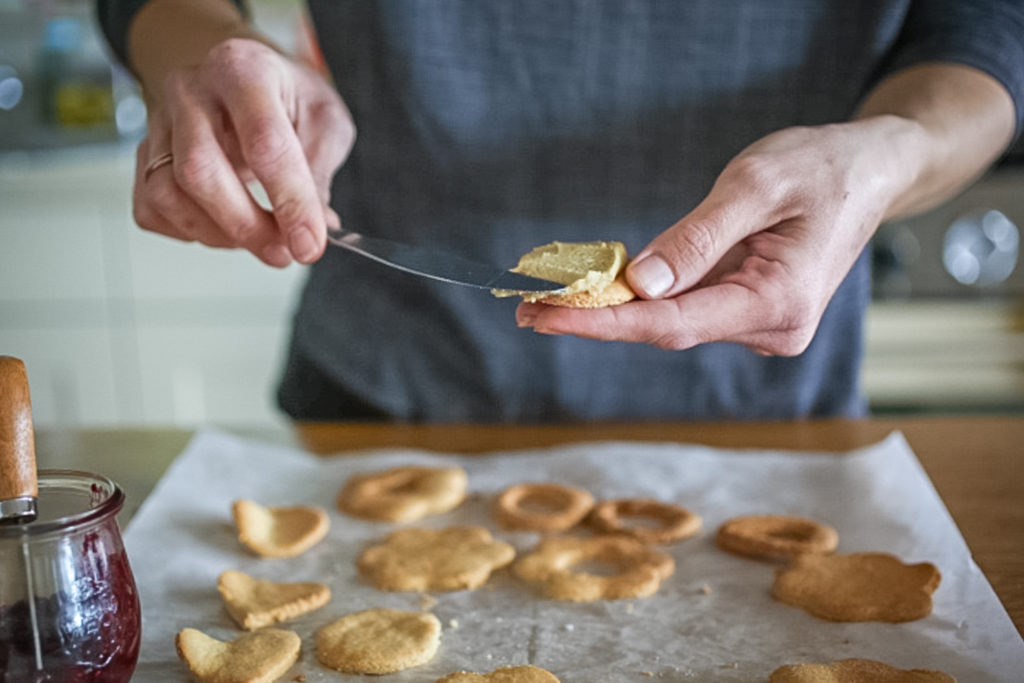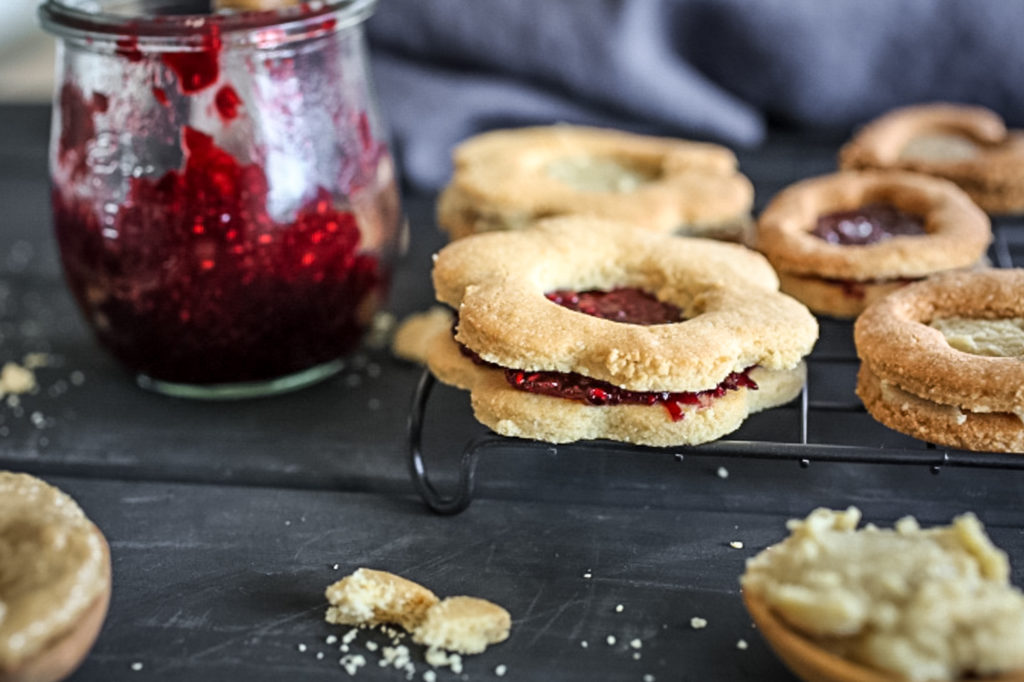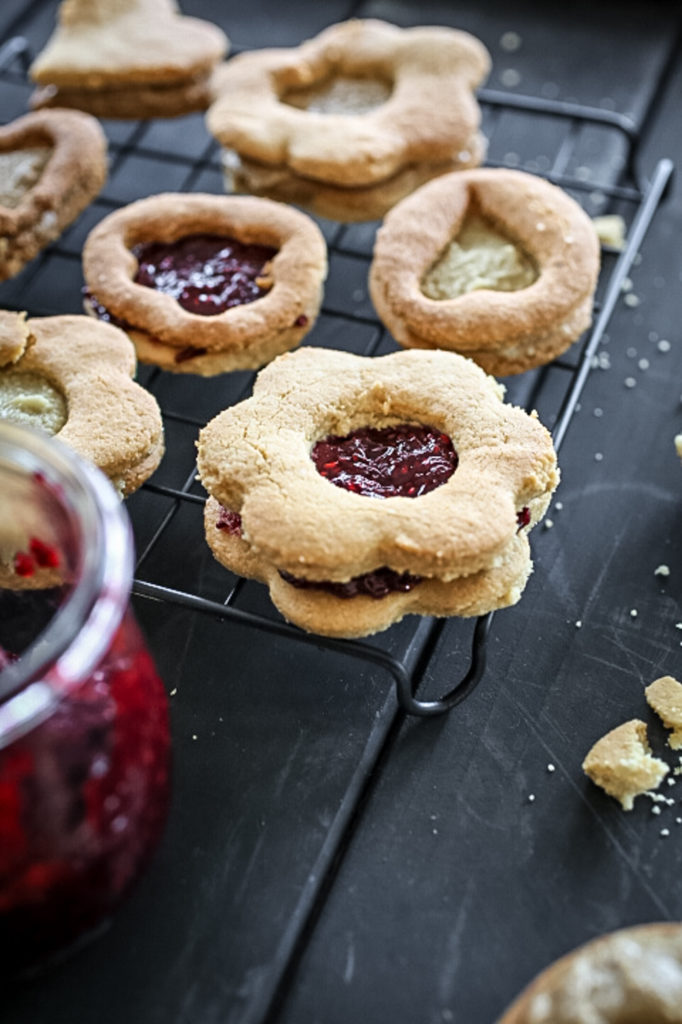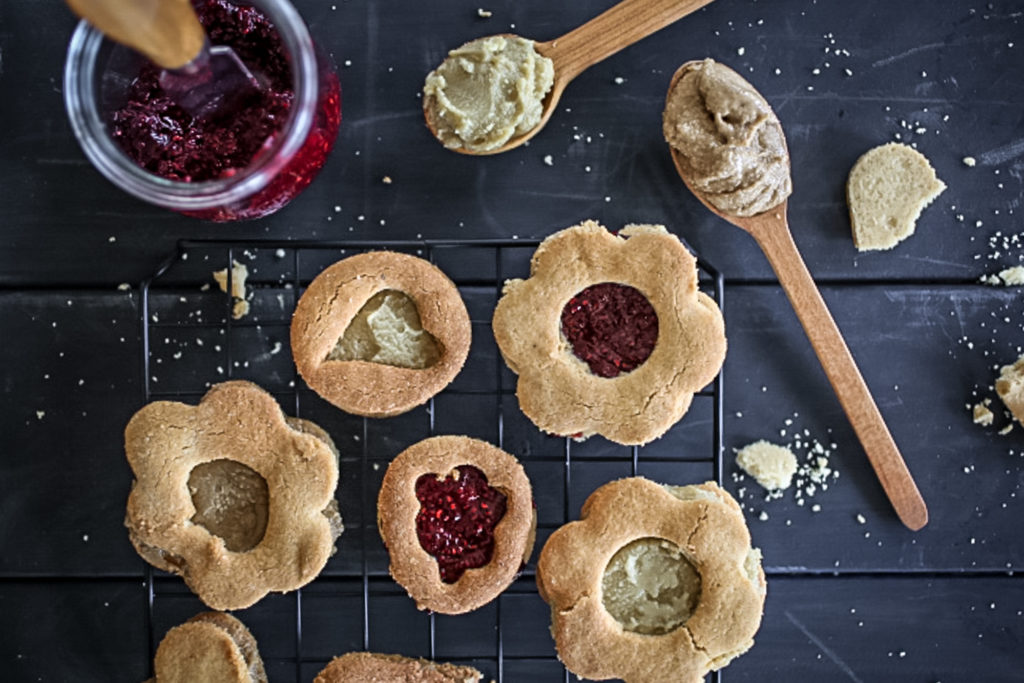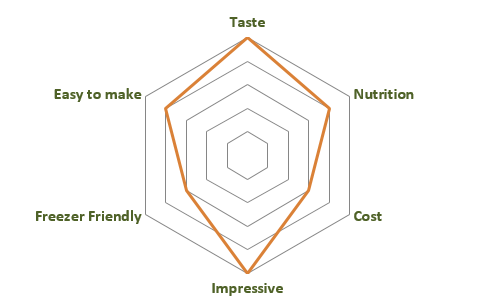 Vegan (Gluten Free) Linzer Cookies
Delicious, vegan, whole food, gluten free Linzer cookies
Ingredients
2 table spoons coconut oil
4 table spoons pure maple syrup
2 cups almond flour (260 grams)
1 tea spoon baking powder
a pinch of salt
Rasspberries "jam" filling:
½ cup raspberries
1-2 table spoons pure maple syrup
1 table spoon chia seeds
"Halva" filling:
3 table spoons sesame paste
1 table spoon pure maple syrup
Almond filling:
3 table spoons almond butter
1 table spoon pure maple syrup
Instructions
Melt the coconut oil and mix thoroughly with the maple syrup. In parallel in another bowl mix the almond flour with the baking powder and the salt. Merge the contents of the 2 bowls and work the dough into a large ball.
Use a rolling pin and roll the dough between 2 baking sheets. Cut out an even number of cookies, and cut shapes inside half of the cookies with a smaller cookie cutter (you can get creative with the shapes, see examples in the pictures).
Use a thin small knife to gently remove the extra dough around the cookies, work them to another ball of dough and repeat the process.
Bake in an oven pre-heated to 170 C degrees for about 10-12 minutes (until they get tanned but not too brown, watch these ones closely as they tend to burn). Let cool completely before you want to fill them.
Raspberries "jam" filling:
Heat the raspberries in a pan on medium heat while constantly stirring, until all their juice comes out and you are left with only fluids in the pan, add the maple and the chia seeds, stir and let sit for a few minutes so it thickens.
"Halva" filling:
Mix the sesame paste and the maple syrup until they combine
Almond filling:
Mix the almond butter and the maple syrup until they combine
P.S.
If you liked this and want to be updated with new recipes, Like VeganHightechMom on Facebook or register to get updates via email (This is mostly recommended as it is the only way to ensure you'll receive the recipes. And check your spam or "Promotions" tabs, as these email might end up there sometimes).
Moran