This post is also available in: Hebrew
While trying to break the crazy heat here, I ended up with these lovely Ice Cream Sandwiches, and figured you might like the recipe.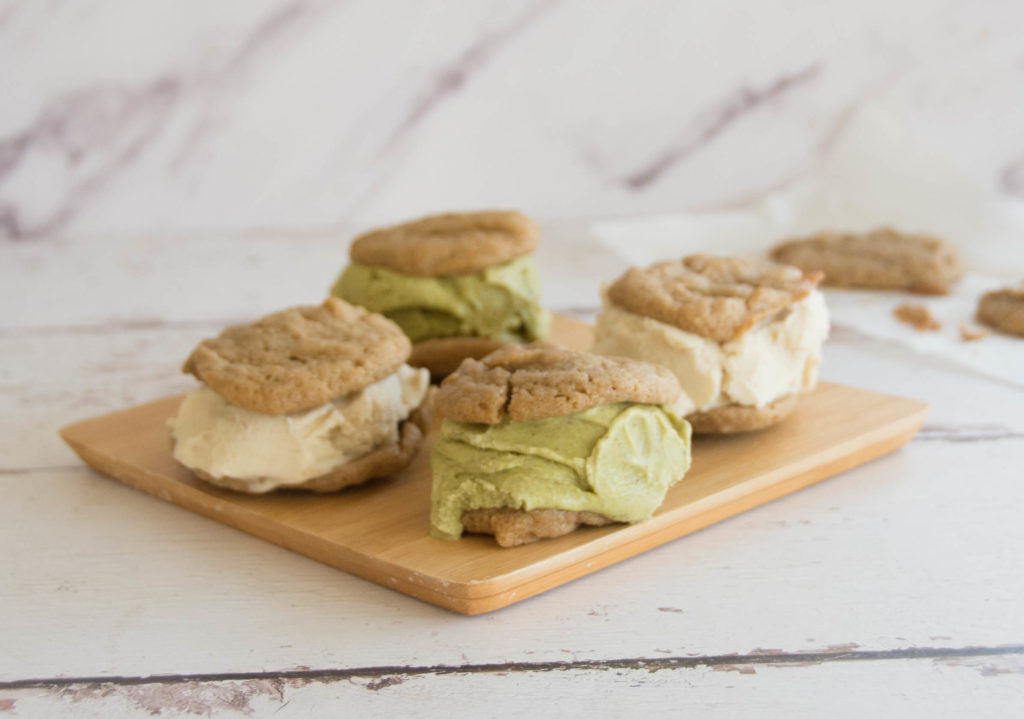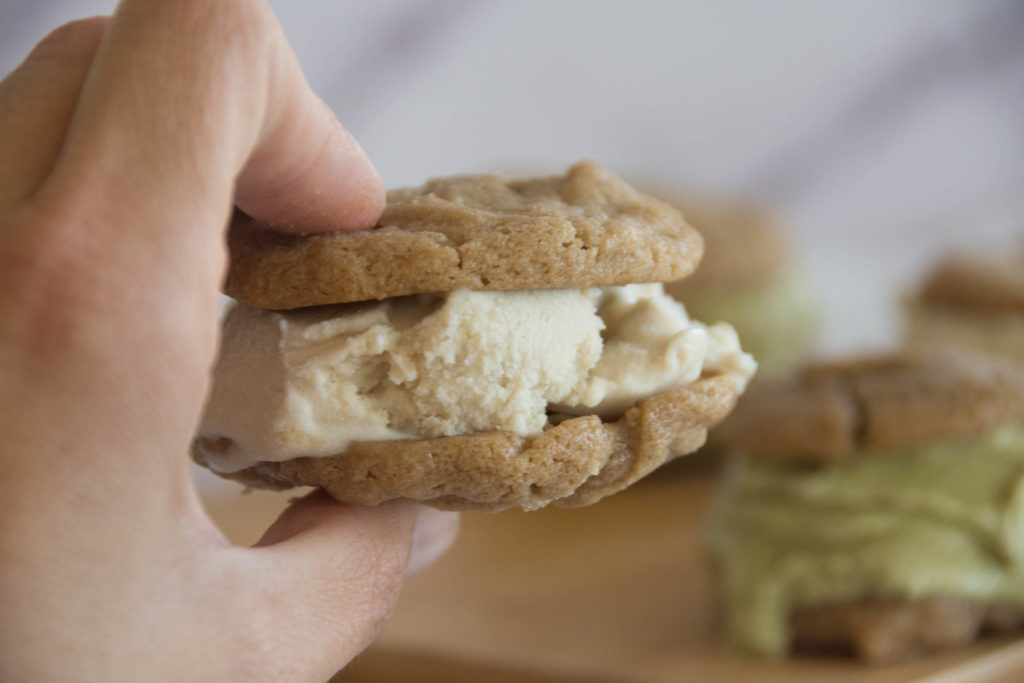 This time, no long preface, we all just want ice cream, I know.

The sandwiches are made using simple cookies, that if you bake a couple minutes longer they can be used as "regular" cookies, but for this recipe you'd want them slightly softer so that even when they freeze they are still nice to give a bite at. Inspiration for the recipe from this lovely recipe here.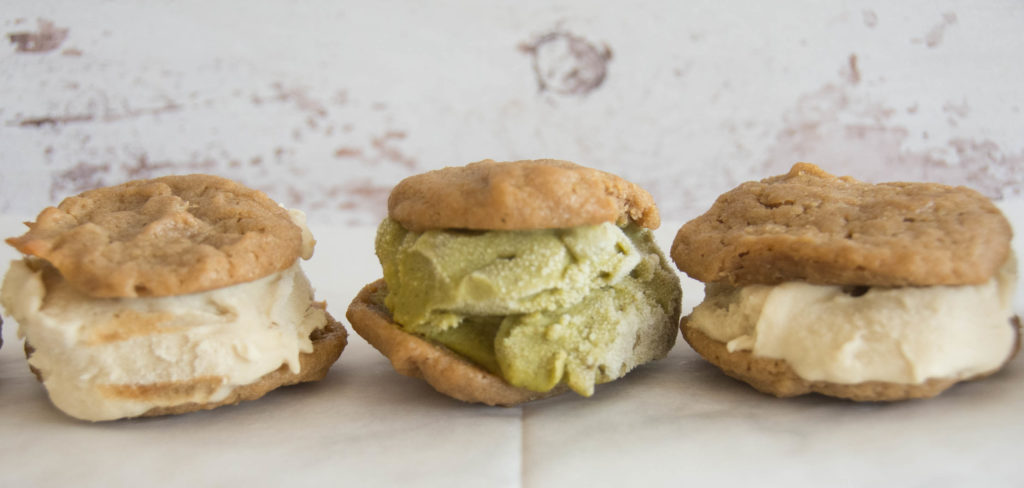 The ice cream is my usual nut based ice cream from this blog, which is a staple in our house. If you haven't tried it yet, I highly recommend it regardless of the ice cream sandwiches. It can be made using all kinds of nuts (plus seeds), so the recipe is totally playable.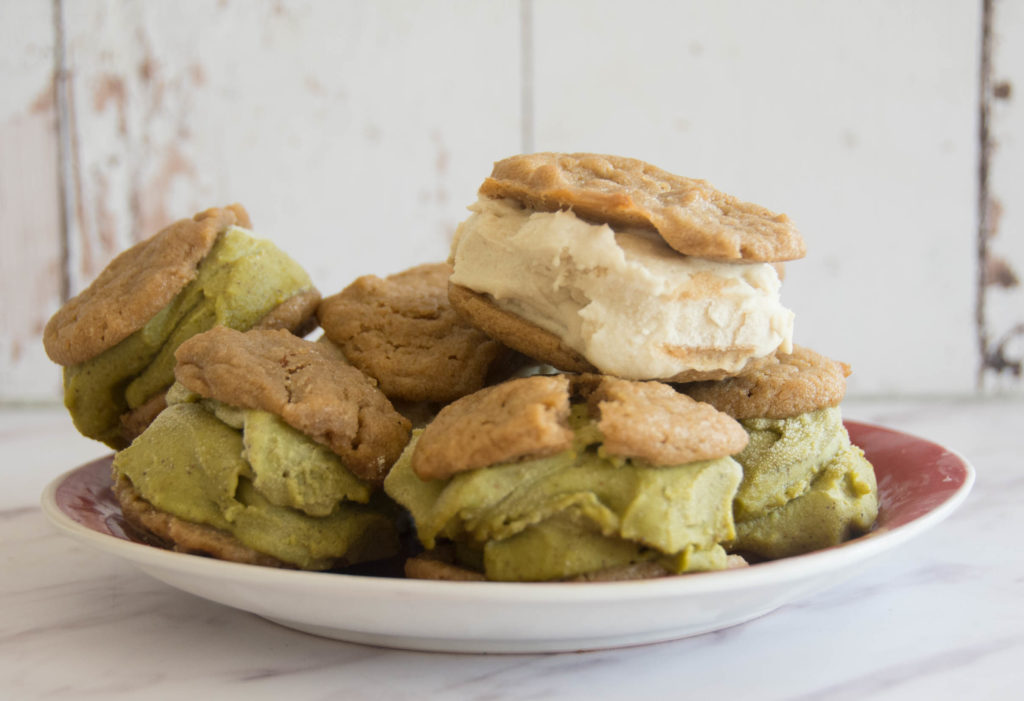 The Dishometer Rating: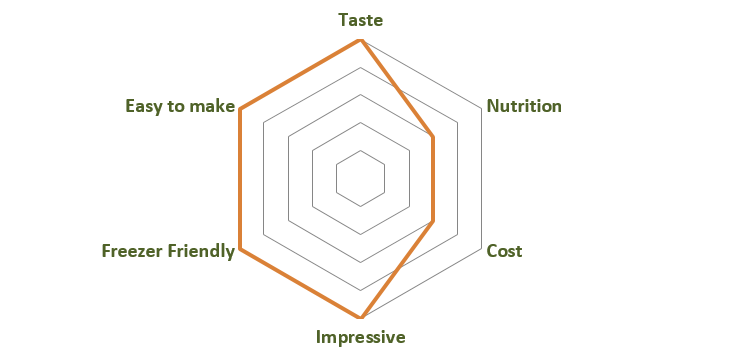 Vegan Ice Cream Sandwiches
Perfect, dairy free, versatile, wholefoods, ice cream sandwiches
Ingredients
For the ice cream:
1⅔ cups water
1 cup nuts of your choice (options and recommendations up in the post)
½ cup sugar (or sub with agave nectar or maple syrup - use slightly less than ½ cup if so)
a pinch of salt
For the cookies:
2 cups whole spelt flour (or whole wheat)
1 tea spoon baking soda
¼ tea spoon salt
1 cup almond butter (or peanut butter, or raw tahini)
¾ cup pure maple syrup
⅓ cup grape seed oil (or other neutral tasting oil)
1 tea spoon vanilla extract
Instructions
Make the ice cream: Blend all ingredients until they form a smooth liquid.
Pour the liquid into muffin molds (you can use ice cube trays or silicon muffin molds, just make sure you use molds that will make it easy for you to quickly pull the frozen ice cream cubes out of them later on).
Place in the freezer and once frozen (it takes about 3 hours), take the ice cream cubes out of the molds and blend them once more.
* Important note here about this second blend: use a blender only if you own a Vitamix or any other high speed blender that has an option to push the cubes into the blades while running. If you don't own one (get one, it's worth it!), not to worry, I made sure this can also be prepared without: instead of blender though use a food processor, the knives will do the work. If you are using a food processor I'd recommend processing in 2 batches, that is take only half of the cubes, process and freeze, then take the other half, process and freeze, as you don't want to burn your food processor with all of the frozen cubes together. Freeze for another 30 minutes for a perfect ice cream texture.
In the meanwhile make the cookies: mix the dry ingredients in one bowl, mix the wet ingredients in another bowl, then mix the 2 together until they form a unified batter. Use 2 tea spoons or slightly wet hands to create small balls from the batter and flatten them on a baking sheet. Bake in an oven pre-heated to 180 C degrees for 11 minutes (they will look slightly under baked, which is what we are after here. Wait for the cookies to cool completely, then assemble the sandwiches and serve if you like it soft, or freeze for anothr 30 minutes or so if you like the ice cream a bit harder.
P.S.
If you liked this and want to be updated with new recipes, Like VeganHightechMom on Facebook or register to get updates via email (This is mostly recommended as it is the only way to ensure you'll receive the recipes. And check your spam or "Promotions" tabs, as these email might end up there sometimes).
Moran