This post is also available in: Hebrew
5 years have passed since I had a pot pie. It was a different time back then, in our old apartment in Haifa, where I ate it with chicken, during my maternity leave with my oldest daughter.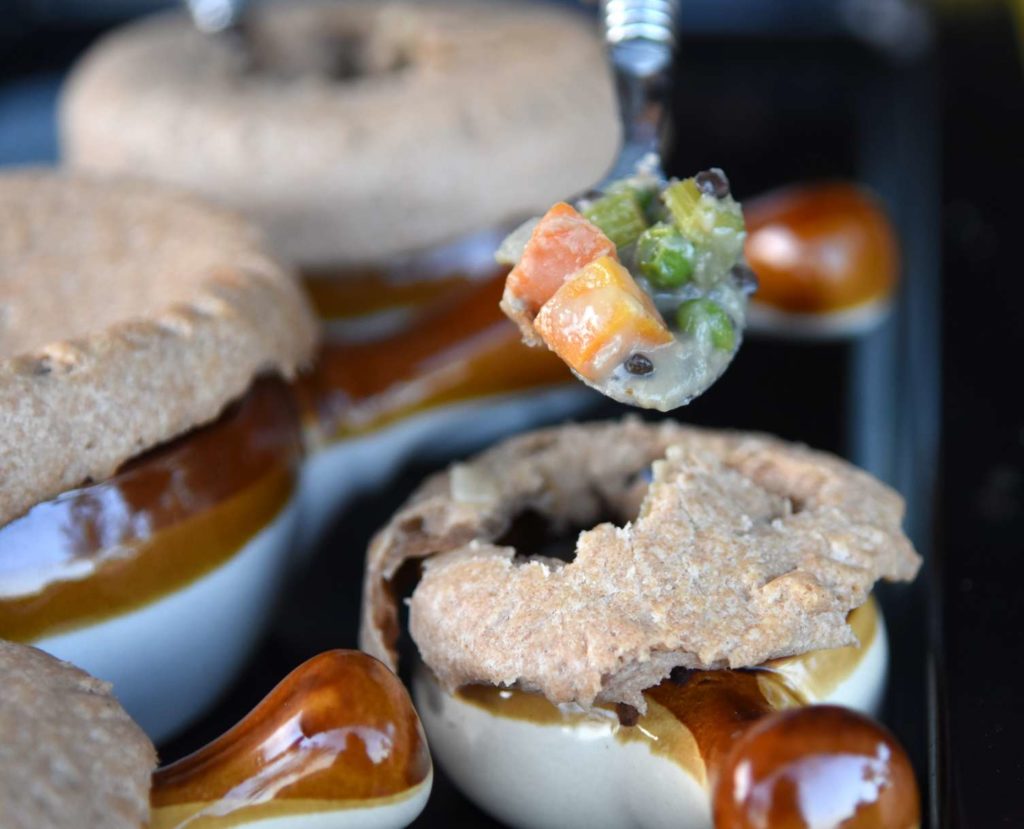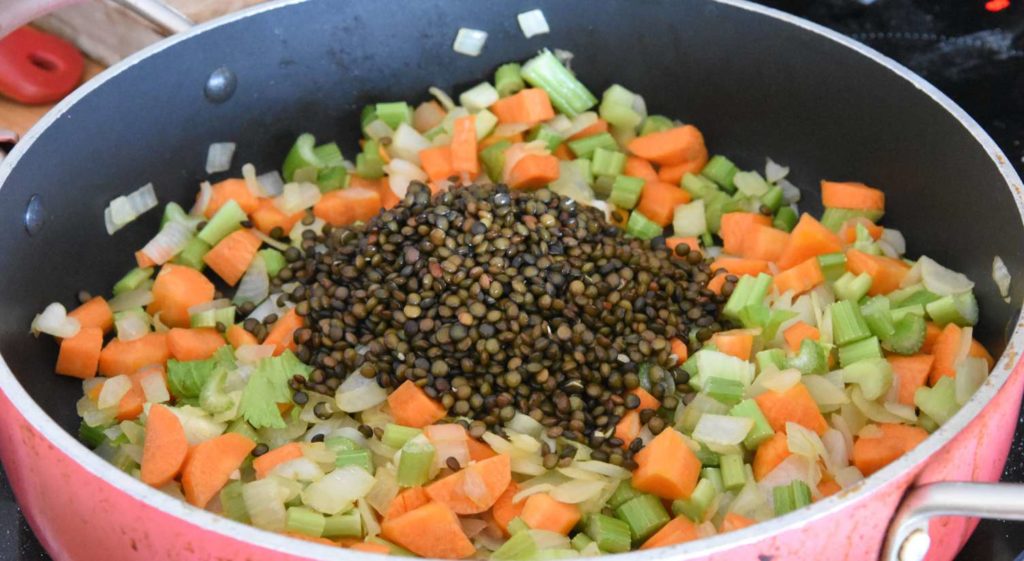 Haifa was in my mind this whole week, how hard it has been seeing the pictures from the fire, my beloved Haifa must have changed completely and frankly I'm not ready to go and take a look myself yet.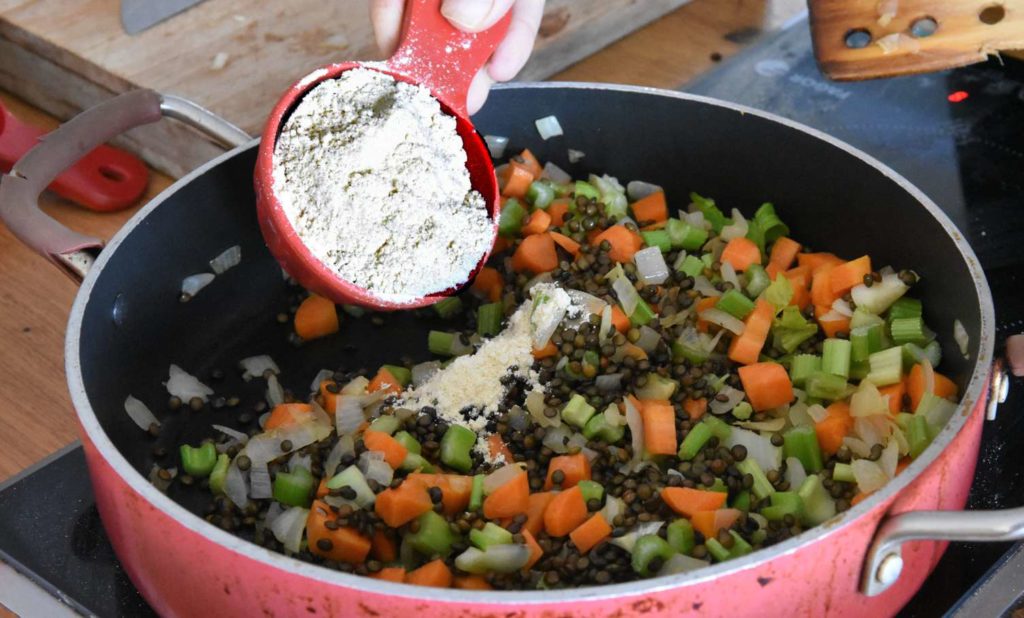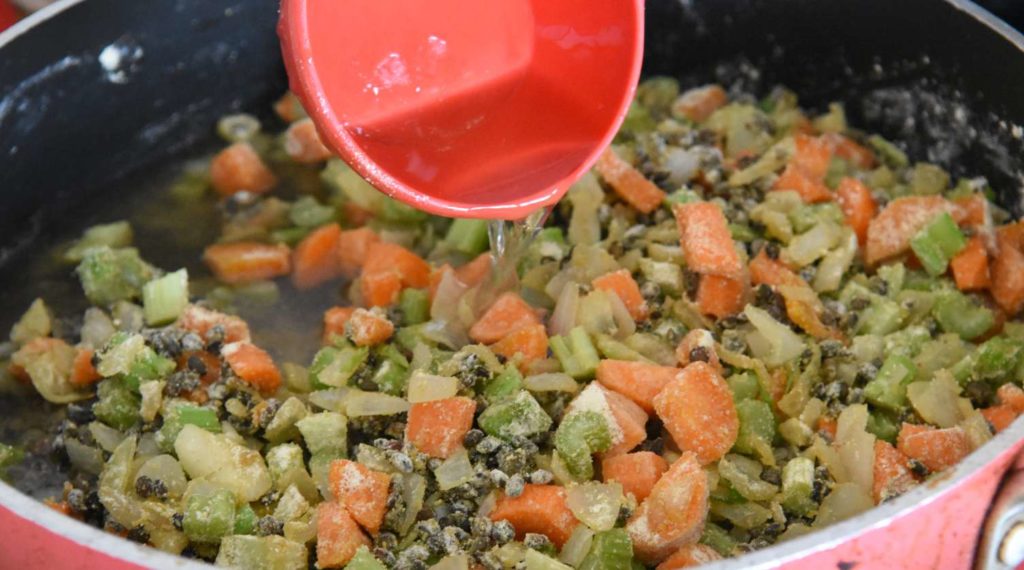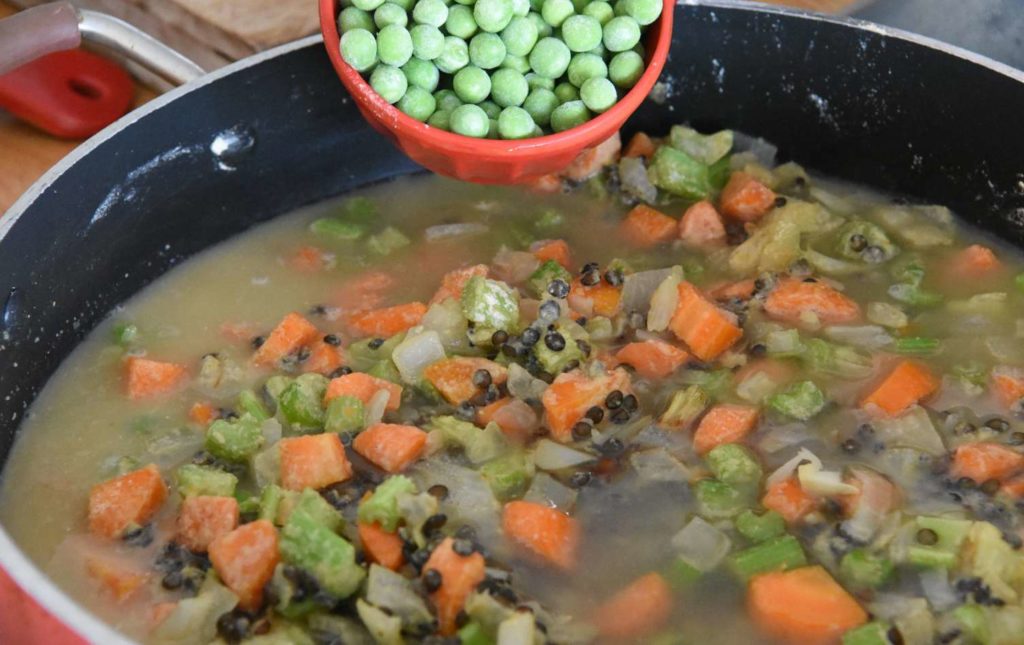 Rafi cannot understand how can I choose not to watch the news, how I am OK with getting updated accidentally from a comment in a Facebook group, or a casual talk with friends. I simply cannot bare the news, they don't really talk about happy stuff usually you know, so what for? And between my disconnection and his forever online-ness, we are on average a normal person I guess 🙂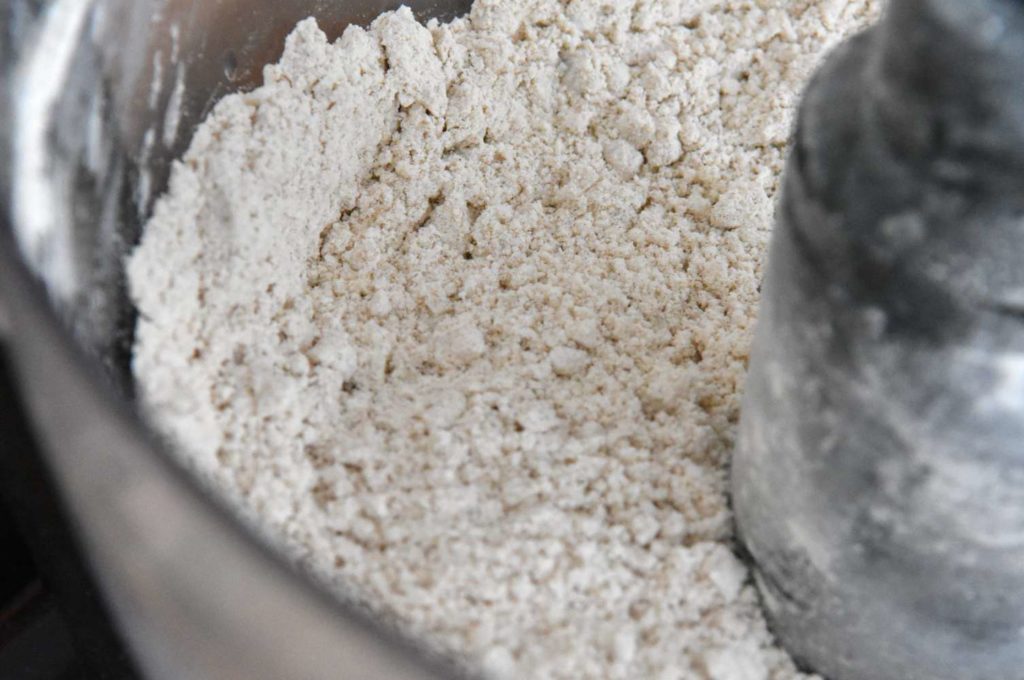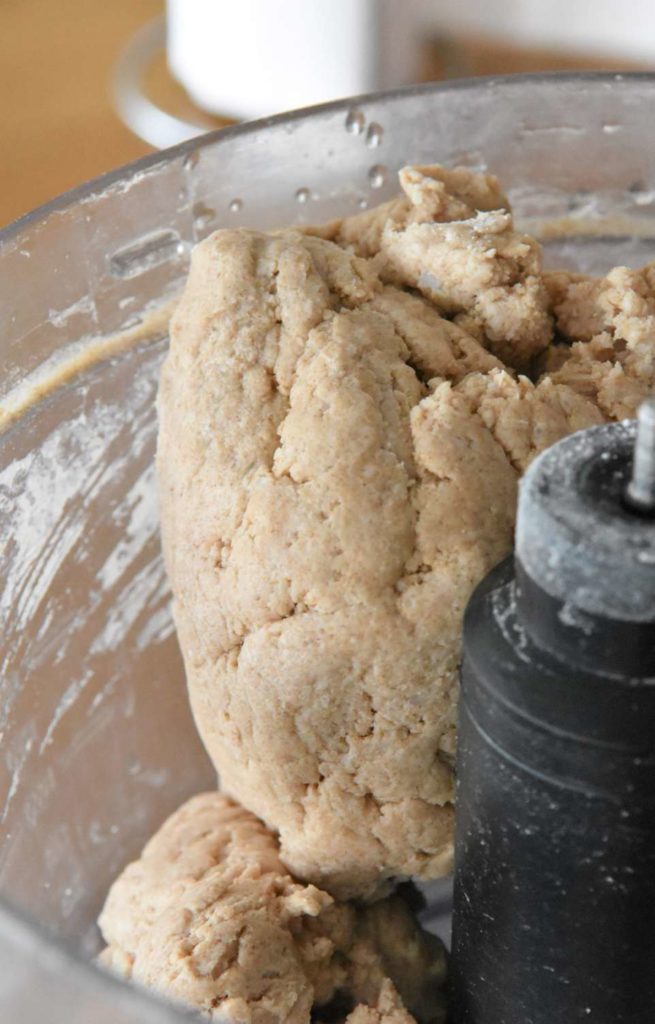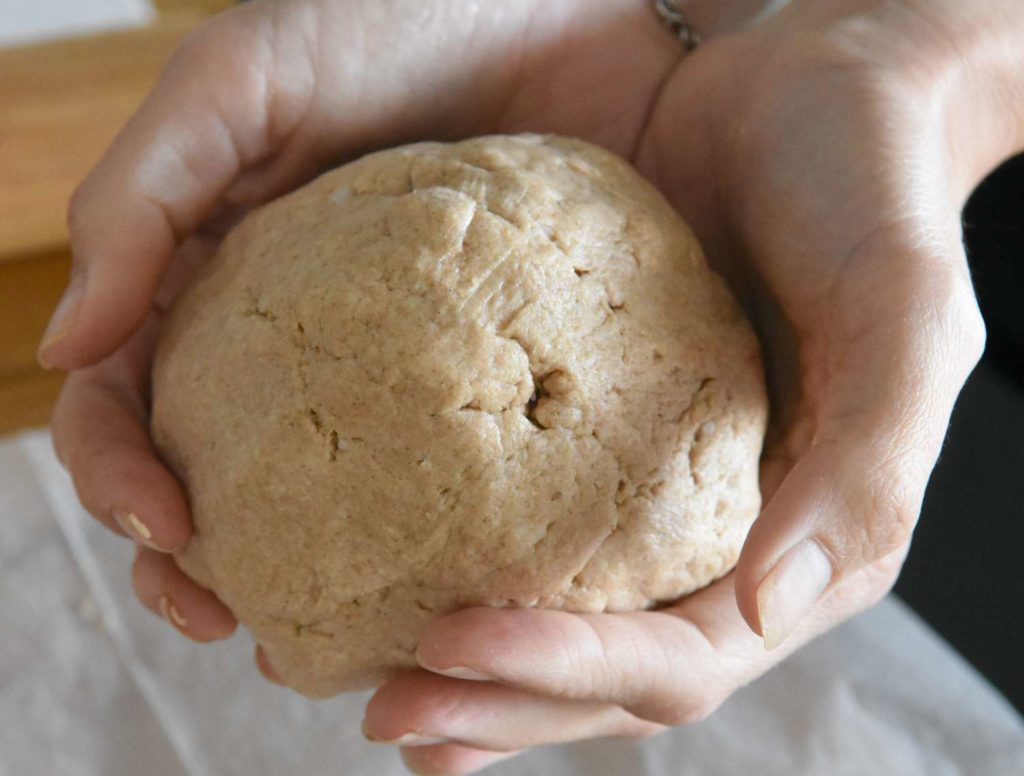 I no longer live in Haifa, I have more than one kid, and I definitely don't eat chicken (among other animals) anymore.
But I had a crave for pot pie.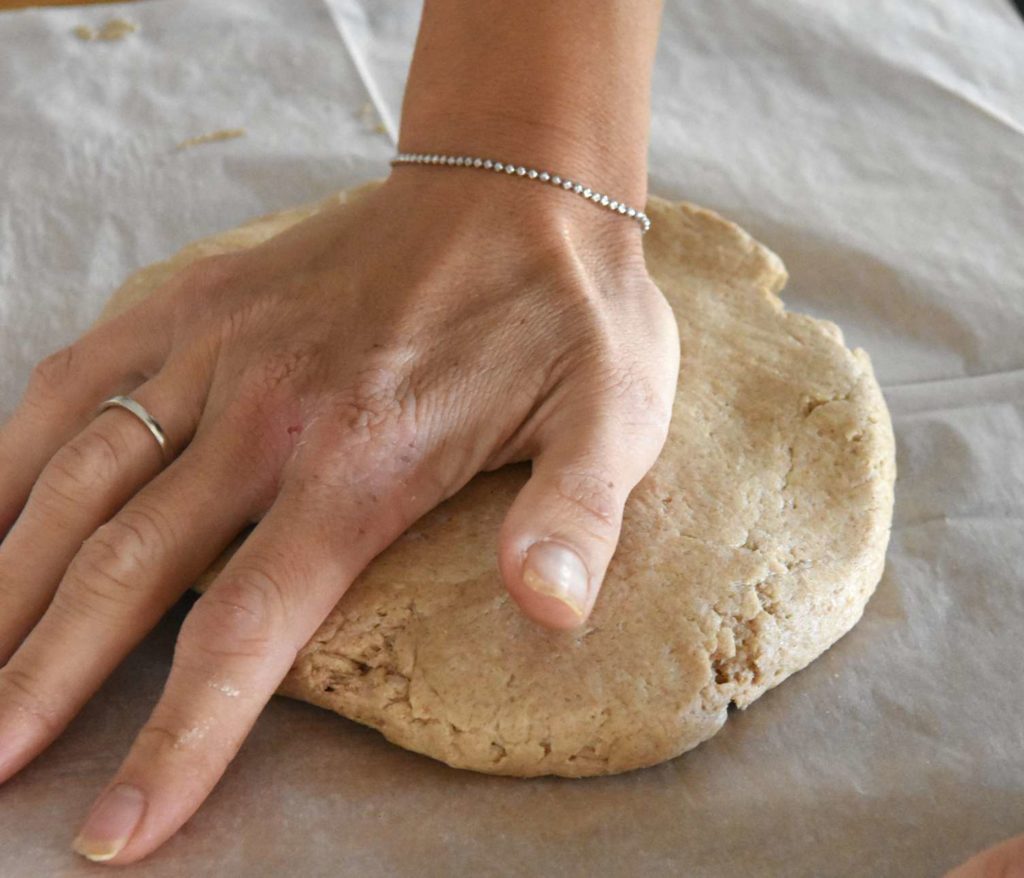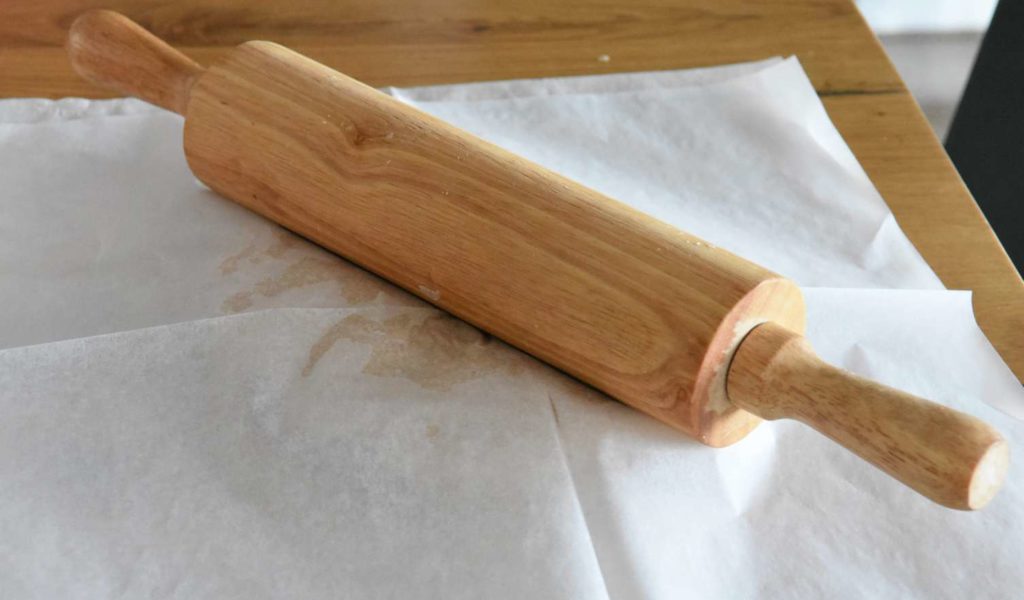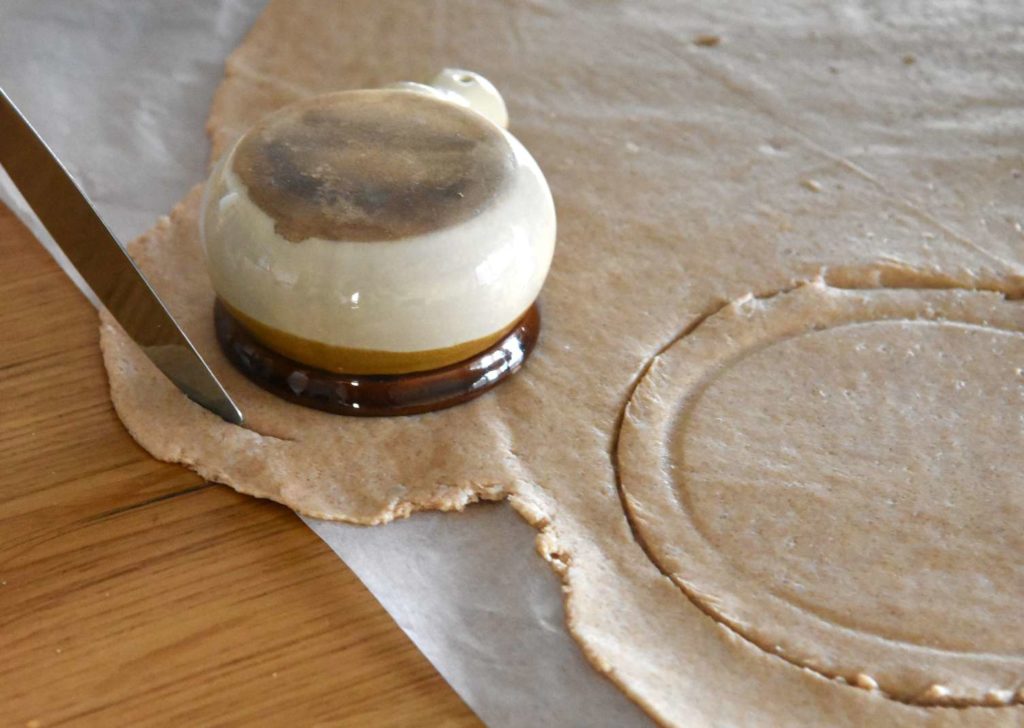 If you are not familiar with the dish, it is like pie, only opposite, the crust is on top. This recipe has a bit (really, just a tad) more work to it than the others on this blog, and you can make it with only the vegetables if you are in a hurry, but if you are looking for the real deal, I'd say go for it as it's worth it. The vegetables broth is a must here as it provides a lot of the taste, and no I did not have one ready in the freezer so I sim,ply used the celery leaves that I had to discard anyway for this pie and made a quick broth.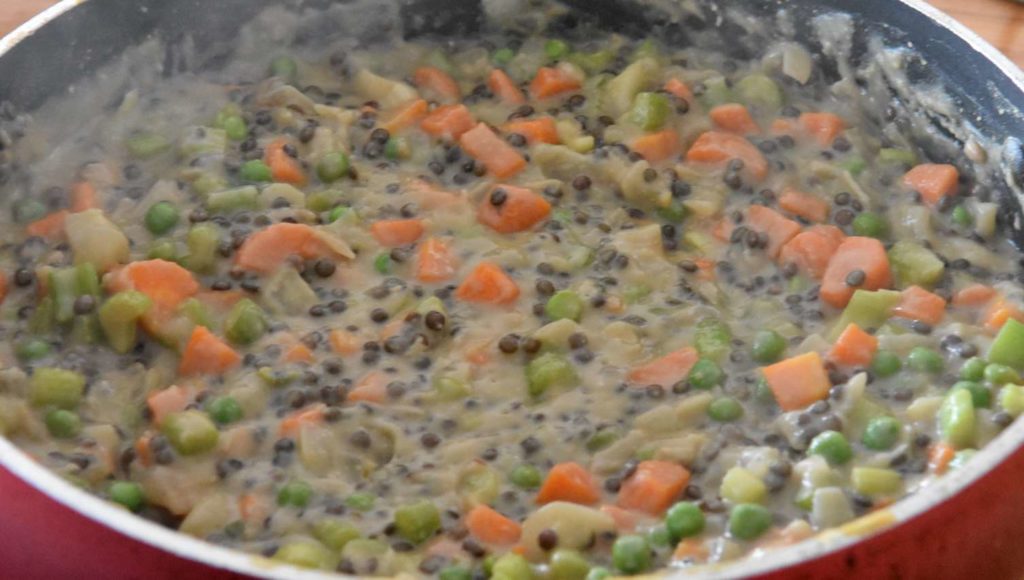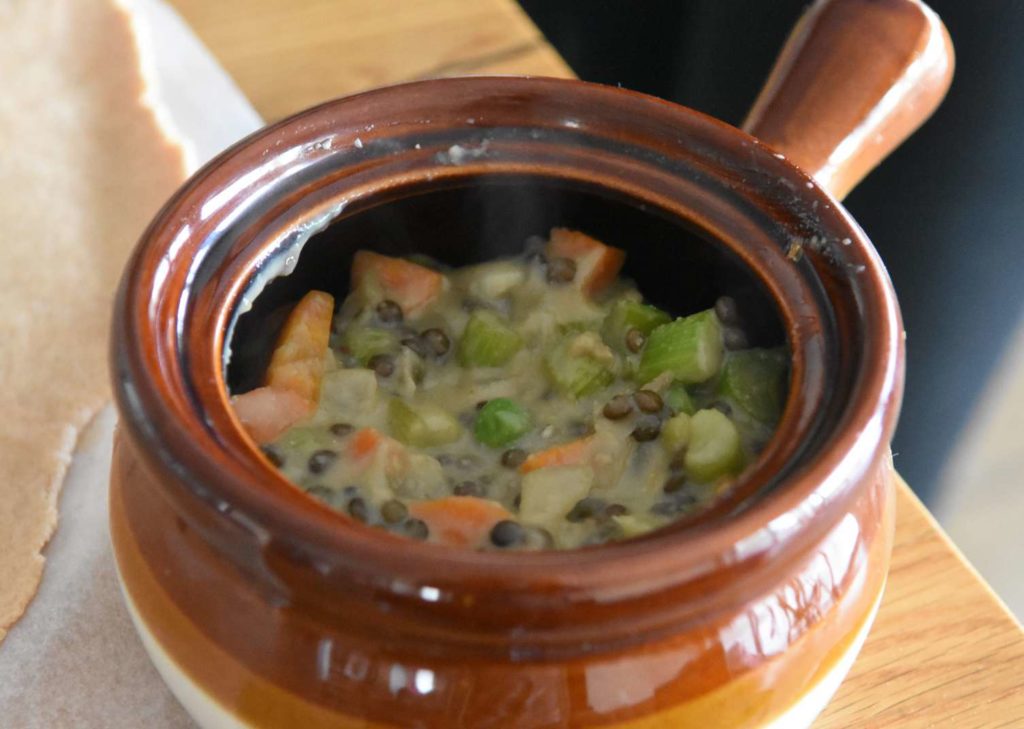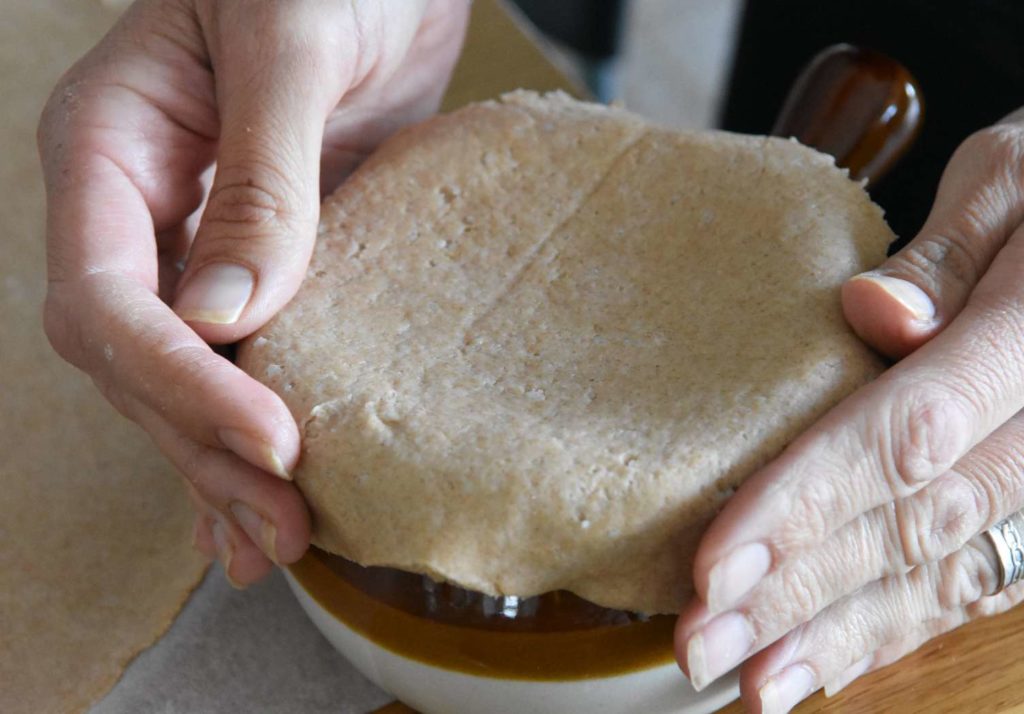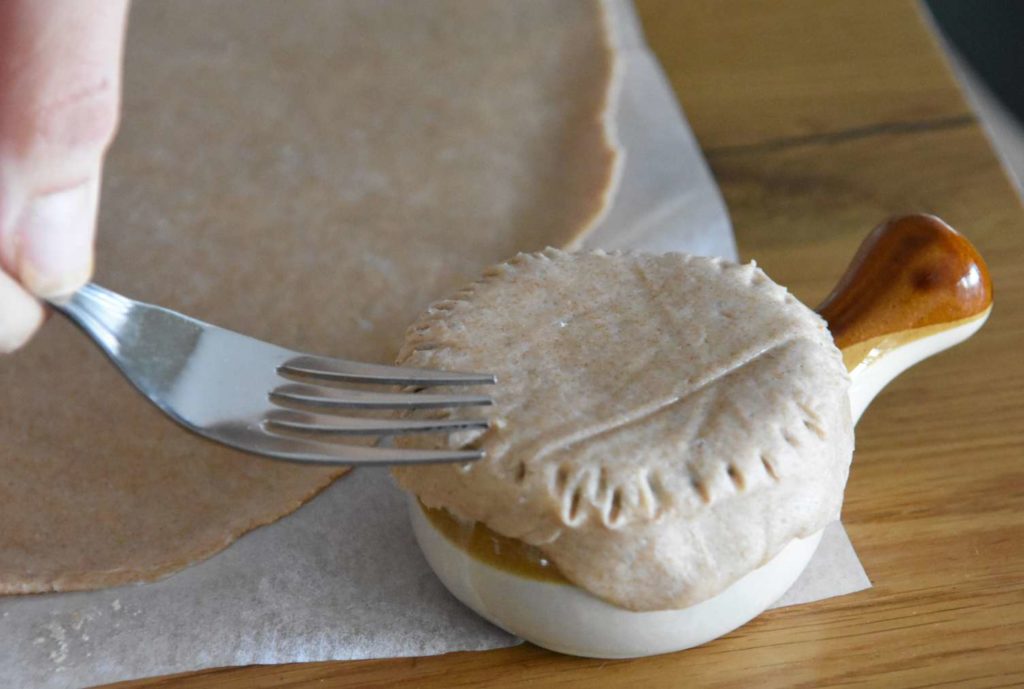 Everything else about the recipe can be adapted to what you like or currently have at home. You don't have lentils? Discard them. You have other vegetables than the ones I list? Go for it. Mushrooms, cauliflower, potatoes and more would go great here. Play with it. The only place you need to be accurate is the crust so it will turn out perfect (plus using broth as I already mentioned). The perfect bite by the way, is one that consists of 80% vegetables and 20% crust 🙂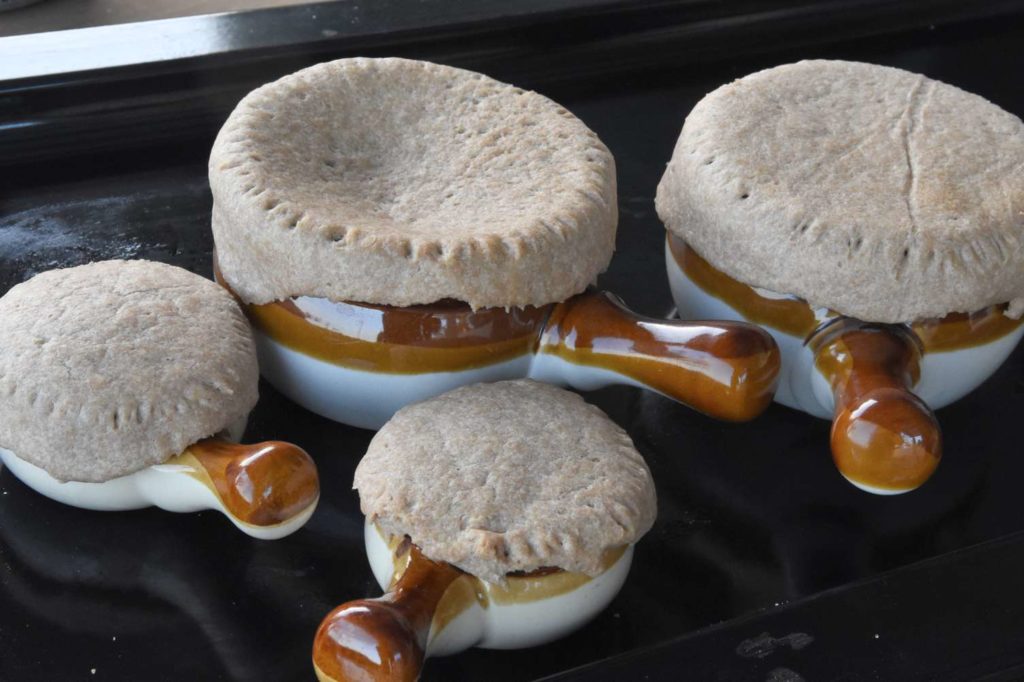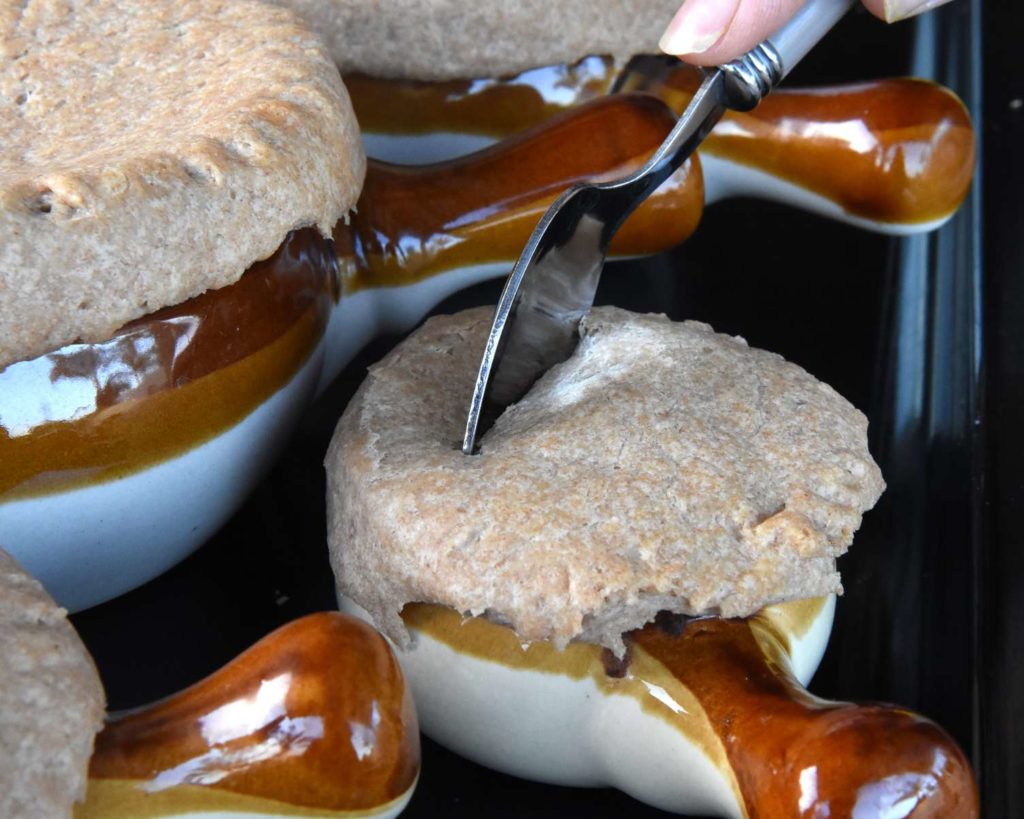 Vegan Pot Pie
A hearty, warm and filling dish, fill of vegetables and topped with a flaky crust
Ingredients
4 carrots
1 onion
5 celery sticks
2 garlic cloves, minced
½ cup frozen green peas
½ cup black lentils (optional)
⅓ cup chickpea flour (or any other flour)
a few cups vegetables broth
2 table spoons olive oil
salt and pepper, to taste
For the pie crust:
1 cup whole spelt flour (150 grams)
⅓ cup coconut oil (scoopable, not liquid)
½ tea spoon salt
a few table spoons cold water (as needed)
Instructions
If you choose to use the lentils, soak them the night before in lukewarm water.
Prepare the vegetables: dice the onion and place in a wide pan with the olive oil on high heat, cook until it starts to be translucent. Add the garlic and reduce the heat to medium. Peal the carrots, cut to medium cubes and add to the pan. Dice the celery sticks and add. Season with salt and pepper. Cook for another coupe of minutes and add the chickpea flour, mix well to avoid lumps, then add a cup of the vegetable broth, the lentils and the peas. Let the water almost completely absorb then add another cup. Keep on doing that until the carrots are tender but not totally mooshy (the water should not be absorbed completely).
Prepare the crust: it is recommended to work with cold tools, some even say you should place the food processor bowl in the freezer for a few minutes before starting. Mix the flour and salt in a bowl and place in a food processor (using the S blades). Next add coconut oil in spoonfuls and start processing for a few seconds until the texture is sand like (see pictures in post). Stop, then start again, adding one table spoon of the water at a time, until a ball of dough forms (it will take a few seconds, and a few table spoons of the water, but it will happen by itself. I recommend waiting a few seconds after each table spoon of water to check if it has formed).
Use your hands to gently knead/form the dough in the bowl and gather any loose scraps. Then transfer directly on to a parchment paper and form into a disc with your hands. Add another parchment paper on top and gently roll the dough to about ⅓ cm thick. Place the ramekins you will use upside down on the dough and cut a circle around them about ½ cm wider than them.
Assemble the pot pies: fill the ramekins with the vegetables, top each ramekin with the pie crust and place for 30 minutes in an oven pre-heated for 180 C degrees.
*Note that you can pre-make the ramekins with the crust on them, then freeze them like that and just bake before you wish to serve them.
P.S.
If you liked this and want to be updated with new recipes, Like VeganHightechMom on Facebook or register to get updates via email (This is mostly recommended as it is the only way to ensure you'll receive the recipes. And check your spam or "Promotions" tabs, as these email might end up there sometimes).
Moran