This post is also available in: Hebrew
What? You sprout? Seriously? You are one of "those people"?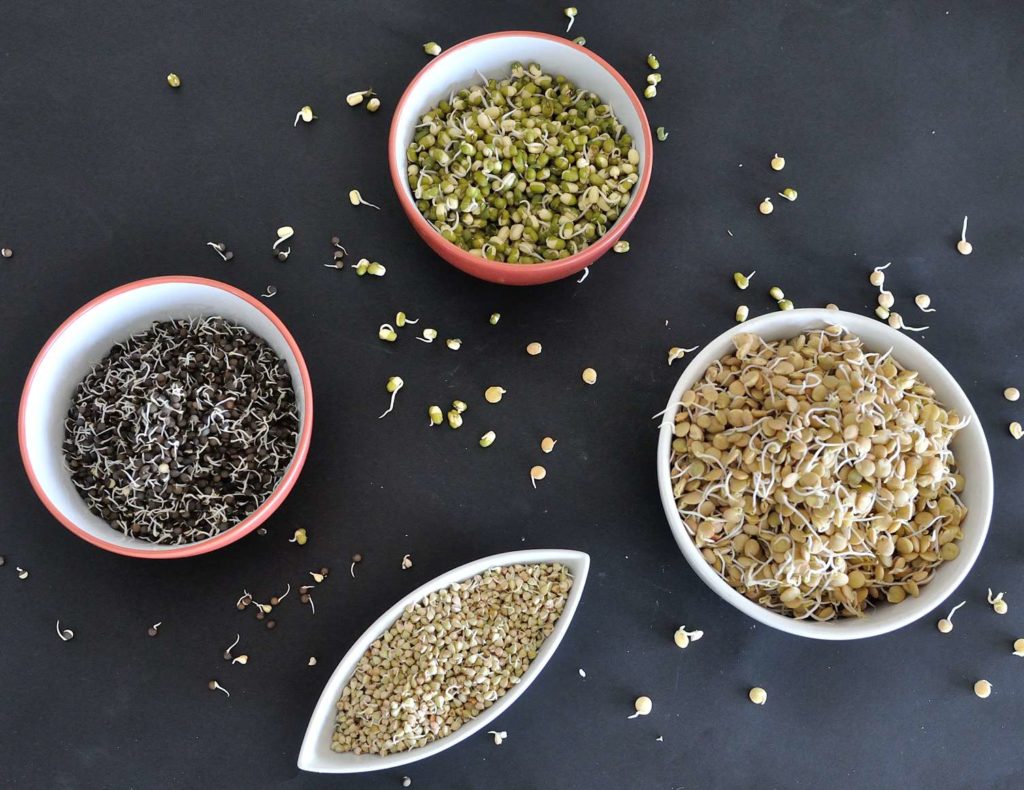 Sprouting is only for health crazy folks.
And who has time for it anyway?
Well, Yes, No, and You do.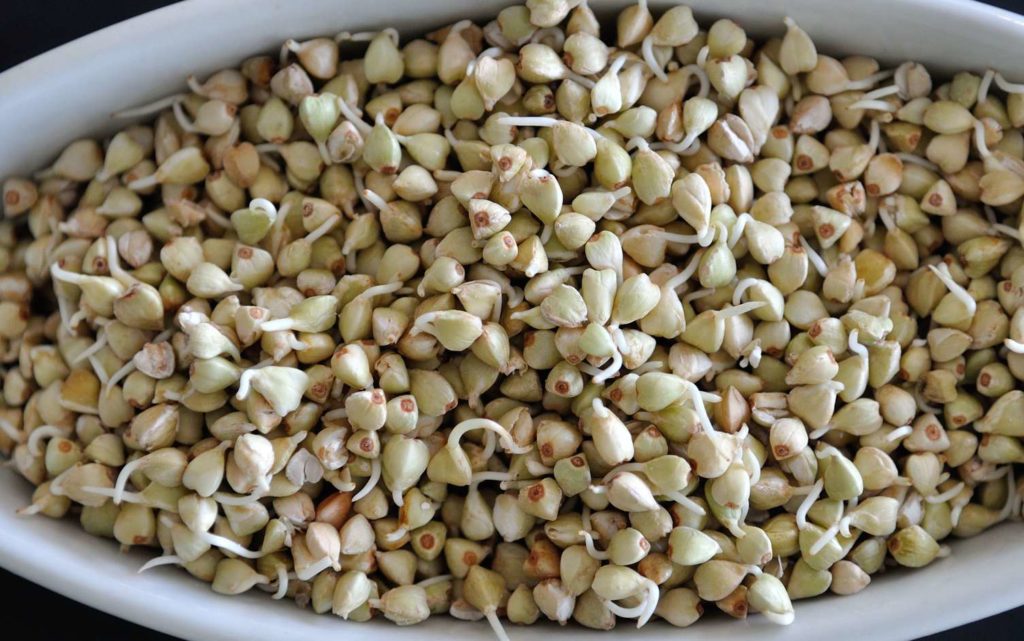 I do indeed sprout, that is, I place grains, beans, or legumes in a bowl and they do all the hard and wonderful work of sprouting themselves.
No, it is definitely not a habit for health crazy people living in the wilderness and walking barefoot all day, even high tech moms (well, ex-high tech, but still with a high tech husband that treats the sprouts as if they were a snack) can do that, and actually should.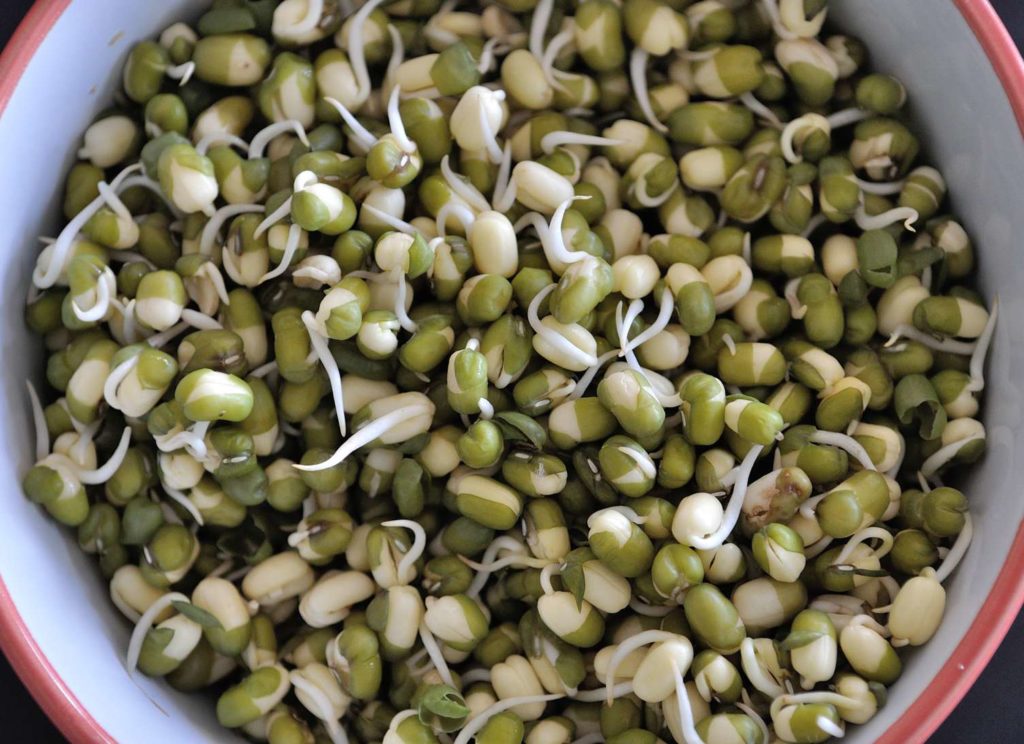 So why sprout? Well, they internet is full of details about that so I won't waste time here trying to explain what experts in their domain can explain better, i'll just say that to summarize, it is just healthier to est sprouted grains, beans, or legumes: their nutritional values goes up, they are easier to digest, and they take less time to cook. Win, win, win!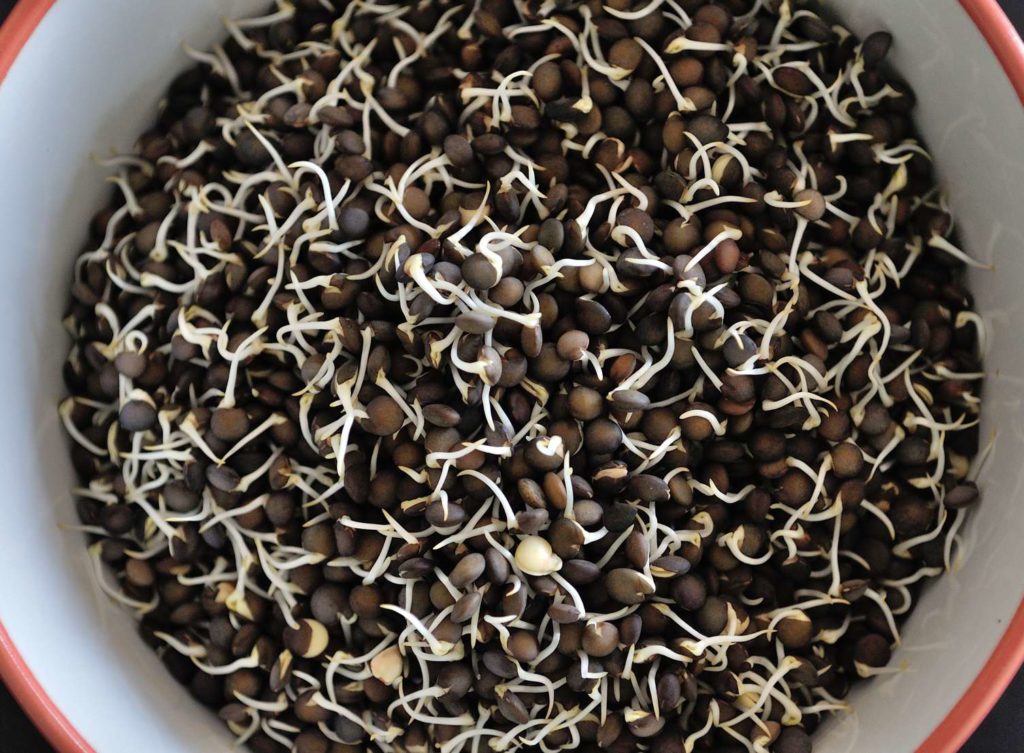 It takes time to sprout? Come on.. The active time I spend on the sprouting process is 2 minutes tops, all the rest of the time is the time when I go to work/family time/my other activities, and all the magic happens by itself, then its ready. Anything simpler than that?!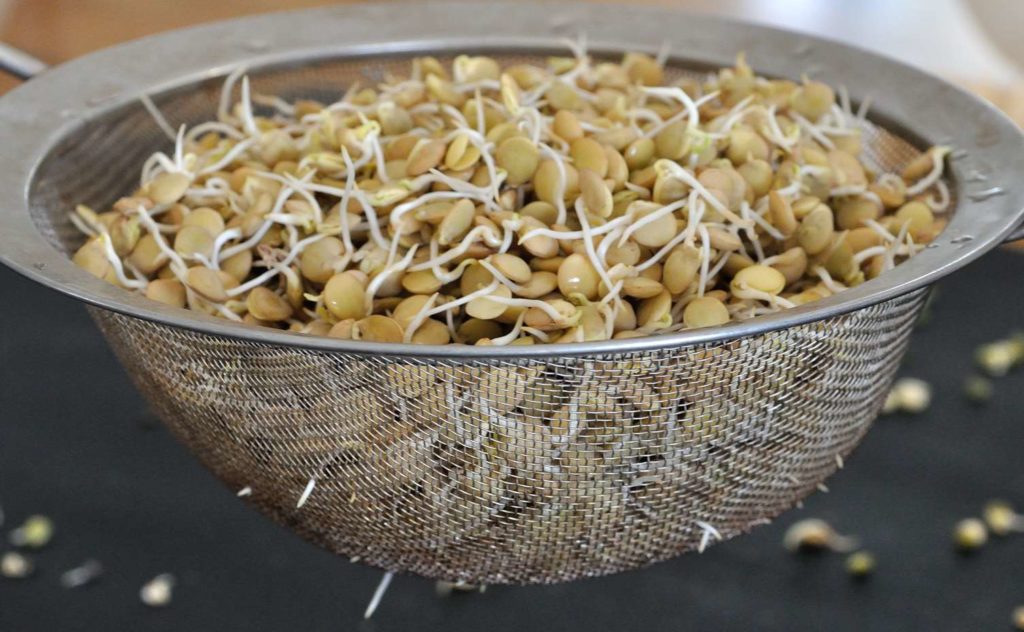 I admit, you need some planning ahead here, but if you make this a habit, that once a week or every other week you make a big batch of the sprouts you like, then you'll always have ready sprouts in the freezer (yes, they can be frozen). Perfect!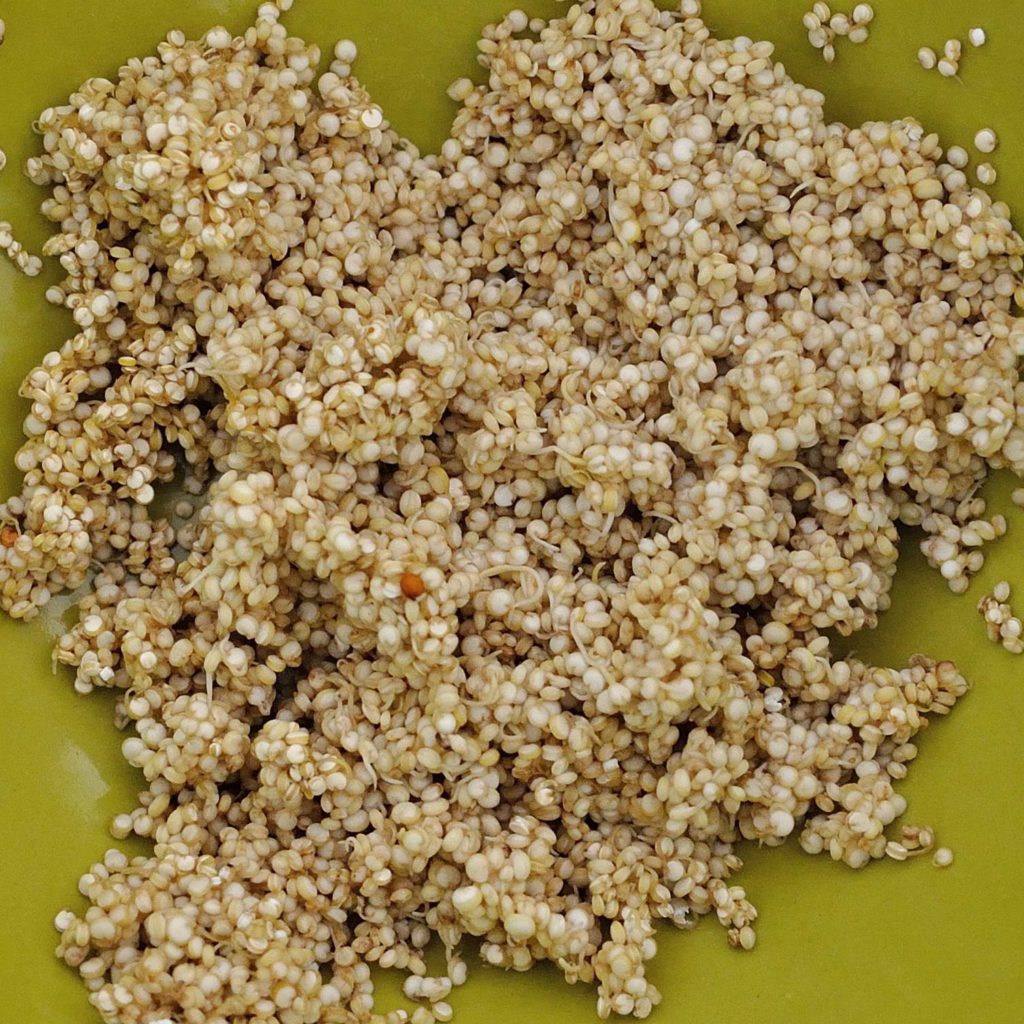 Where to use? On top of salads (as is), in every other kind of dish you would other wise use the grains, beans, or legumes only here the cooking time will be shorter, or in patties (sprouted lentils, uncooked, are actually the secret base to great patties, check out my version here), or just eat it as a snack straight from the box (if you are my husband).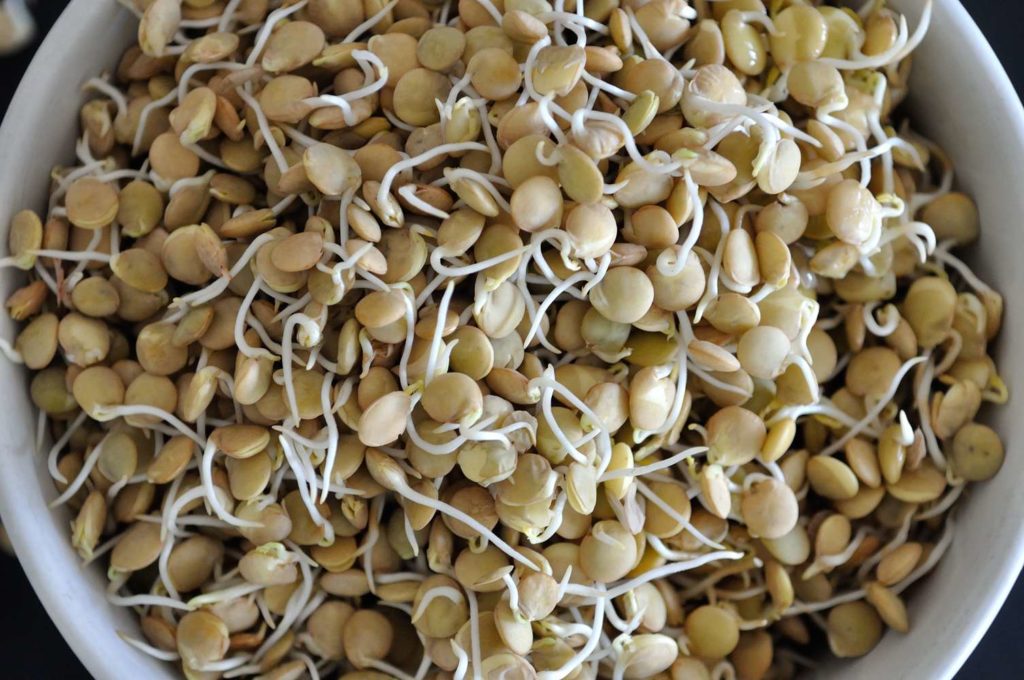 You could sprout all kinds of grains, beans, and legumes (pay attention that you buy whole lentils, as the split ones, like the red lentils usually are, will not sprout). I recommend to start with the easy ones (such that are less likely to get rotten quickly), to practice on them, which are mung beans, or brown/green lentils.
The process (using lentils as example):
Place one cup on lentils in a bowl and cover with water (it is recommended to rinse the lentils in fresh water prior to soaking them), and leave on the counter for 12 hours.
Drain the soak water and place the lentils inside a sieve, placed over a bowl (empty bowl). Place the bowl, with the sieve on it, covered with a clean kitchen towel, in a rather dark place (pantry or a kitchen cupboard) for 12 hours.
Rinse the lentils, make sure you drain the water well, mix them gently to make sure there isn't a rotten one among them that will ruin all of them, and place back in a dark place.
After another 12 hours you should see the beginning of the sprouts. You can repeat the process above or stop now.
Keep in an air-tight container in the fridge for a few days, or in the freezer for longer term.
Use as a snack, combine in your daily cooking, and tell anyone that would listen that you are one of those sprouting practicing folks 🙂 .
P.S.
If you liked this and want to be updated with new recipes, Like VeganHightechMom on Facebook or register to get updates via email (This is mostly recommended as it is the only way to ensure you'll receive the recipes. And check your spam or "Promotions" tabs, as these email might end up there sometimes).
Moran