This post is also available in: Hebrew
Bread must be the most universal common food, to me. It seems wherever you go, you can always find some variation of bread, even if it's called differently.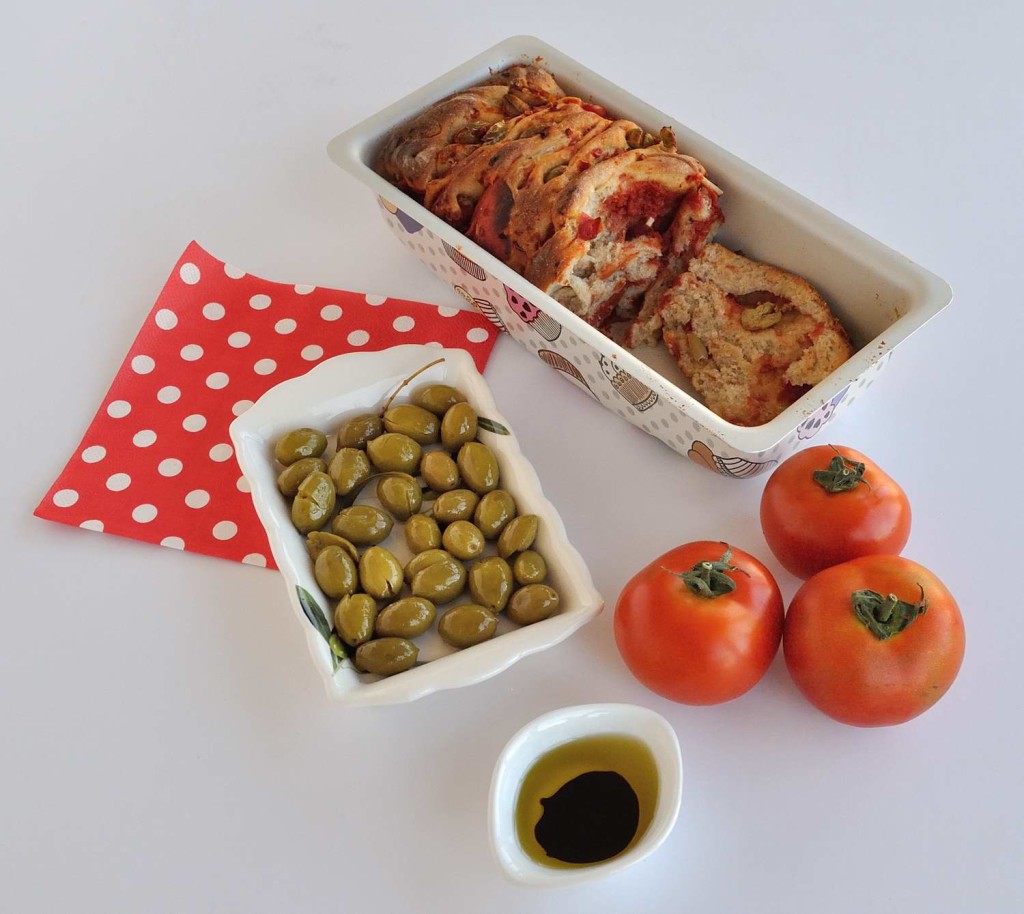 We all love bread: some like it sliced and some like to tear it with their hands, some like it crispy as in toast and some like it softer, some eat only the outer shell and some eat only the inside, some warm it up and some eat it as is (and some, like my girl, like it frozen straight from the freezer..), some try to reduce its consumption and some buy a fresh one every day.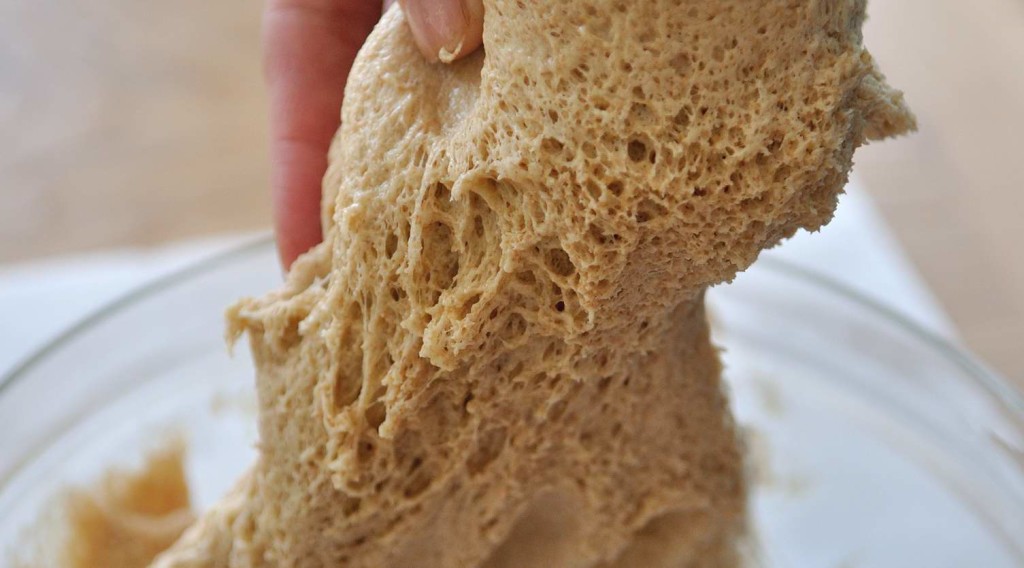 No matter if you are into white wheat flour, whole wheat flour, spelt flour, Sourdough, rye bread, oatmeal, or even buckwheat flour, we all have the one bread we cannot do without. And there's nothing like the smell of fresh baked bread in the house.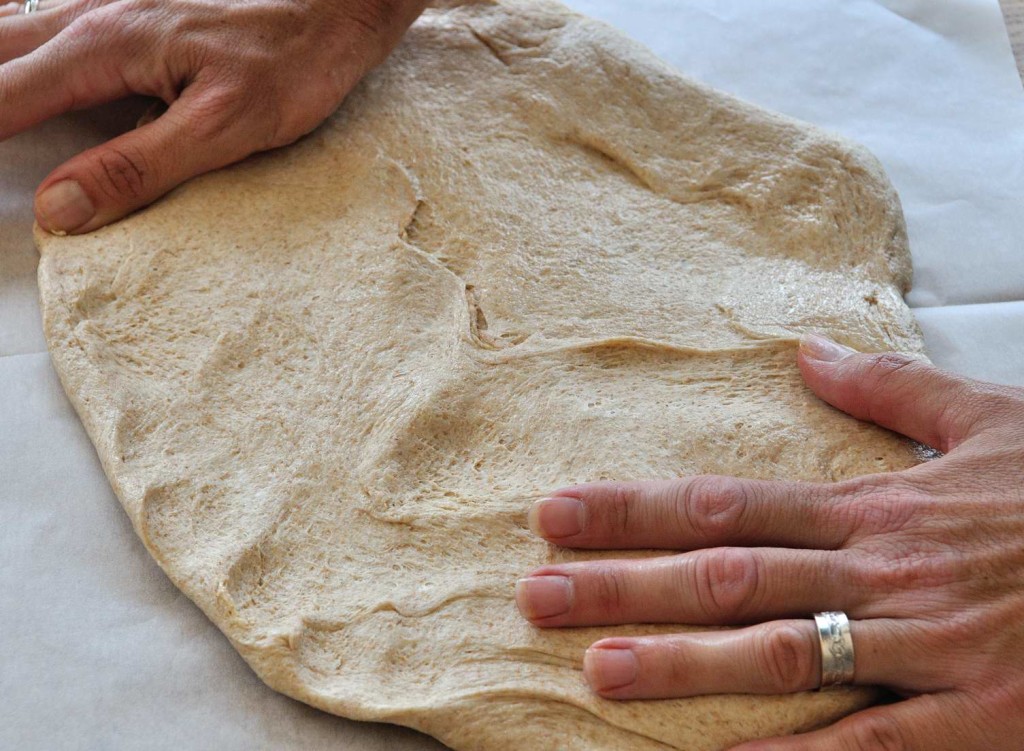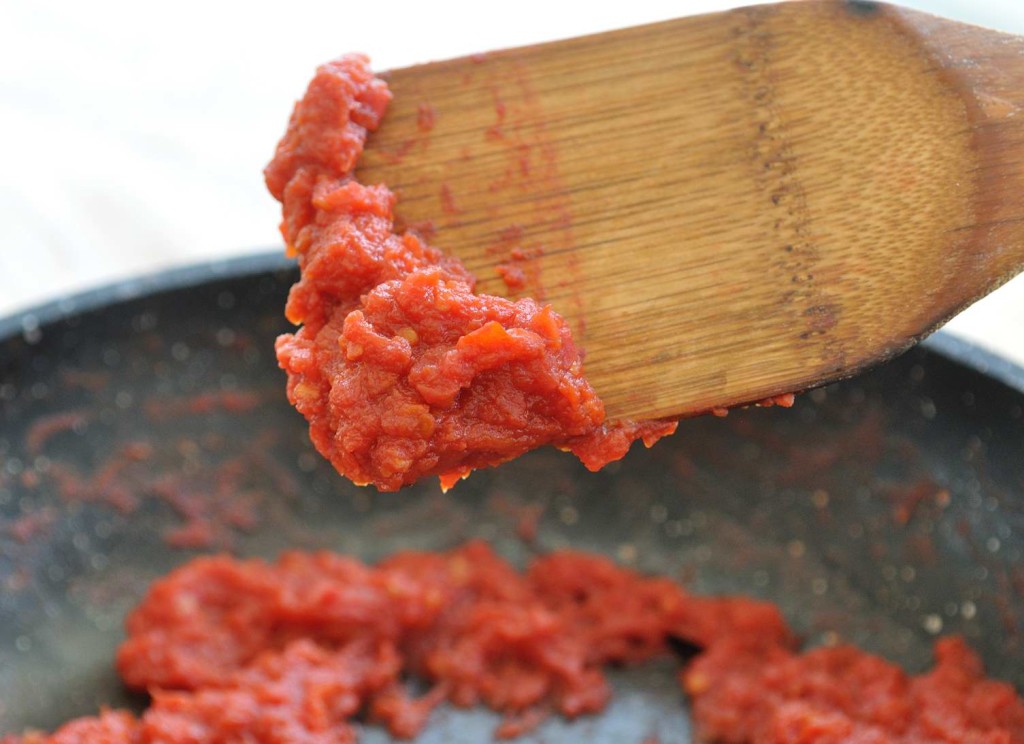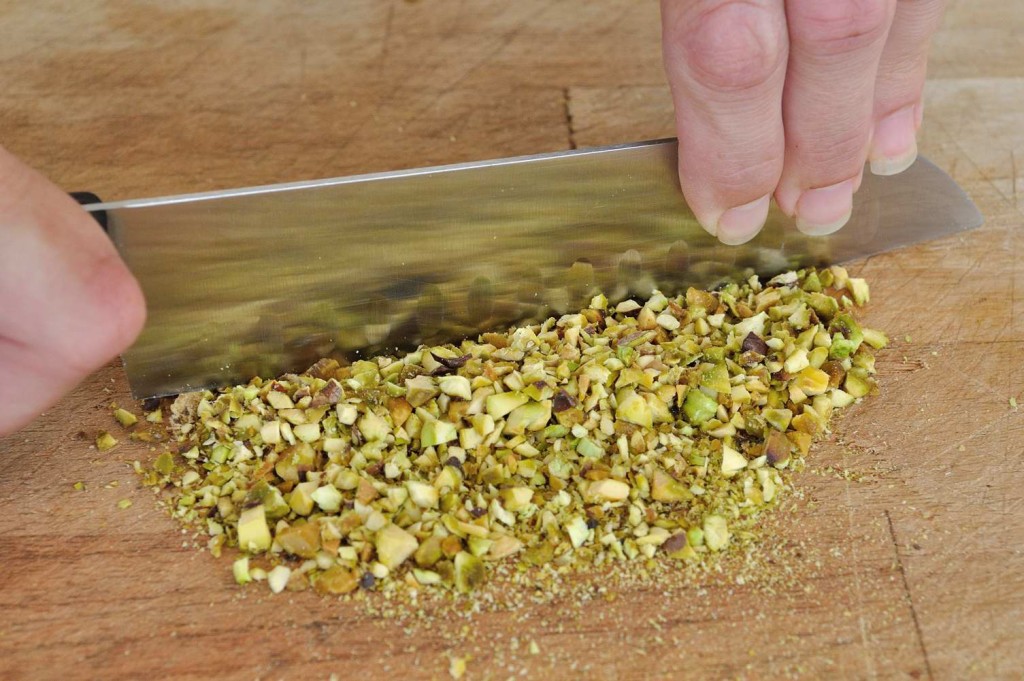 Bread, unfortunately, is also not something you can make quickly and hassle free. The yeast needs special care, you have to knead the dough, wait for it to rise, mess with it, let it rise again, and bake. Not something I have the time and energy for on a daily basis.. But, for special occasions, it is fun to have a dish that is simple and basic yet tasty and impressive. That's the kind of bread recipe i'll be sharing today, as much as its "only" bread, it always gets the crowd's attention.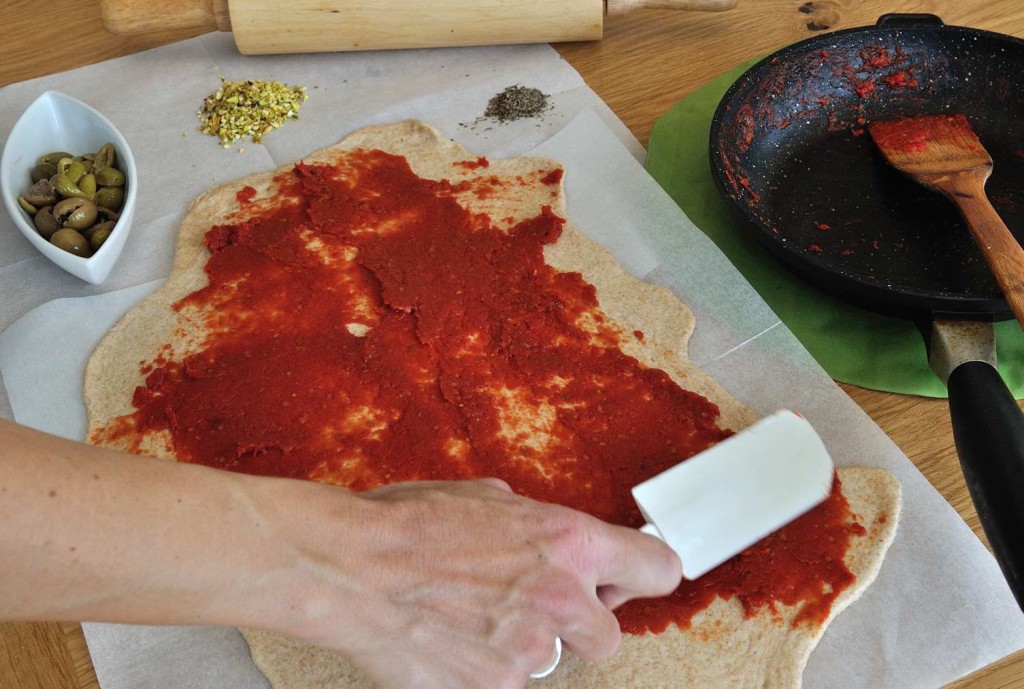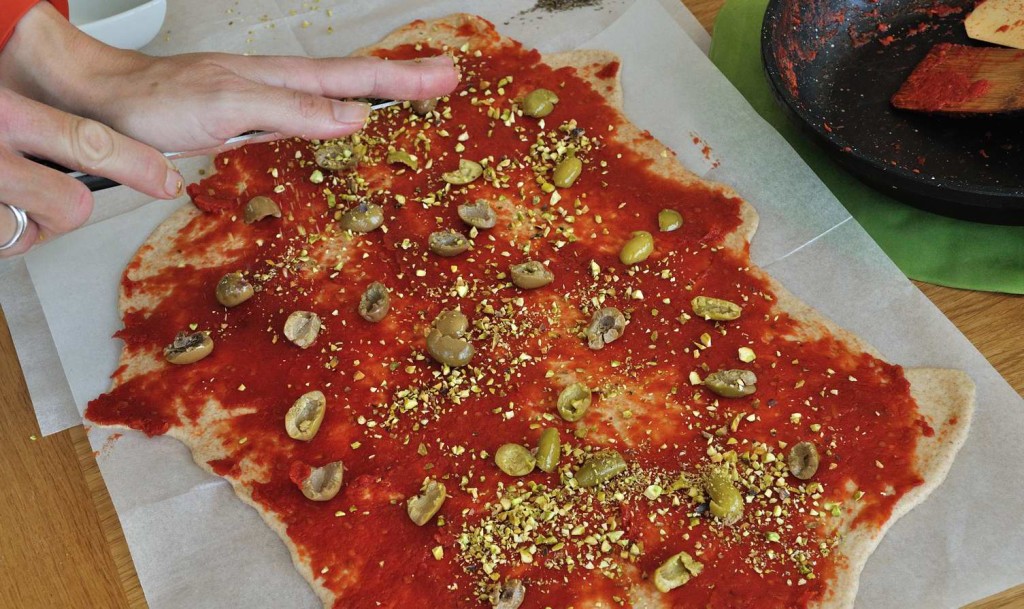 So yes, it requires some work, but if you are looking for a side dish for a holiday dinner, or a buffet kind of party, or a picnic even, you got a winner right here. What's fun about this bread, is that it is made of layers that you can just pull apart (hence it's name) with your hands easily, so no need to carefully slice it, and since the spread is already included, no need for anything else, it is perfect as it is.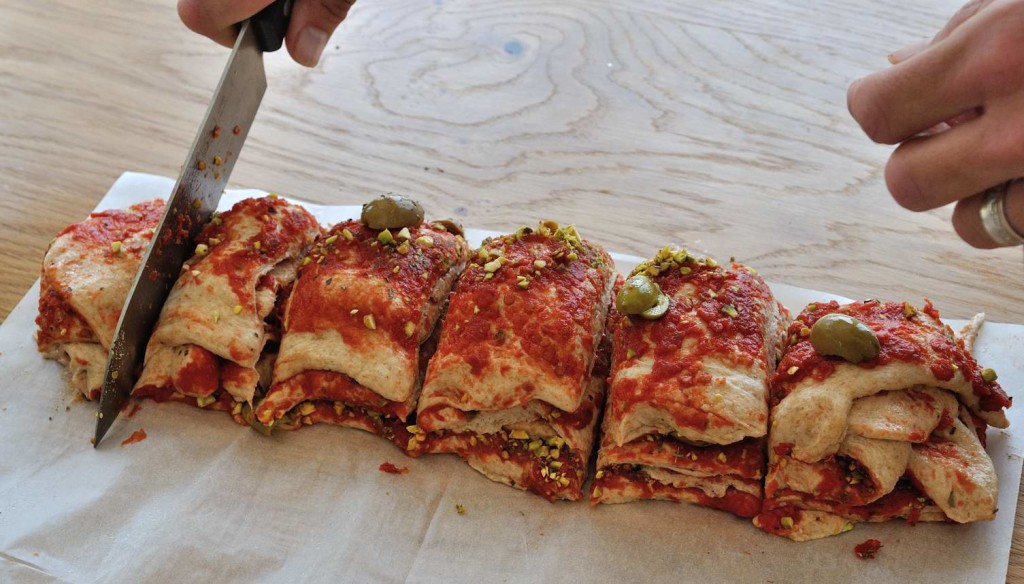 Inspiration for this bread is from 2 Israeli blogs, Natalie's and Anushka's.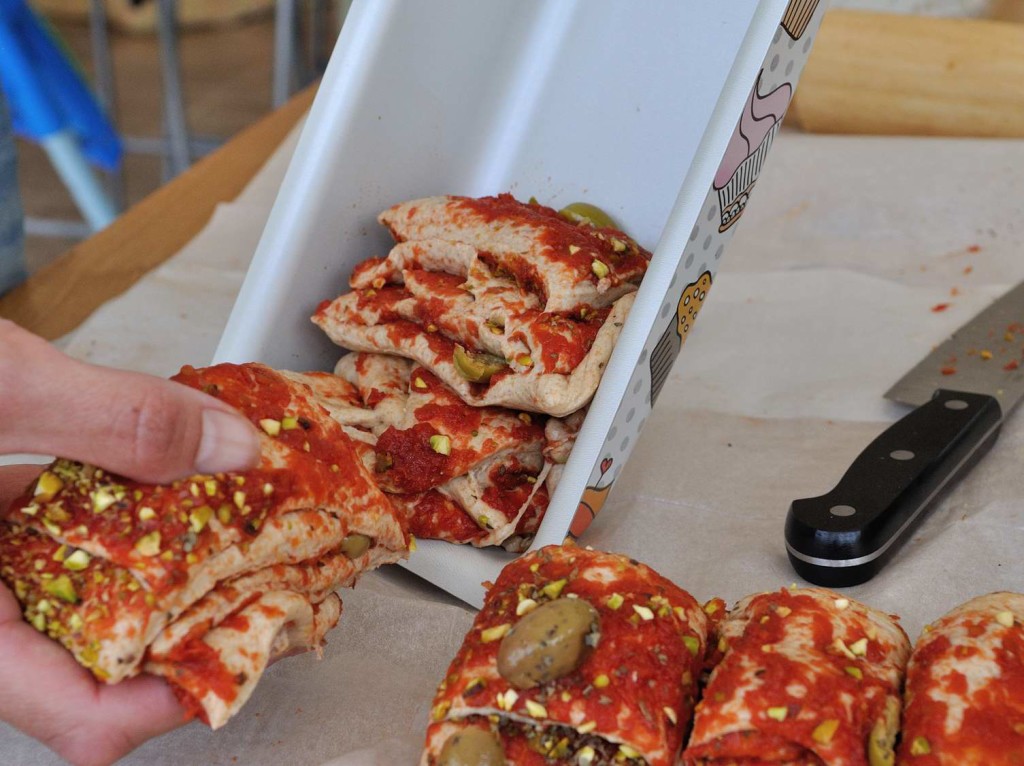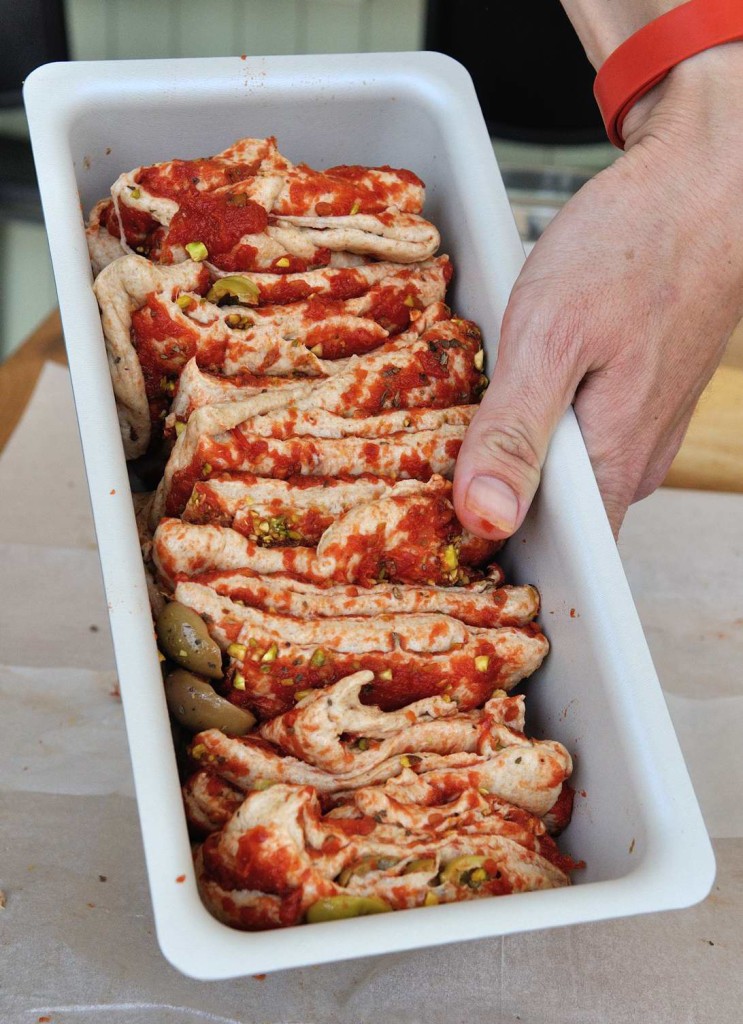 Oh, and on more recommendation before we go to the recipe: if there's one thing I find real boring, it is kneading dough. Well, you have to admit, it is just one of the most monotonic things you can do. And this bread does require you to knead it for about 10 minutes, so if you are already going to stand in the kitchen stuck with your hands inside a dough for 10 minutes, you better make your time worth while. What I do when I have such time in the kitchen (or in traffic) is watch Yuval Noah Harari's lectures on YouTube. If you haven't heard of him, professor Harari is the author of the best seller "history of human kind" book, and in the lectures he describes basically what he describes in the book, which is the history of human kind, from beginning to our days with a look forward, while discussing interesting ethical issues in a way so interesting such that will make even people who found history to be boring (me..) to reconsider.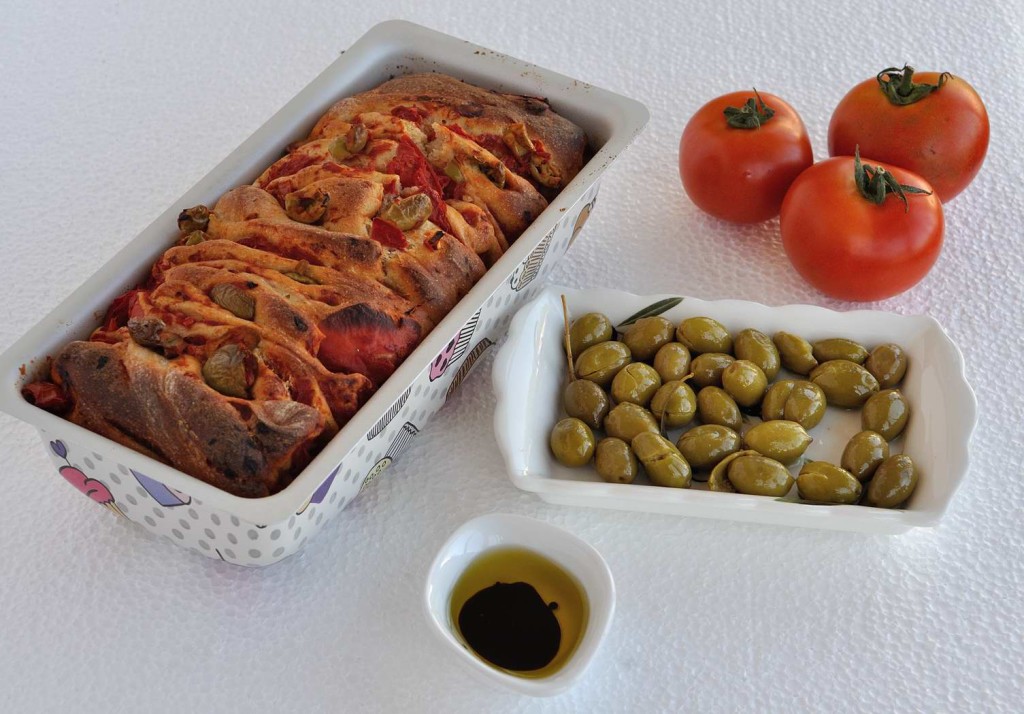 The Dishometer Rating: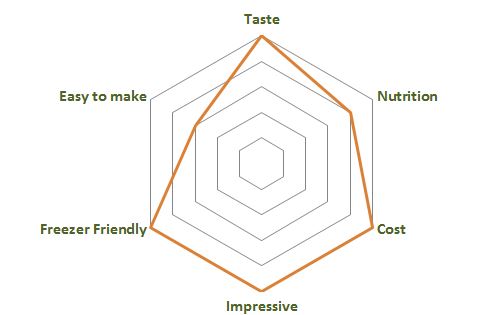 Pull Apart Vegan Pizza Bread
Pull apart (or tear and share) pizza bread
Ingredients
For the bread:
3 cups whole spelt flour (you start with 2 for the dough and add the 3rd one gradually as needed)
1 cup lukewarm water
3 table spoons sugar
2¼ tea spoons dry yeast
¾ tea spoon salt
1 table spoon olive oil
For the pizza filling:
1 can (400 grams) finely chopped tomatoes (I use Mutti's brand,it is amazing!)
1 table spoon brown sugar
½ a tea spoon salt
olives (between ⅓ to ½ a cup, according to your preference)
a handful of dried (or fresh) basil
Instructions
Place the lukewarm water (1 cup), sugar (3 table spoons) and dry yeast (2¼ tea spoons) in a bowl and whisk to combine.
Add 2 cups of the flour and mix. Start kneading the dough and add in the 3rd cup of flour bit by bit, as needed, to keep a flexible, non sticky dough (I ended up adding about ¾ of a cup).
Knead for 10 minutes, then create a ball from the dough and lightly run it with olive oil (1 table spoon) and place it in a covered bowl in a warm area for about 2 hours (for it to rise). If you want to make this bread in advance, place it covered in the fridge before the rising part.
Prepare the filling: Pour the tomato's can (400 grams), the sugar (one table spoon) and the salt (one tea spoon) to a pan/pot and cook on medium heat until it becomes spreadable (picture above), it takes about 20 minutes.
When the bread finished the first 2 hours rise, press on it to remove air bubbles and spread it on a baking sheet and start rolling it to form a rectangle shape (sized approximately 30/50 cm).
Spread the tomatoes paste on the rectangle evenly, add the olives(between ⅓ to ½ a cup, according to your preference) and the basil (a handful).
Cut the rectangle to six stripes, and pile them on top of each other. Note that the dough is very elastic now so some of the stripes will stretch longer than your pile, just cut them at the end of the pile and place the cut piece on top on the pile as well.
Cut the pile in six small rectangle piles (picture above) and pile them one after the other in a loaf pan.
Cover with a towel and let it sit in a warm place for another 40 minutes.
Place in the oven at 180 degrees for about 40 minutes (until the bread is nicely brown on top).
P.S.
If you likes this and want to be updated with new recipes, Like VeganHightechMom on Facebook or register to get updates via email (up on the right of the page).
Moran