This post is also available in: Hebrew
So Adzuki beans, ha? They look like cute little red/brownish candies, and if you are a whole food/health food advocate you probably already know that they are full of iron, potassium, magnesium, dietary fibers, folic acid and protein.
But put it aside for a minute, the Adzuki Beans are just crazy tasty! I've seen descriptions on the web describing its taste as nutty and mild sweet, but I can't tell what that means :). What I can tell you is that Adzuki is one of those things that when you cook with them, and that annoying friend drops over for a visit, you know, the one that calls your food "bird food", he wants to have a taste, and then he asks for more cause they are that tasty. So just cook more than you need, trust me.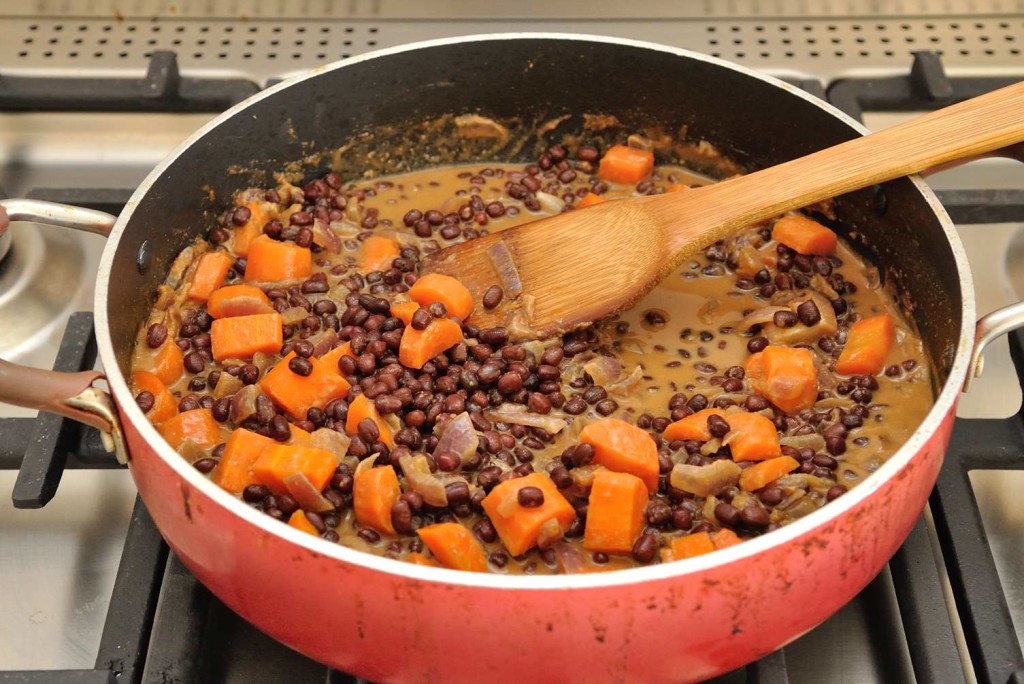 I cook a lot with Adzuki beans, so you will see them shine in the blog in recipes to come. As a side note by the way, one of the coolest features of these beans (that has nothing to do with cooking), is the noise they make when you shake them. Bare with me for a minute here OK? If you have babies or toddlers at home, you must be familiar with the following situation: you are trying to cook dinner, but your baby keeps pulling your leg and asking for you to pick them up. What I usually do to occupy my one year old when she does this and I'm cooking, is I just throw her way whatever I can reach so she'll play with it for a minute while I cook, this can be things like storage plastic boxes or wooden utensils. So the Adzuki beans are genius for this purpose, as if you put them in a plastic container and let the little ones shake it, its the most cost effective toy you can give them. Try and you won't be disappointed :). And by the way, I tried to use all the beans I use as this kind of toy, I tell ya, the Adzuki beans just create the nicest shake noise of all…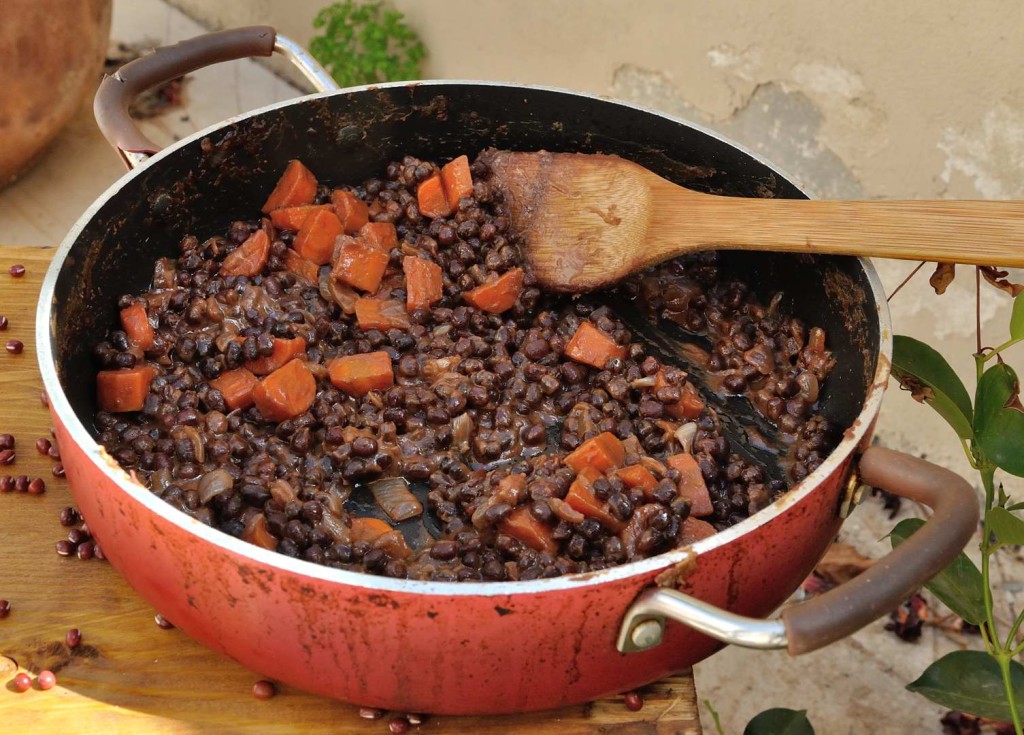 But anyway, back to our business here. I usually batch cook the beans and freeze them, so I always have it ready when a recipe calls for them.
The recipe I'm sharing today uses peanut butter, that goes so wll with the Adzuki beans, and along with the maple and soy creates a dish that is mildly sweet and savory. By the way, one of the times I made this I didn't have peanut butter so I used raw sesame paste instead and it works great as well, so you can try that also if you want.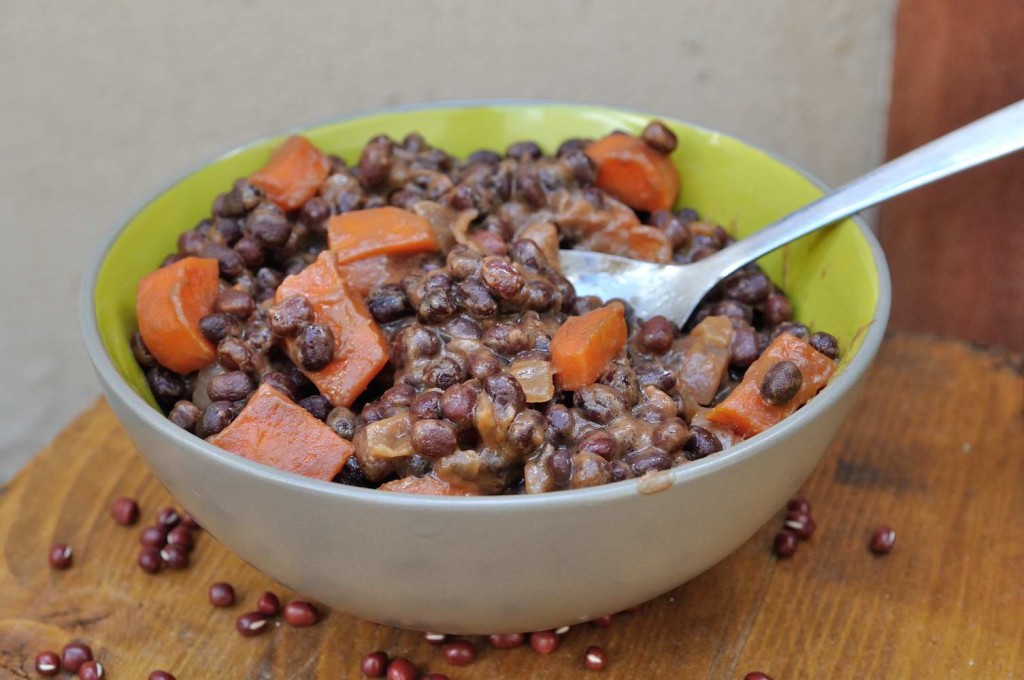 The Dishometer Rating:
Sweet and Savory Soy Peanut Butter Maple Adzuki beans
Sweet and Savory Soy Peanut Butter Maple Cooked Adzuki beans
Ingredients
1 cup uncooked Adzuki beans
3 carrots
1 red onion
3 table spoons soy sauce
2 table spoons peanut butter
2 table spoons pure maple syrup
1 tea spoon salt
Instructions
Soak the beans (1 cup) in water for about 12 hours, then drain and rinse.
Place the beans in a pot filled with water, bring the water to a boil then cook until the beans are chewy but not too soft (takes about an hour, start checking by tasting one bean after 50 minutes), as we'll be cooking it some more with the vegetables later.
Keep the cooking water aside as we will use them later on.
In parallel, peel and cut the onion (one) to small stripes and the carrots (3) to medium sized cubes.
Warm olive oil (3 table spoons) in a large and deep skillet, and when it is warm put the onion stripes inside. Fry the onion for about 5 minutes until it is soft and add the carrot cubes to the skillet.
Add the soy sauce(3 table spoons), peanut butter (2 table spoons), pure maple syrup (2 table spoons), and salt (1 tea spoon) to the skillet and stir thoroughly.
Add a cup from the beans cooking water, and cook with the lid on for 5 minutes.
Turn the heat off and wait for the beans to be soft enough (but not too soft!), when you find it chewy, add the beans to the skillet along with another cup of the cooking water, and cook with the lid on for about 10 minutes.
If the water have evaporated completely and the beans or the carrots are not soft enough yet add some water (couple table spoons at a time) as needed until ready.
P.S.
If you likes this and want to be updated with new recipes, Like VeganHightechMom on Facebook or register to get updates via email (up on the right of the page).
Moran