This post is also available in: Hebrew
I never thought I'd be making chocolate muffins, never the less share a recipe for them on this blog. Why, you ask? Well, I didn't think I'd make them since I'm more of an ice-cream, or generally creamy and melting chocolaty things when it comes to desserts rather than muffins, and never thought I'd be sharing a chocolate muffin recipe as there are a million other out there for it, what added value can my recipe bring?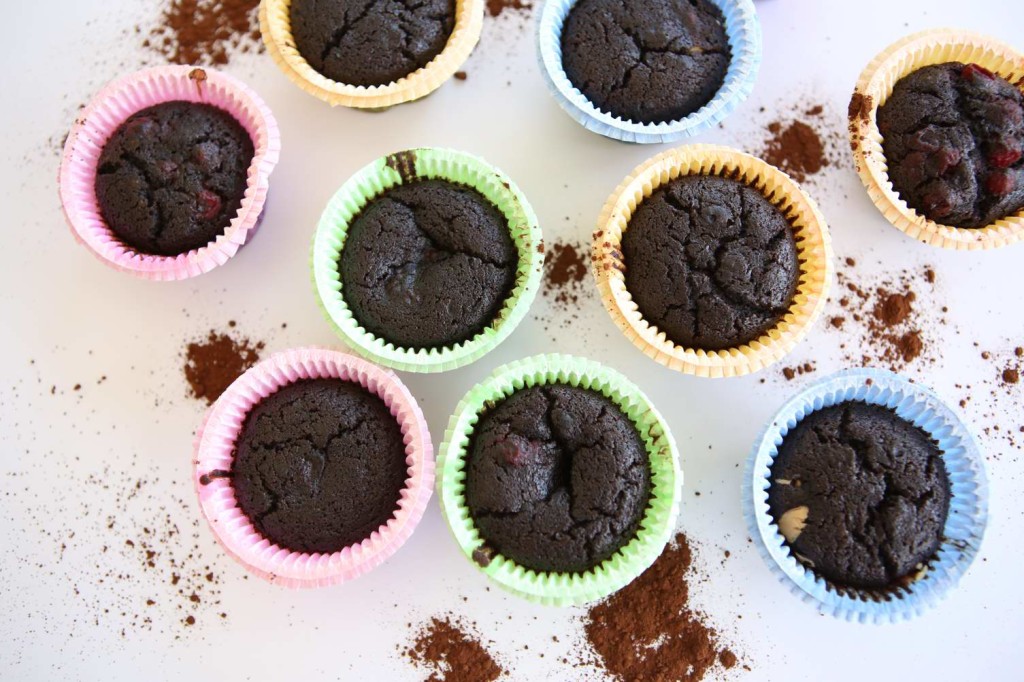 Well, I was wrong about both. As a mother to 2 little girls, I can tell you muffins are a pretty darn good option for a quick breakfast (you can bake them in advance and freeze, it takes minimum work to serve them to your kids, and if you are truly in a hurry its a great on the go option that creates little to no mess in the car compared to other options..). While usually i'd refrain from giving my girls yet another sweet thing in the morning (our kids seem to be getting sweets everywhere: in day care, at friends' houses, at parties, and where not these days!), I needed an exception, as my first born is now almost 4 years old, and she likes the stuff served at day care and wishes to see similar things at home. So I aspired to create a chocolate muffin version that will be a crowd pleas-er (and trust me, she is not so easy to please, as all 4 year olds when it comes to nutrition I guess…), but would still be nutritious and full of healthy ingredients so I can feel good about providing it to them.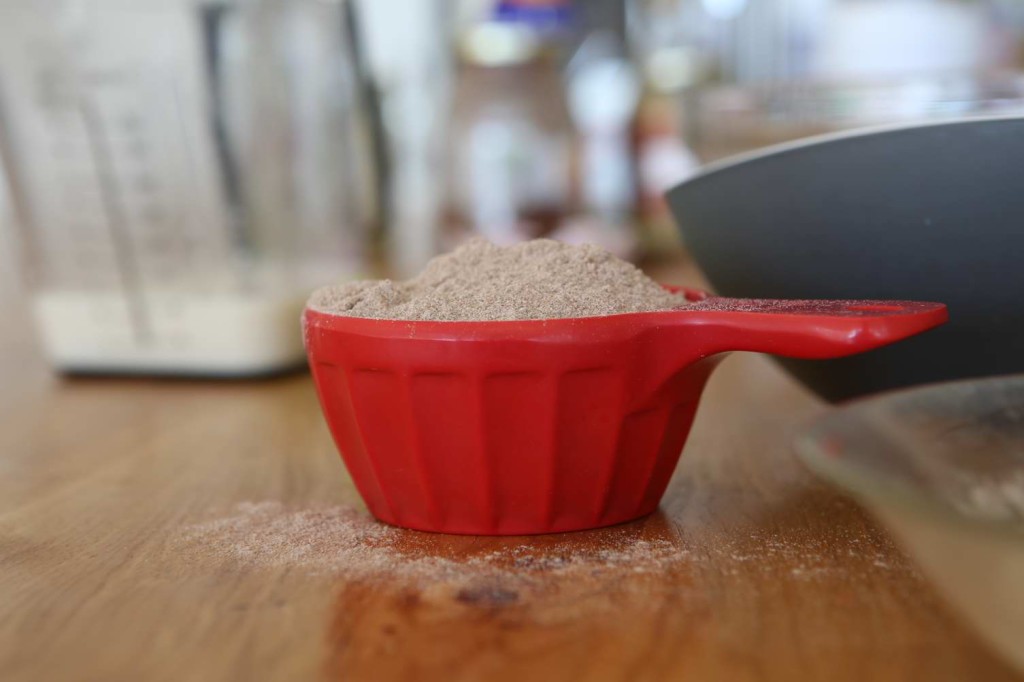 And that's what the recipe today is about. These muffins use Teff flour rather than wheat flour. If you are unfamiliar with it, teff to grains is like kale to green leaves: meaning it enjoys a huge amount of hype in the past few years among nutrition aware people, and there are some good reasons for that, as it is rich with calcium, iron, protein, amino acids, and, it is gluten free as a bonus. The teff by the way, is not the simplest flour to work with, as is has a distinct flavor that you need to pair wisely, and its texture can be somewhat sand-ish if not treated right. So, it took me about 5 slightly different versions of these muffins to get to the perfect one, that I (and the royal team of taste testers :)) think is perfect.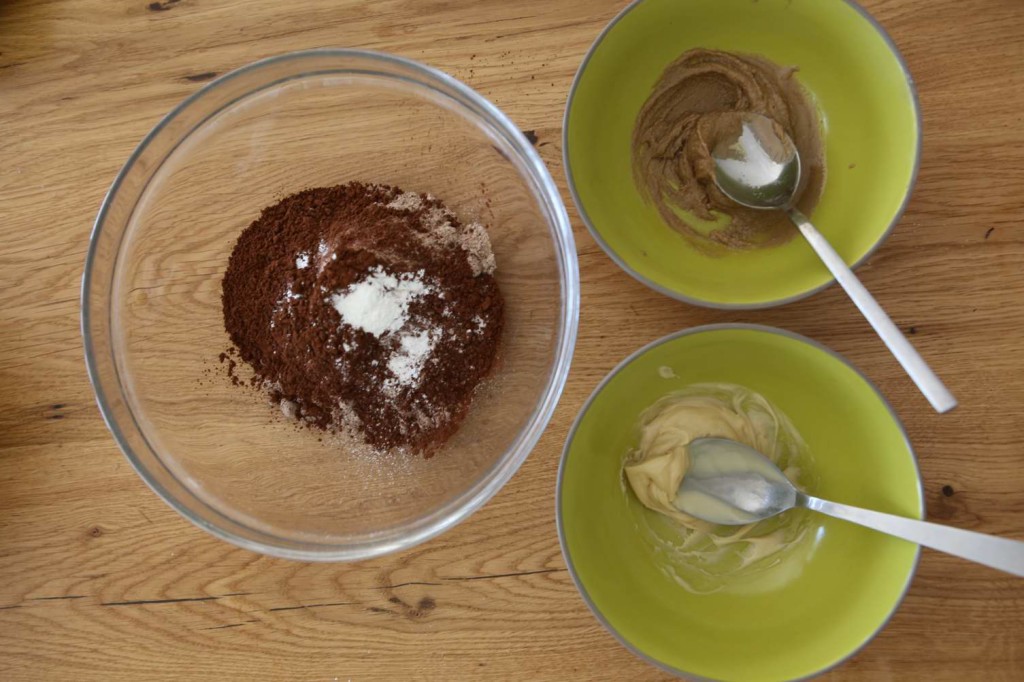 One note about the tapioca flour showing up in the ingredients (which is crucial here), if you are having trouble locating tapioca flour but you can easily find the tapioca pearls, you can use the pearls and grind them to flour at home using a simple herb/coffee grinder.
The colorful stuff you see inside the muffins in the pictures are actually little "surprises" I added in (fill up half of a muffin tin with the batter, put the wanted add-ins, then cover with more batter): sesame paste with maple, almond butter with date syrup, peanut butter, berries, and chocolate chips.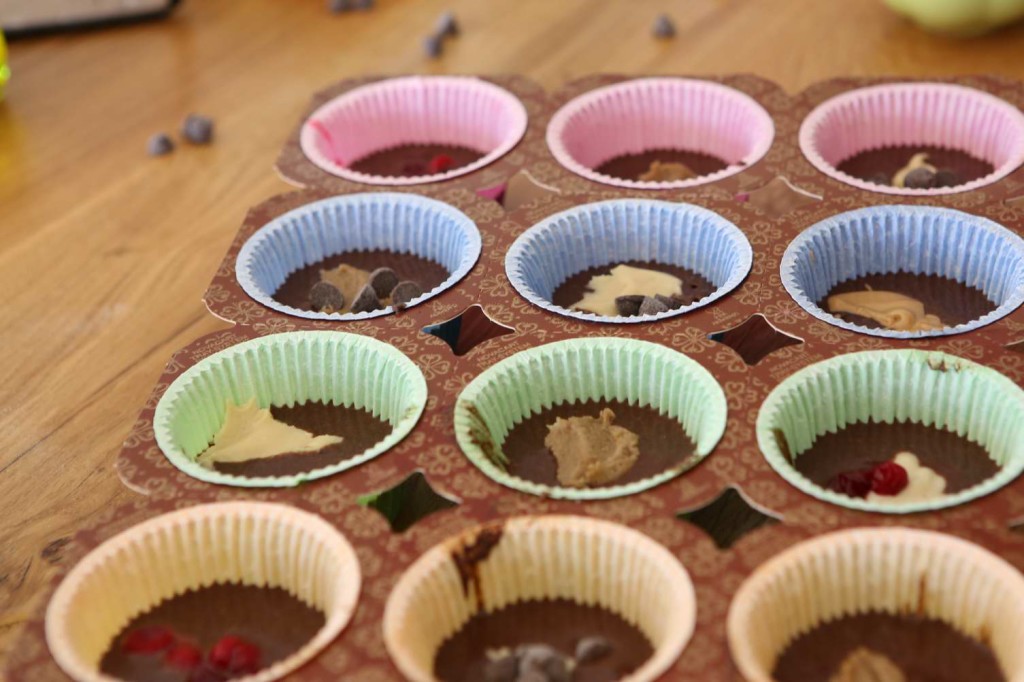 By the way, the pictures in this post, as in the previous post for Za'atar crackers were all taken by a colleague of mine, Tomer Exterman. You can read a bit more about Tomer in the Za'atar crackers post, or follow his Facebook page.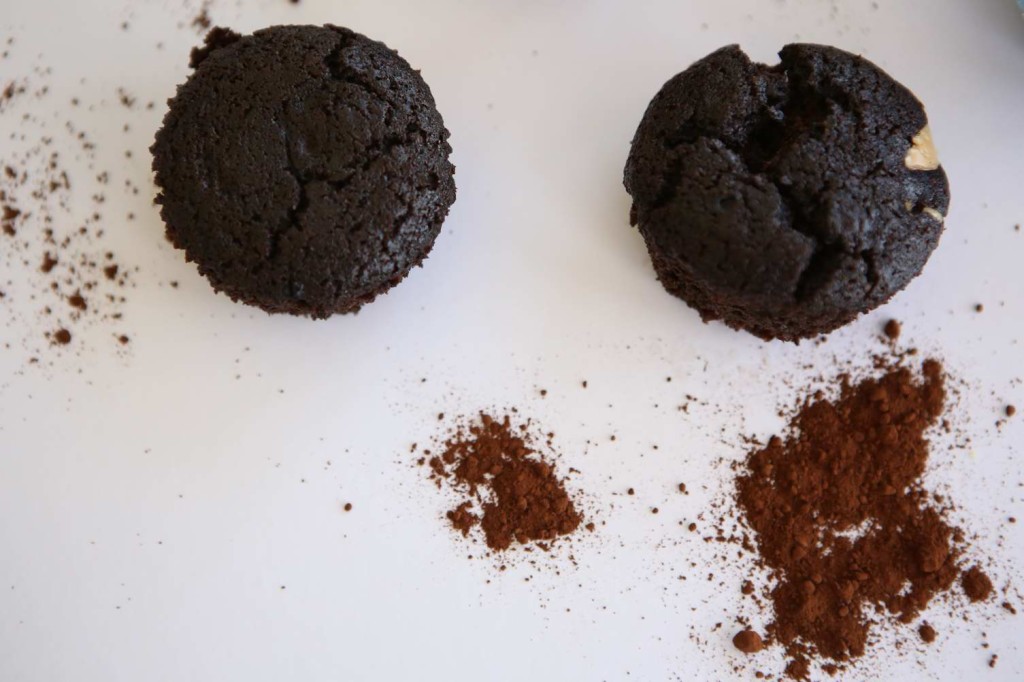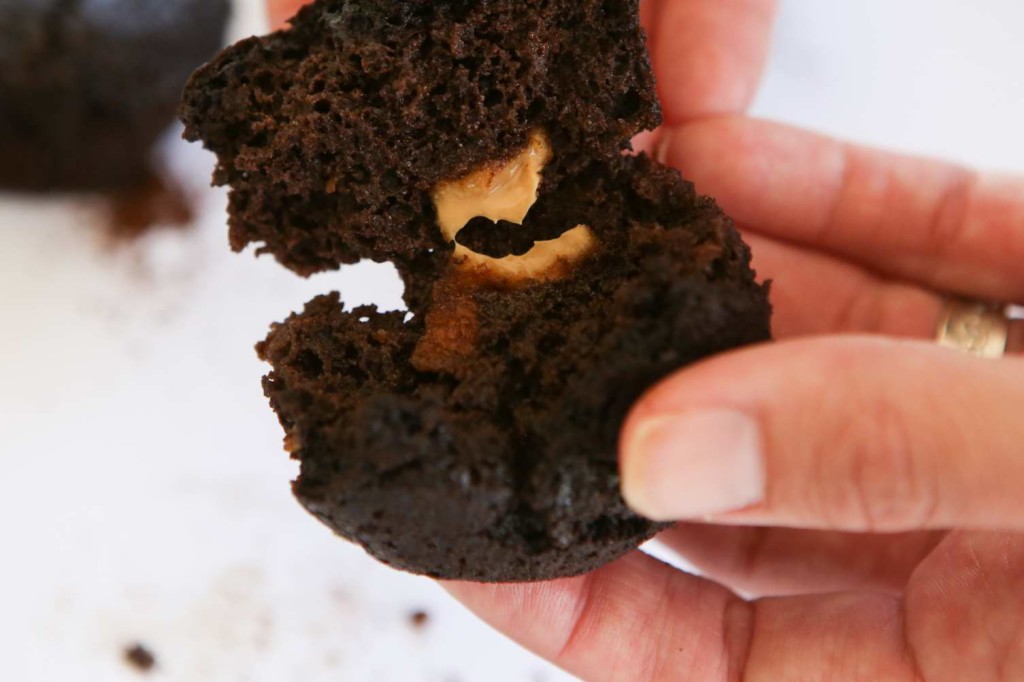 One more tip before we head on to the recipe, and this one is relevant for gluten free vegan baking in general: while in many recipes you can "play" with ingredients, with the order of the instructions, improvise, etc., when it comes to baking with no eggs and no gluten, it becomes crucial to follow a recipe's instructions. So, if you choose to make this one, make sure you mix the "wet" ingredients with the "dry" ingredients only when you are ready to place it in the oven, meaning the oven is already warm enough and the muffin molds are lined up and ready to be filled. and refrain from opening the oven in the middle of baking. All of these will help your muffins to rise the right way as well as have the right texture. I'm not writing this here since i'm some kind of baking guru, far from it, it is simply because I learned this the hard way (e.g. many baked goods that didn't turn out right), and I'd like to save you this trouble and make sure your results will be nothing less than spectacular. Enjoy!
Vegan Teff Flour Chocolate Muffins
Healthy chocolate muffins, that are packed with protein, full of nutrition, made with gluten free teff flour
Ingredients
Wet:
1 table spoon ground flax seeds + 3 table spoons of water (you can sub the flax with chia seeds, if so you don't need to grind them)
¾ cup unsweetened soy or almond milk
¾ cup date syrup or pure maple syrup
⅓ cup oil
1 tea spoon vanilla extract
1 tea spoon vinegar (I like to use apple cider vinegar)
Dry:
1 cup whole teff flour (150 g)
¼ cup tapioca flour (50 g)
¼ cup cocoa powder (25 g)
¾ tea spoon baking soda
¼ tea spoon salt
Optional: ⅓ cup chocolate chips or any other chosen "surprise" (see notes above)
Instructions
Warm an oven to 180 C.
Mix the flax seeds and the water in a cup and set aside for 10 minutes.
Mix all the wet ingredients and add the flax "egg" to them and mix some more.
In another bowl, mix all the dry ingredients.
Pour the wet mixture into the dry one and mix to incorporate. If you chose to use chocolate chips (recommended!) add them in as well and mix some more. Fill the muffin molds ¾ way high, and move to the warm oven as quickly as possible (to make sure the rise inside).
After 22 minutes check whether a toothpick you stick into one or two of the muffins comes out dry. If it does, they are ready, if not, give them 3 more minutes and try again. Let cool completely before you remove from the molds.
P.S.
If you liked this and want to be updated with new recipes, Like VeganHightechMom on Facebook or register to get updates via email (This is mostly recommended as it is the only way to ensure you'll receive the recipes. And check your spam or "Promotions" tabs, as these email might end up there sometimes).
Moran