This post is also available in: Hebrew
I'm trying to get my head straight and figure out my thoughts. We just came back from a 3 week abroad family trip, the most family-ish one I've had yet.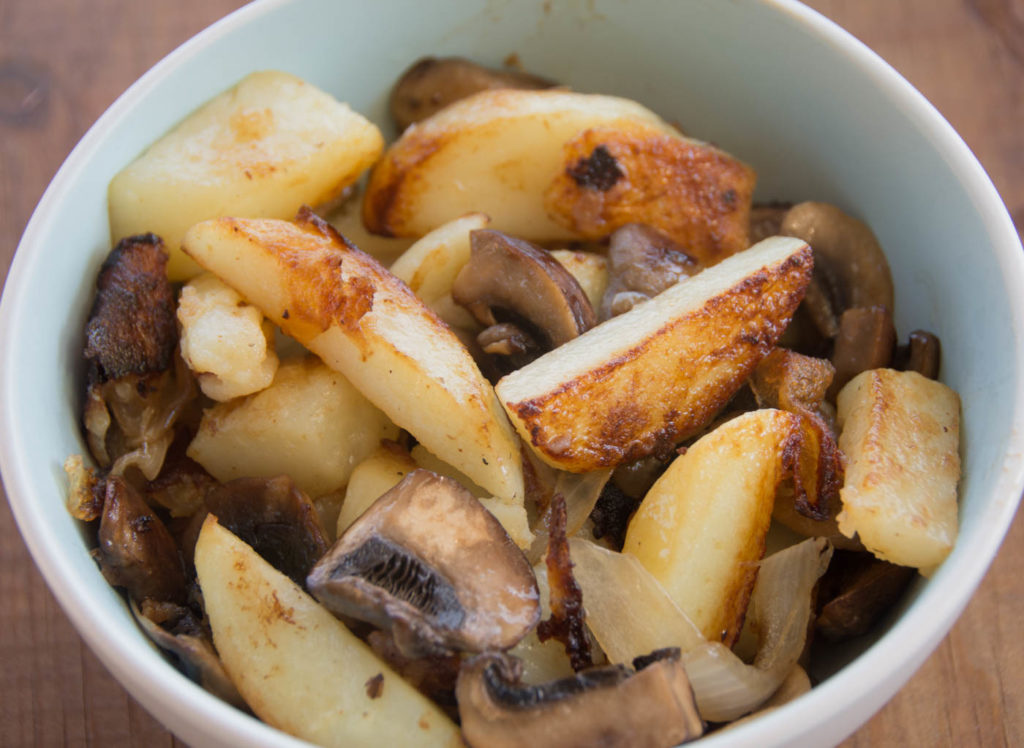 In our regular day to day lives, I do not get to spend 24X7 with my girls. There's daycare, family, friends, there's always something. There, in the first 10 days, it was us and our tent. Moving from one campsite to another, experiencing the togetherness, the fighting, making up, friendships, boredom, interest, laughter.
How much change I experience in my parenthood since I became a mom, and how it molds itself each and every day. This previous year we started sharing our bed with the girls, which is so much fun, and this week I decided to cut back on daycare time for my little one, so that she's with me every day starting at lunchtime, which is also a lot of fun (though a challenging fun). Both are 2 concepts I would say bizare 2 years back, and today are so me. I love getting to know new layers, and the understanding that nothing is permanent and there's always room to change and improve.
I'm sharing here my summary of the trip, hope it would be helpful for some of you.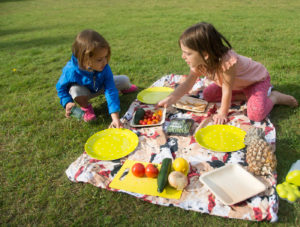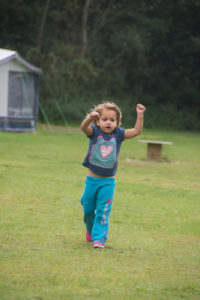 How fun was it:
I was anxious about the trip. We had a similar yet shorter one previous year and it was very intensive, plus this one is longer and both Rafi and I are not used to being so much time together with the girls, plus there's a lot of operations like the tents and more. Eventually it was an awesome trip, seriously. I think I can honestly spread some hope to those of you that may have had a hard time on a previous trip that it gets much better with time. This time, my older one really helped with the younger one (plus with her cousins), both of them played together so nicely which allowed us to loose a bit and enjoy some grown up talk between us. I think that the fact that I knew what we are going into helped as well and eventually it was easier than I thought. Tents are awesome, really. For kids in this age especially and kids in general. I mean' what do they need other than to be outdoors, water to swim in, mommy and daddy and each other? And to me it is also the most appropriate way to travel from an educational perspective as well: they learned to take care of the tent, to cook, to deal with money (a bit), and just enjoy the simple things. If you are reading here that it was perfect, or always easy, than no. I mean, the girls fight than make up 20 times in an hour, the make a scene when they want something, I think we held them to pee about 210 times (I'm in shape now!), and yeah, sometimes we got mad about something. But I choose to focus on the good parts (which were the most parts anyway), as they are what I wish to remember thus these are the pictures I keep.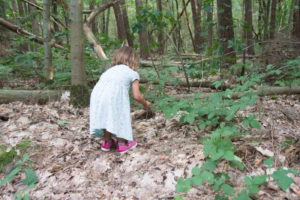 The flight:
So I read a lot online about how to get through it nicely with my little girls, and was prepared better than previous year. Of course, them being older helped as well, but I also had WaterWow books (which I would buy 10 more if I knew are so good. They kept them busy on the flight, when they were hungry waiting for dinners, on car roadtrips, and more, and all that with little to no mess!). I also had some PixelArt little things that were great for the older one, plus the obvious paper and crayons. The other thing that was good is that they let us use our hiking chair for the little one all the way to the plane, like it was a stroller, which helped a lot.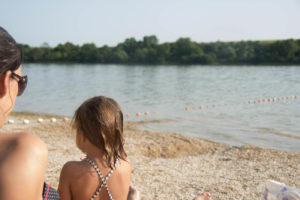 Lessons Learned:
On days when we thought we are cool and have no babies thus can go out with no bag, those are the days that the little one throwed up or missed, so yeah, she was naked at the time..
Spontanious desicions are the best, like deciding on leaving France and going to Netherlands, it is such an amazing plca, one we will sure come back to to research some more.
Be prepared with many interesting games to play with the girls in the longer car roadtrips.
Always check that your passport has a valid to date that is good to the destination you are headed to.
Expectations settings: in my mind, we are this cool family that treks together. In reality the older one hates treks and the little one was stuck to Raif's shoulders, so trekking was hard. But I decided that them having fun is more important toe me, even if that means more swimming-pool and playground time.
Planned attractions are fun, but the most fun parts are the un-planned surprises on the way: walking around in the city center and coming across a cool amusement park, enjoying the sidewalk next to the beach and stopping for a Checkers game, go with their desire to have a Shabath picnic in the middle of the camping's grass, finding mushrooms and berries in the forest and using them for diner..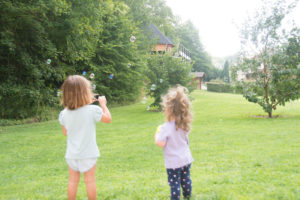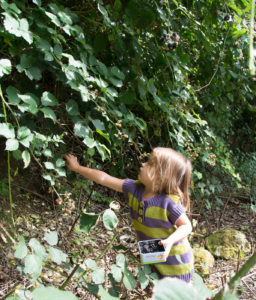 After 10 days of camping, we continues to a nice family park with Rafi's family and stayed together in a cabin there. I loved that we managed to cook all the meals there (plus a lot of beer 🙂 ).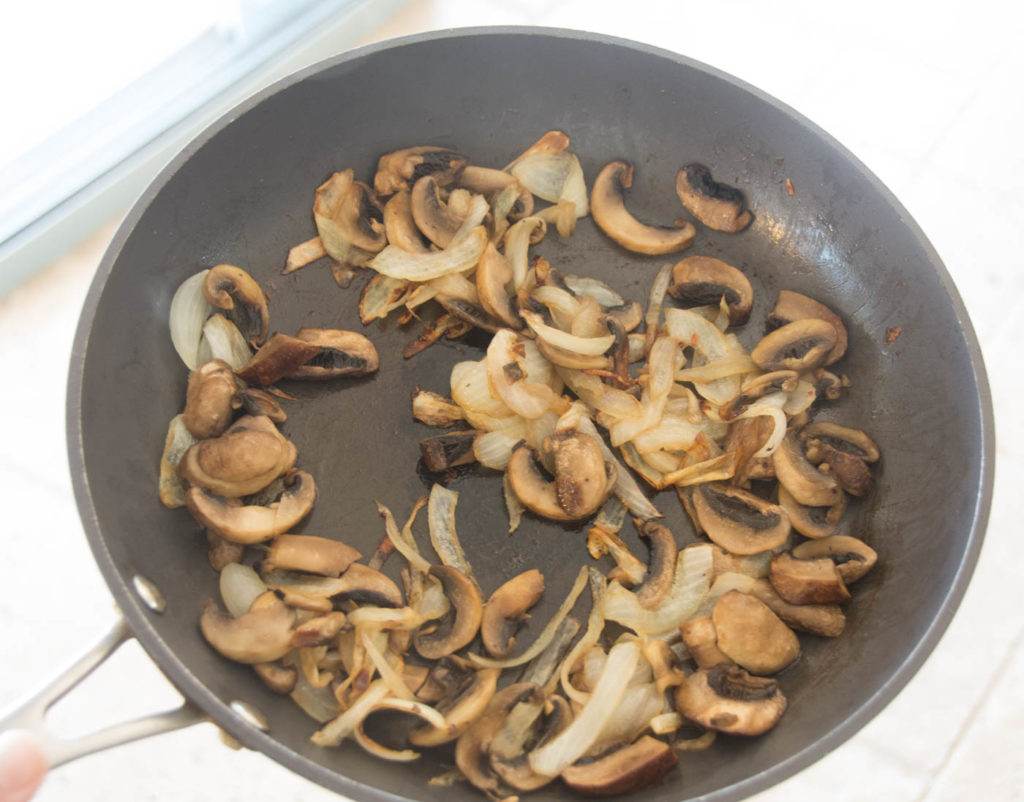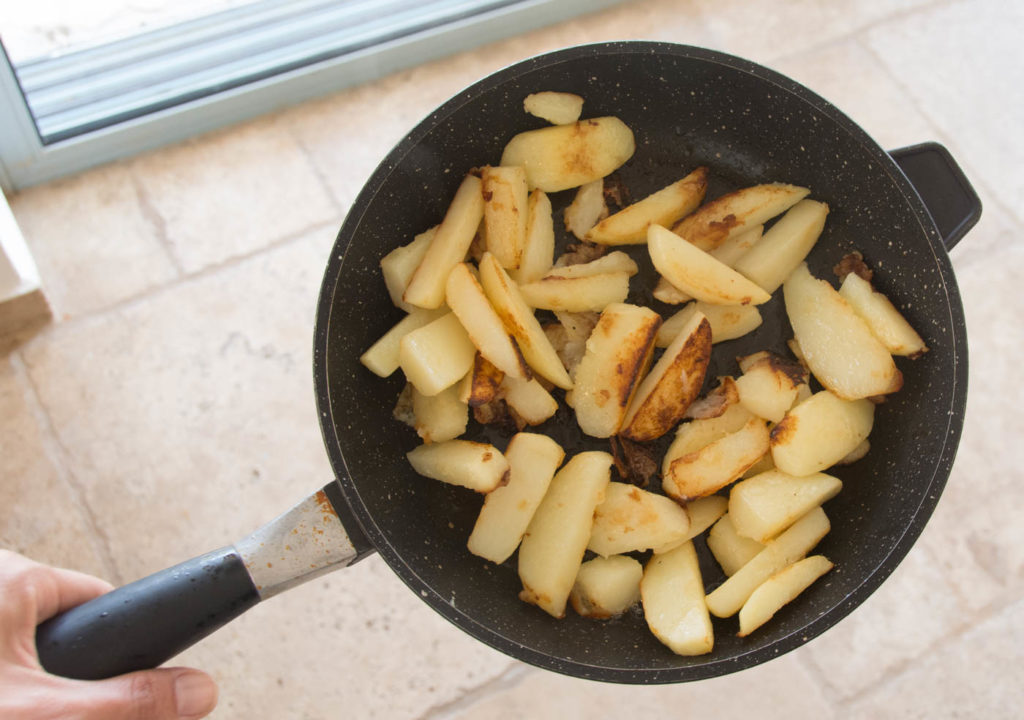 In one of our hikes in a nearby forest, my mother in law found a porchini mushrooms treasure, which they used for a pasta dish and then a potatoes dish. The conversation then turned to how come I don't share any patatoes recipes on the blog, which is because I feel potatoes are so tasty no matter what you do with them thus no need for a recipe.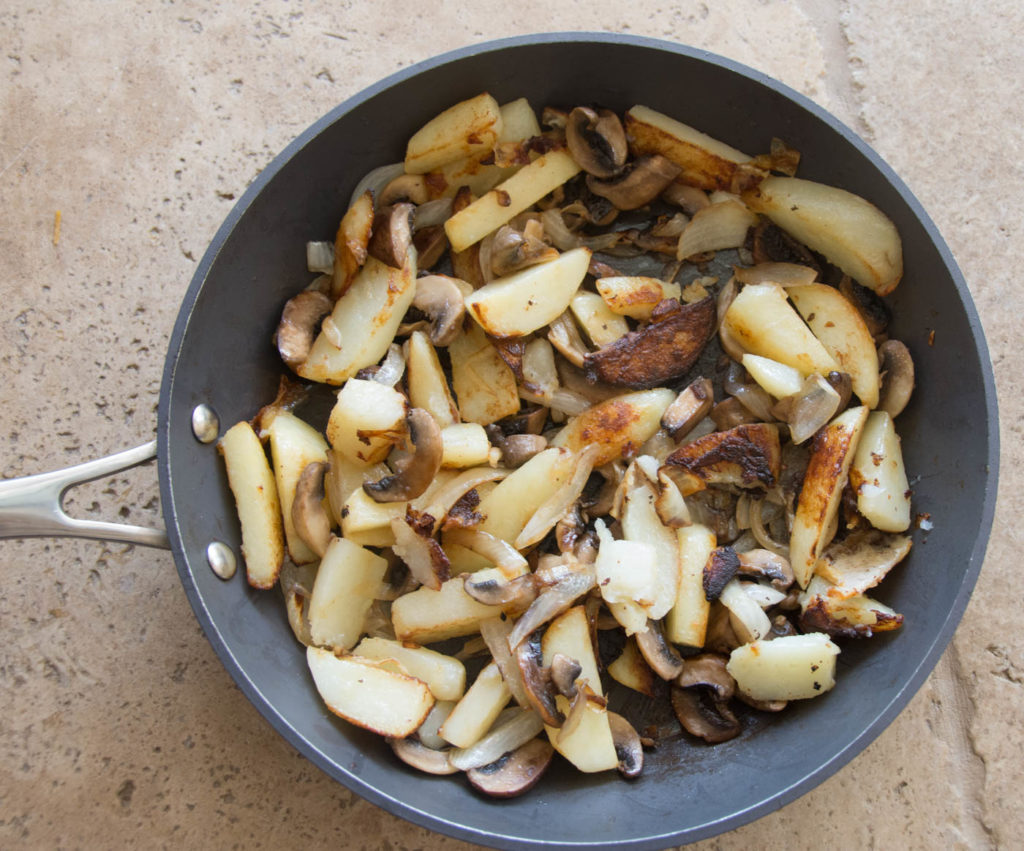 My in laws told me about a traditional Russian dish of pan fried potatoes (a kind of Jarina Kartoshka if you may), and I was surprised as I never tried it and didn't taste it at their house before. So I had to try it and share the recipe here, along with addition of mushrooms and fried onions, plus an optional cashew cream (if you really want it special, but it stands on its own nicely).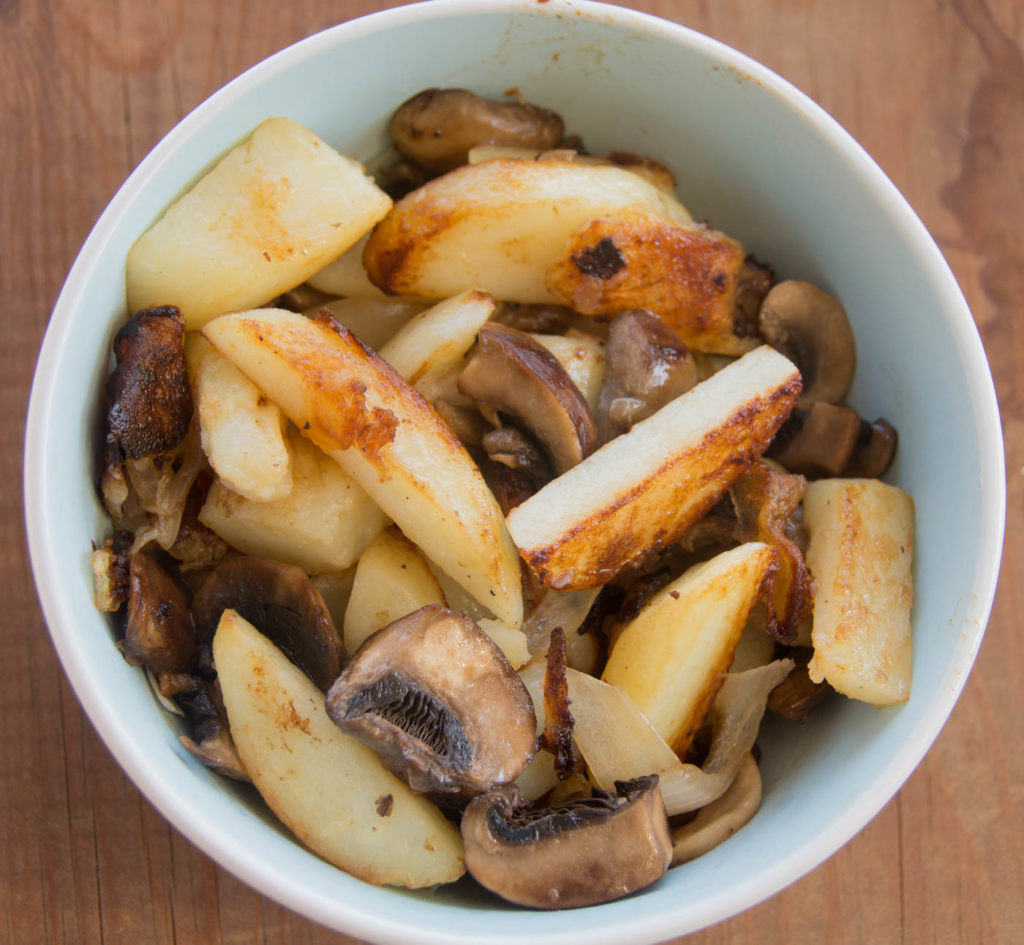 I feel this dish is a wonderful finish for this wonderful family vacation, as potatoes dishes always makes me feel like home dishes. Enjoy and have a Happy Jewish Year!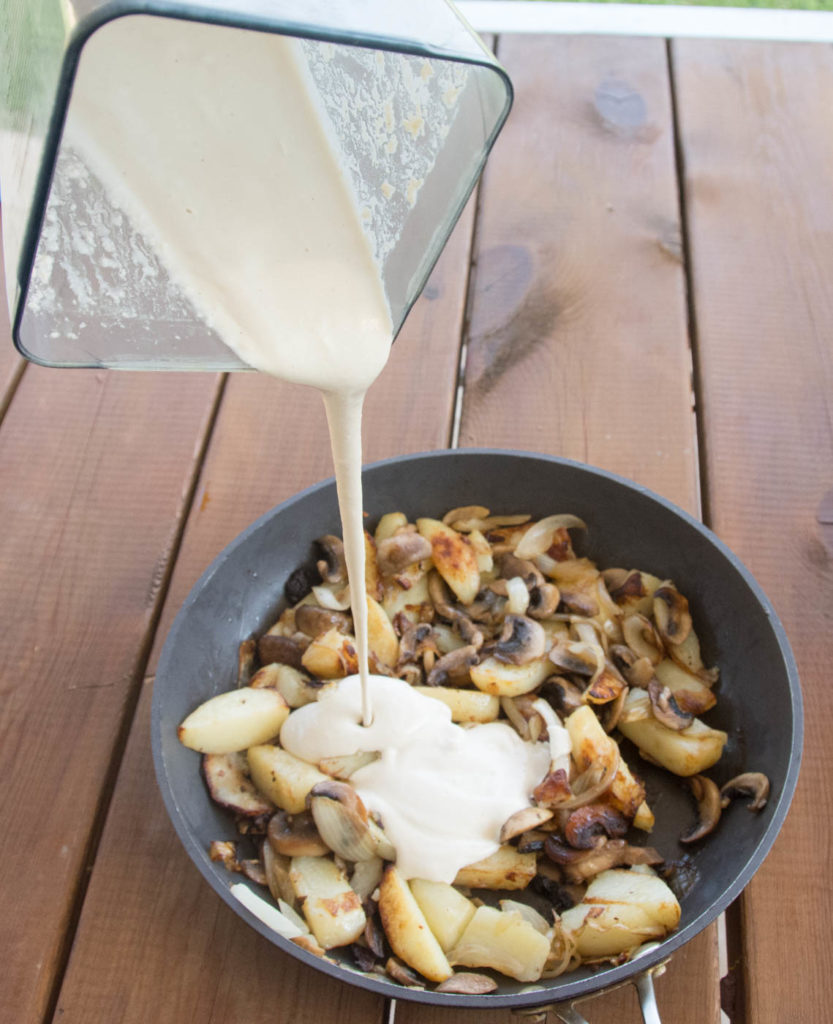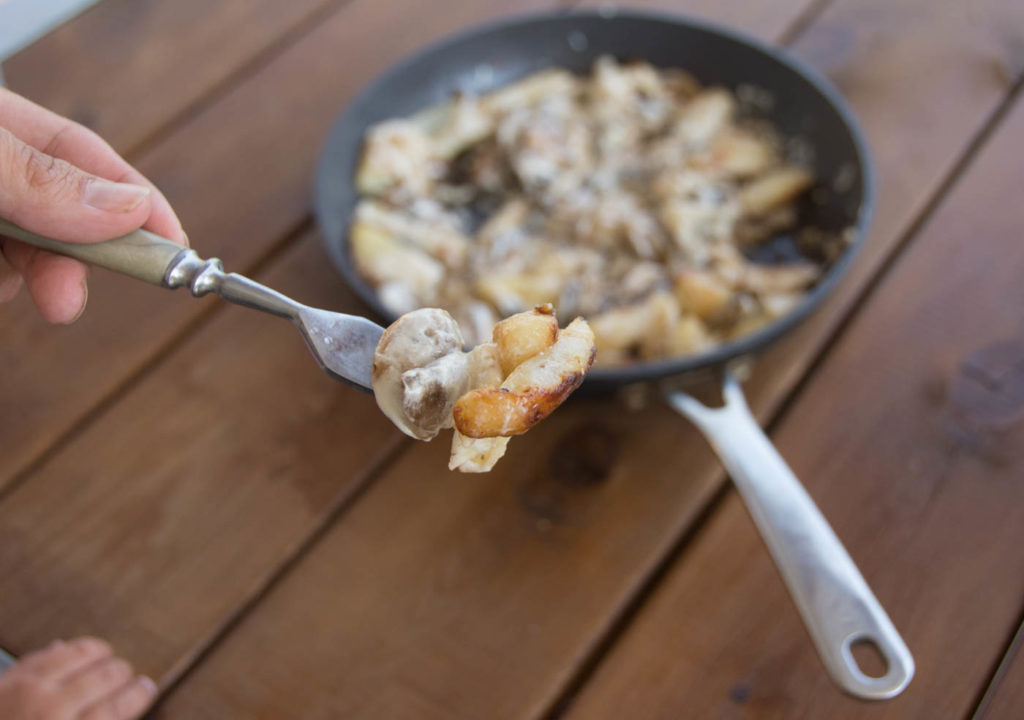 The Dishometer Rating: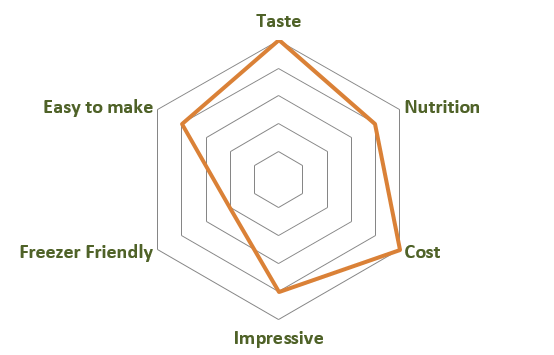 Pan Fried Potatoes With Mushrooms, Onions And Cashew Cream
A delicious, comforting, tastes like home, potatoes vegan dish
Ingredients
5 potatoes
1 big onion
about 20 mushrooms (a mix of champignon and portobello)
olive oil (about 10 table spoons for the potatoes and 2 more for the onions and mushrooms)
salt
For the cashew cream (optional):
¼ cup cashew
½ cup water
2-3 table spoons lemon juice
salt
Instructions
Peel the potatoes and cut to pieces like when making chips (French Fries). Warm the olive oil in a large non stick skillet and add the potatoes and the salt (if there's more than one layer use a second pan so each piece will get a nice burn). Cook the potatoes, while stirring constantly using a wooden spoon, until they turn brown on the outside and soft on the inside (check using a fork every now and then), it would take about 30 minutes (more or less, depending on how thick you cut the potatoes and which kind they are).
In parallel, cut the onion and mushrooms to long stripes. Warm the olive oil in a non stick skillet and add the onion stripes.
Cook while stirring using a wooden spoon, until the onion turns golden brown, then add the mushrooms and cook for about 5 more minutes.
Combine the 2 pans. You can add as is or creamed with cashew cream to make it extra delicious (to make the cashew cream simply blend all cream ingredients in a high speed blender until they reach a smooth cream consistency. If your blender is not a high speed one I recommend soaking the cashews in boiling water for 10 minutes).
P.S.
If you liked this and want to be updated with new recipes, Like VeganHightechMom on Facebook or register to get updates via email (This is mostly recommended as it is the only way to ensure you'll receive the recipes. And check your spam or "Promotions" tabs, as these email might end up there sometimes).
Moran