This post is also available in: Hebrew
The Jewish New Year's Eve, AKA Rosh Hashana, is just around the corner (well, when I say around the corner I mean a month and so ahead, but in Jewish Holiday time this is seconds away and any Jewish person likely already knows where he is having his Rosh Hashana dinner this year), so I had my blogger (who is also a Nutrition Consultant) friend Libby join me and we organized a full dinner menu for you, one that will be vegan of course, colorful, and tasty.
As most people like to try a recipe at least once before they serve it to a crowd, Libby and I challenged ourselves and organized this dinner on a very hot summer day in August. It was actually a fun concept, especially the part where we needed to explain our toddlers why are we celebrating Rosh Hashana now…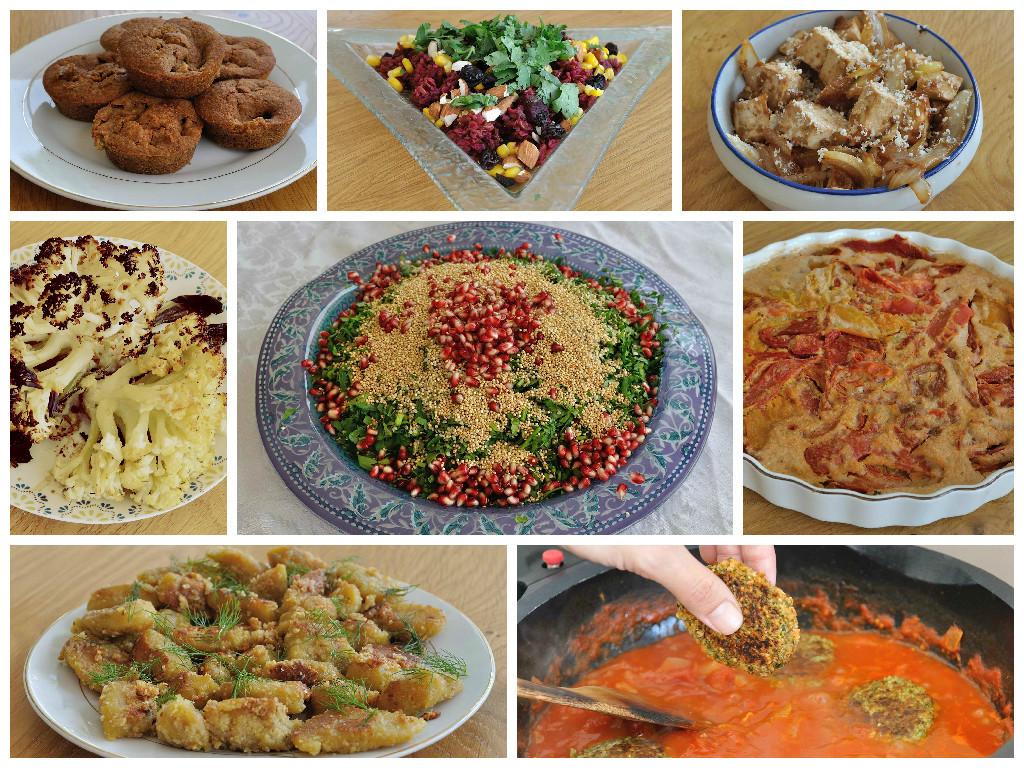 So what's on the Menu?
Hemp Seed Tabouli, with crunchy puffed quinoa and pomegranate seeds – a colorful, tasty, healthy and fresh salad, which is a gluten free option for the traditional Tbouli.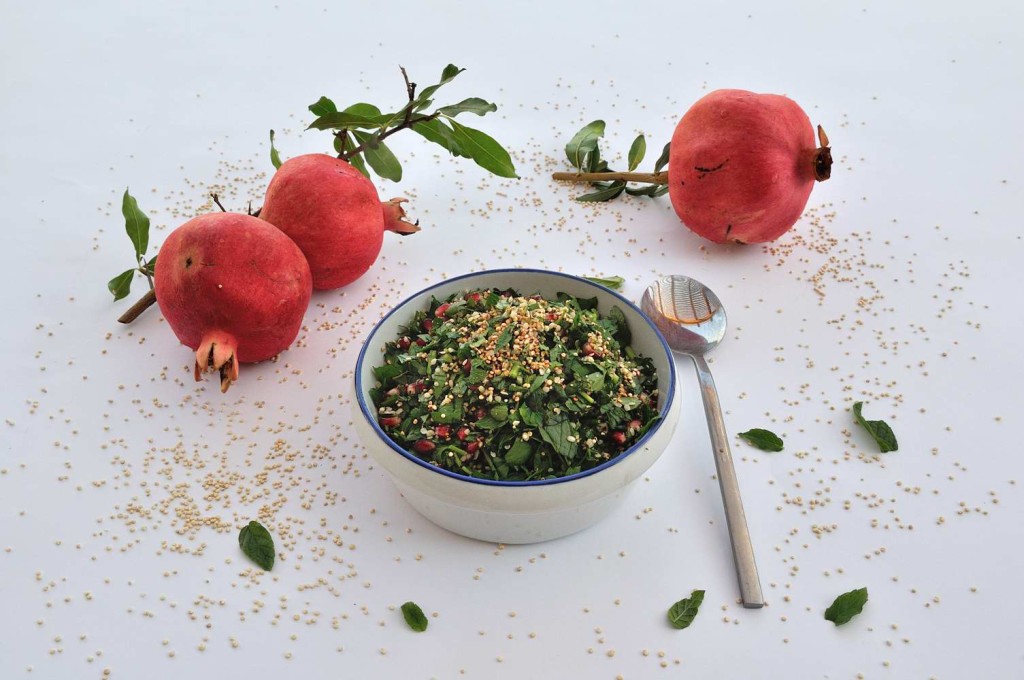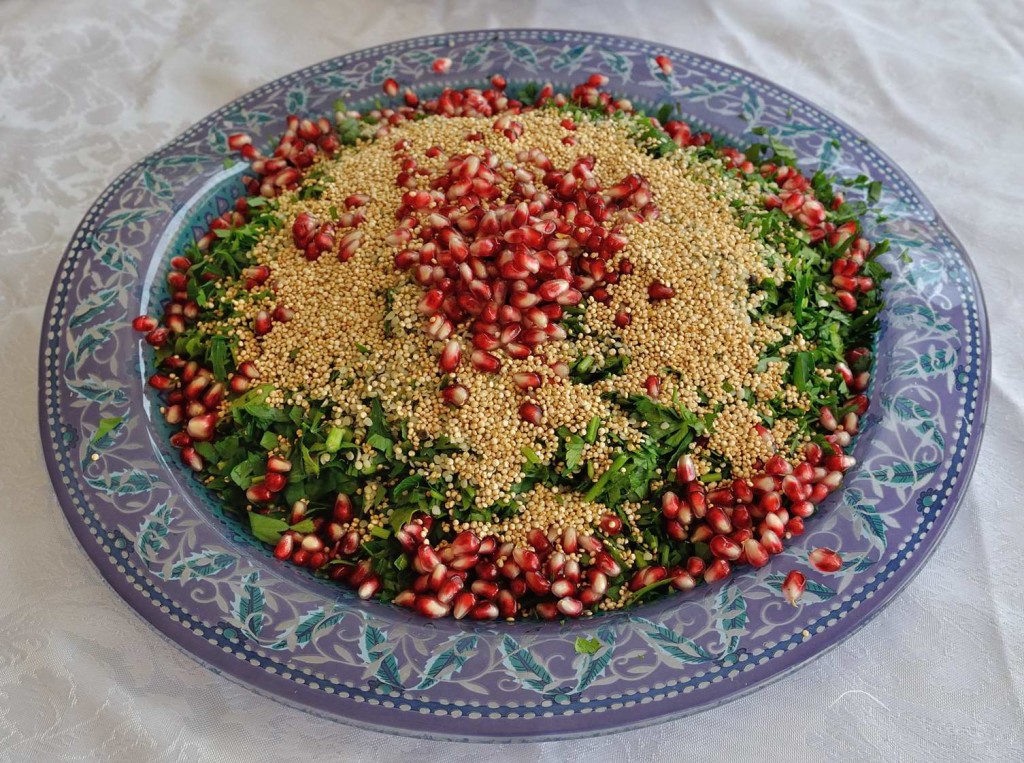 Red Rice Salad – colorful and fresh, mildly sweet and simple to make.
Recipe:
1 1/2 cup red rice
1/2 cup dried cranberries or raisins
1/2 cup raw almond , or walnuts, chopped to big pieces
1 beet, peeled and cubed
1/2 cup fresh corn kernels
Handful of parsley/coriander/mint leaves (choose your favorite)
Dressing:
1/3 cup olive oil
Juice from 1/2 lemon
1 garlic clove, minced
1 table spoon pure maple syrup
1 table spoon balsamic vinegar
a pinch of salt
Instructions:
Cook the rice according to the instructions on the back of its' package.
Put the beets in a pot, cover with water, bring to a boil and cook with the cover on for 20 minutes (check that it is soft enough).
Place the cooked rice in a big bowl, add the cooked beet cubes, the corn, the cranberries and your favorite herbs.
Mix all the dressing ingredients in a jar and shake well. Pour over the salad. Taste and add salt as needed.
Top with the almonds/walnuts.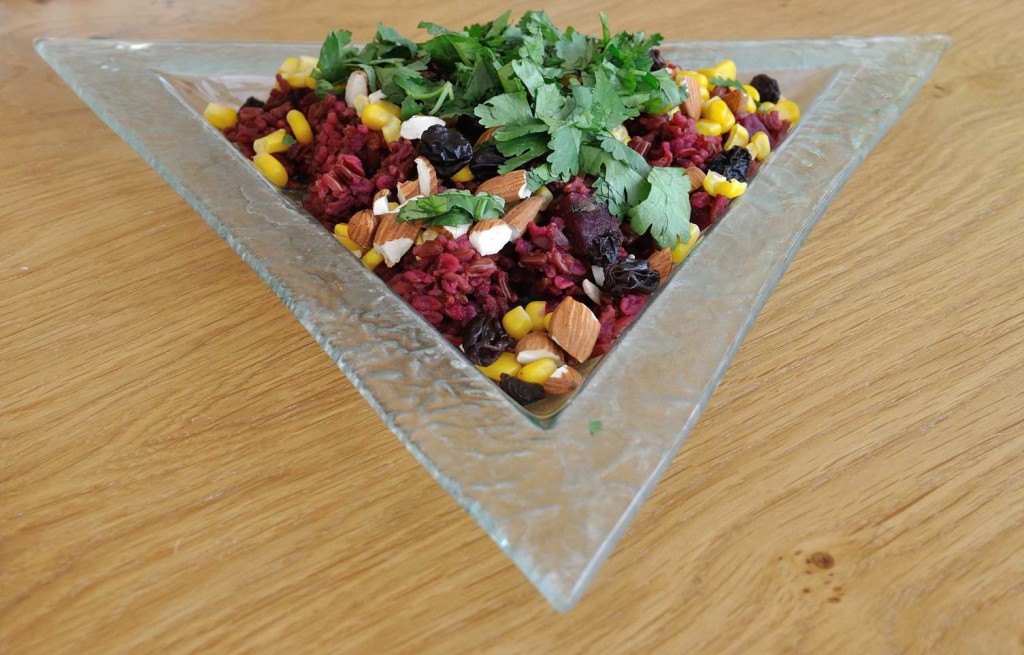 Roasted cauliflower head – this one is meant to replace the traditional fish head that is usually served on Rosh Hashana (Often a fish head is eaten, accompanied by a blessing saying "May we be like a head (leader) and not a tail (follower)").
Recipe: Bring a big pot to a boil and add a tea spoon of salt. Place the cauliflower head in the water and cook for 5 minutes. Note not to cook too long as you want the cauliflower to keep firm and not too fluffy.
Take the cauliflower out of the water and place on your oven pan. You can use many toppings for the cauliflower head, these are 2 that I often use and like: spread with a mixture of olive oil (5 table spoons), soy sauce (1 table spoon), date paste (1 table spoon) and mustard (1 tea spoon). The other option is to spread with olive oil and add some herbs (thyme and rosemary). What you see in the picture is half and half the 2 spreads. Place in the oven on 180 C degrees for about half an hour (check using a toothpick after about 20 minutes whether it is soft enough, we want it to be soft enough so that a toothpick can go through easily, and not too soft so that it crumbles).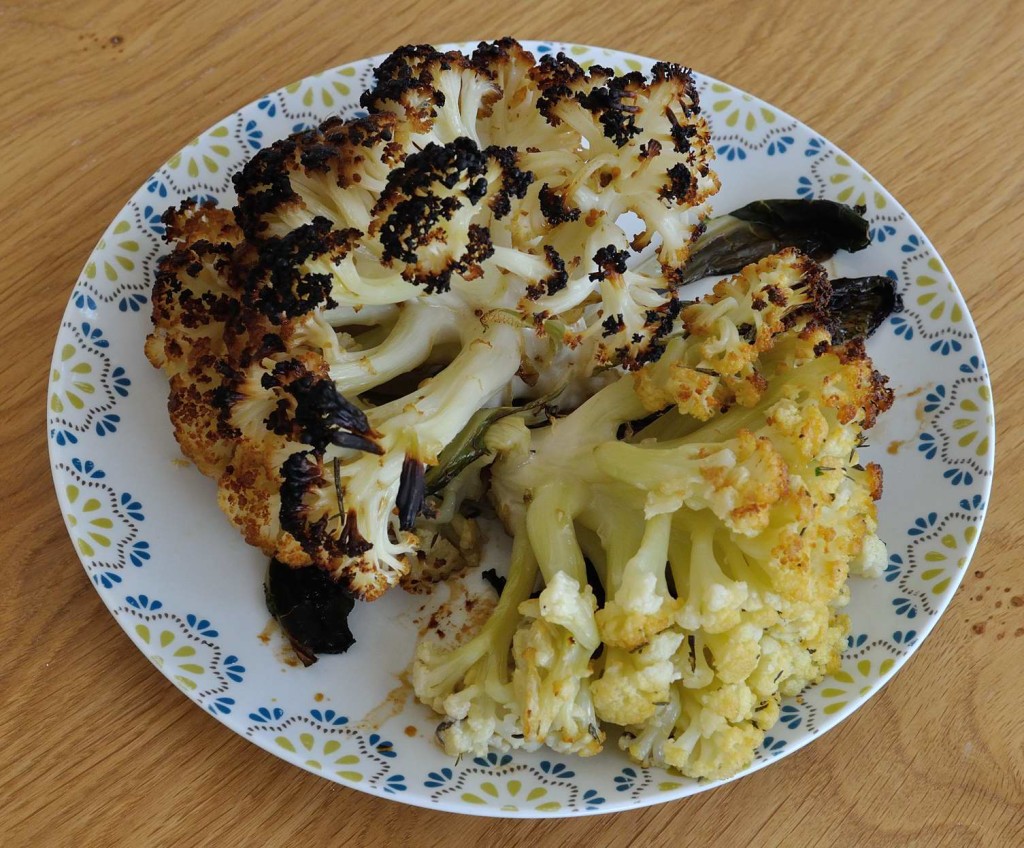 3 Color Pepper Quiche – Rich, colorful and tasty.
Recipe:
5 peppers (mixed colors)
7 garlic heads
1 package (250 ml) coconut milk
6 table spoons red lentil flour (can sub with splet or almond flour)
1/2 cup steel cut oatmeal
1 straw scallion
1/2 tea spoon nutritional yeast
1/2 tea spoon nutmeg
1/2 tea spoon celeriac salt (can sub with table salt)
Instructions: Roast the peppers and the garlic in the oven (whole) on 180 degrees until they brown (takes about 20 minutes for the garlic and 30 minutes for the peppers, check every few minutes). Remove from heat and wash under water. Carefully remove the peppers skins and cut into long thick stripes. "Squeeze" the garlic out of their skins. Mix all ingredients and move to a quiche pie. Bake on 190 C degrees for 10 minutes, then reduce heat to 160 C and bake for another 45 minutes (or until it turns light brown).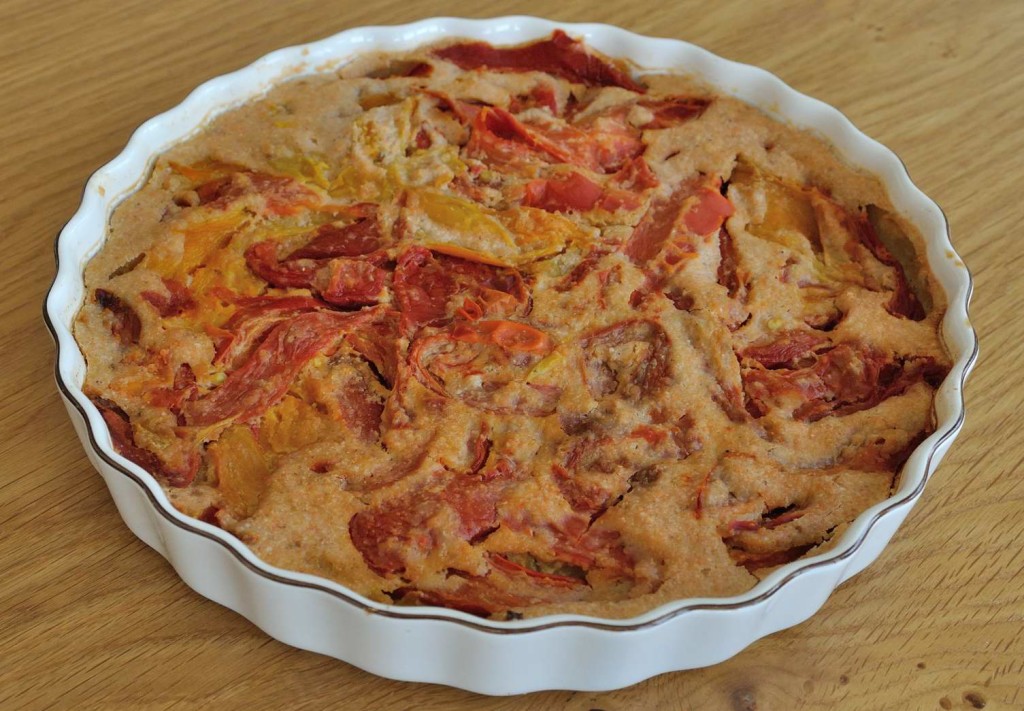 Lever style tofu dish.
Recipe:
3 onions, diced
1/2 cup red wine
1/4 cup nutritional yeast
1/4 cup tamari soy sauce (can sub with regular soy sauce)
1 package firm tofu
Instructions: Warm a pan and add the onions. Cook until brown (can take about 25 minutes). Add the wine and stir for a minute, then add the nutritional yeast, the soy and the tofu. Let the tofu brown while stirring occasionally, and remove from heat when brown (about 5 minutes).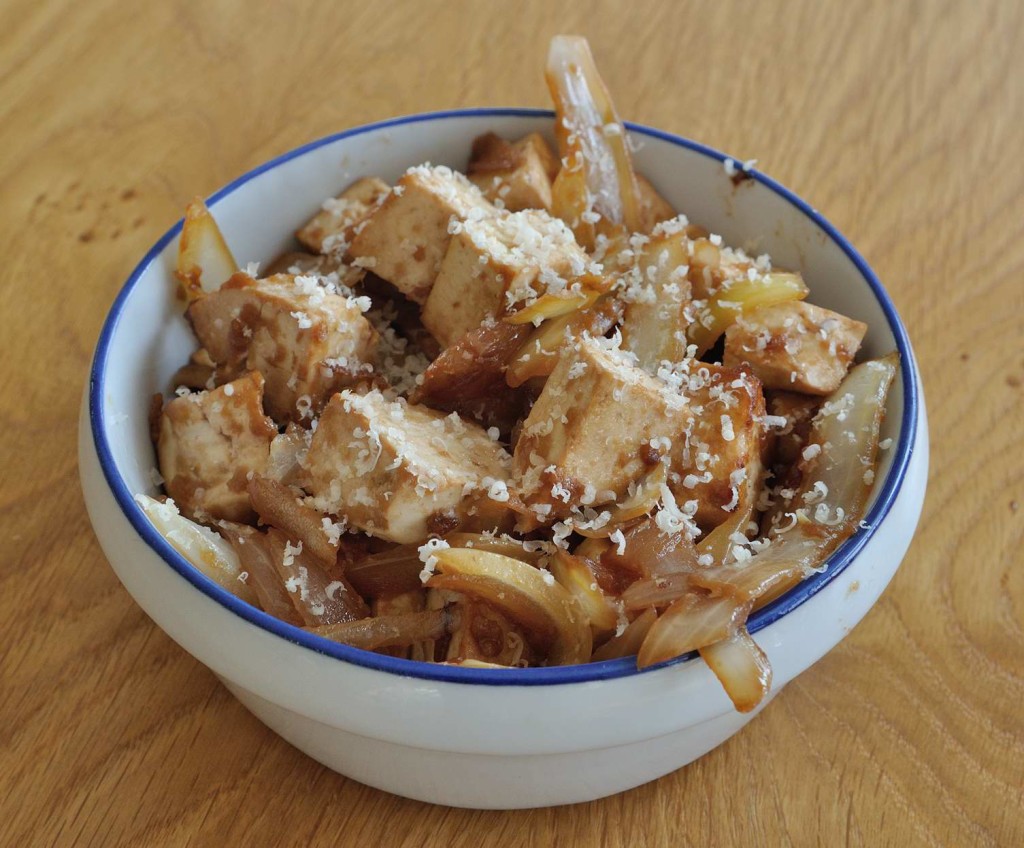 Acorn Squash Gnocchi in Roasted Garlic and Sunflower Seeds Aioli – Lately i'm obsessed with these Gnocchi, as I just love butternut squash, and I use the aioli for many other dishes as well.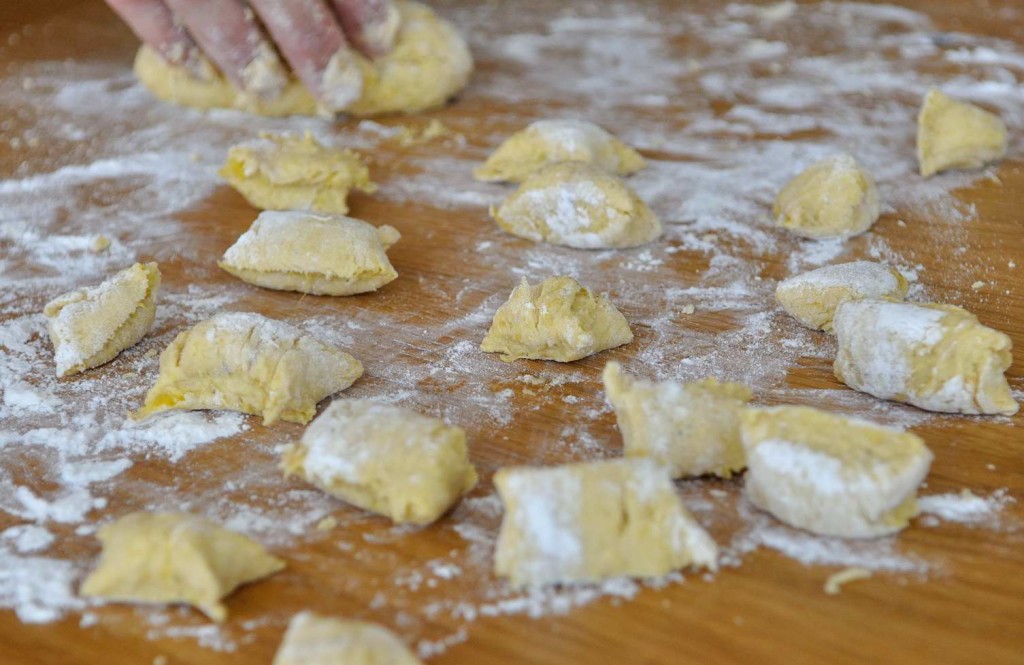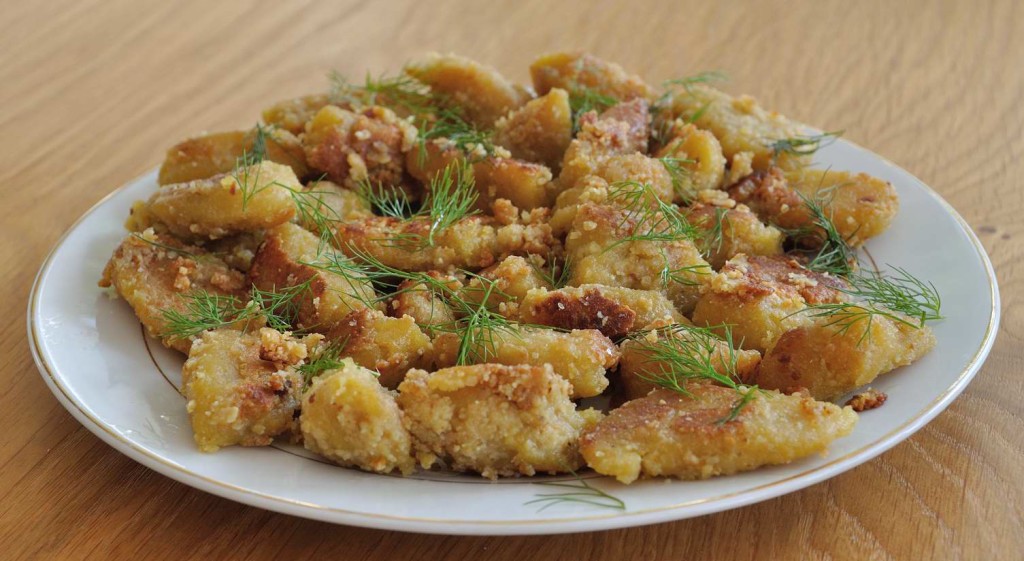 Almond Lentils and Roasted Garlic Patties in Tomato Gravy – Patties that stick well and are also gluten free.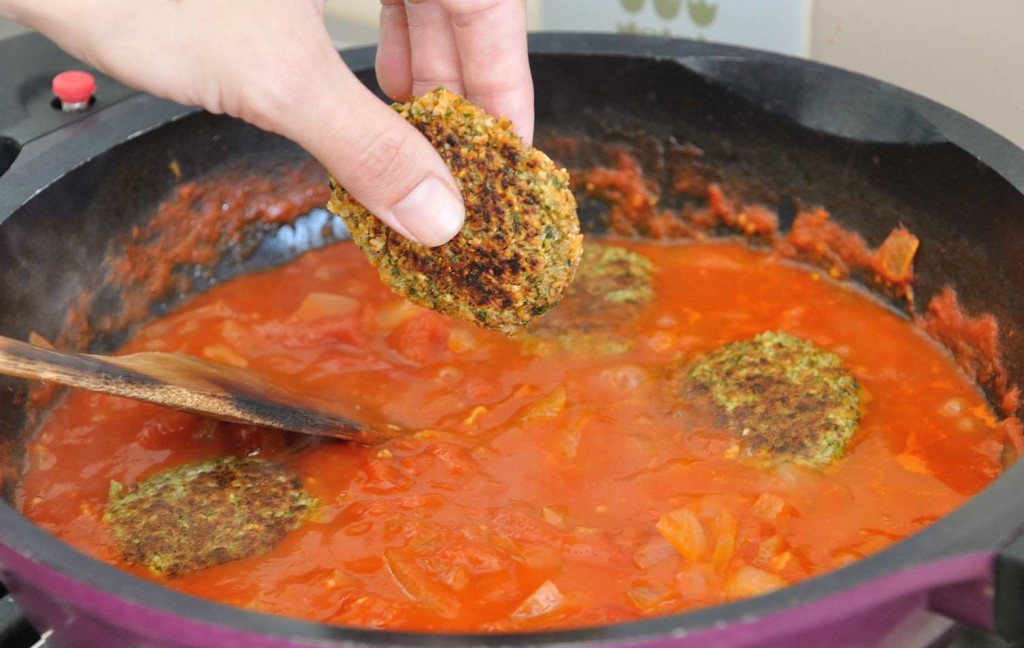 And for dessert, soft and delicious Apple Muffins.
Recipe (makes 11 medium muffins):
1 cup whole wheat or spelt flour
1/2 cup oatmeal flour (you can use a coffee/herb grinder to make this flour from oatmeal at home)
2 green apples, cubed
1 cup pureed apple (120 g)
3/4 cup almond milk or natural apple juice
1/2 cup pure maple syrup
1/4 cup coconut oil, in liquid form
1 tea spoon vanilla extract
1 tea spoon baking soda
1 tea spoon aluminum free baking powder (or sub with 1/2 tea spoon baking soda)
1/2 tea spoon salt
1/2 tea spoon cinnamon powder
1/2 tea spoon nutmeg
Zest from 1 lemon
Juice from 1/2 a lemon
For topping:
2 table spoons pure maple syrup
2 table spoons coconut sugar (optional)
Instructions: Warn an oven to 180 C. Warm a pan, and add the cubed apples, lemon juice, lemon zest, cinnamon and coconut sugar, and cook until it starts producing sweet fragrant and the apples has softened. Mix all the dry ingredients (flours, salt, baking powder and baking soda) in a big bowl. In another bowl mix all the wet ingredients (coconut oil, maple syrup, almond milk, pureed apple, vanilla extract, and the cooked apples mixture). Pour the wet mixture into the dry mixture and mix to combine. Pour 2 table spoons of the mixture into each muffin mold, and bake for 25 minutes (check using a toothpick and verify it foes out dry). Let cool , and when cold brush the tops with the 2 table spoons of maple syrup. Optional: sprinkle with the coconut sugar just before serving.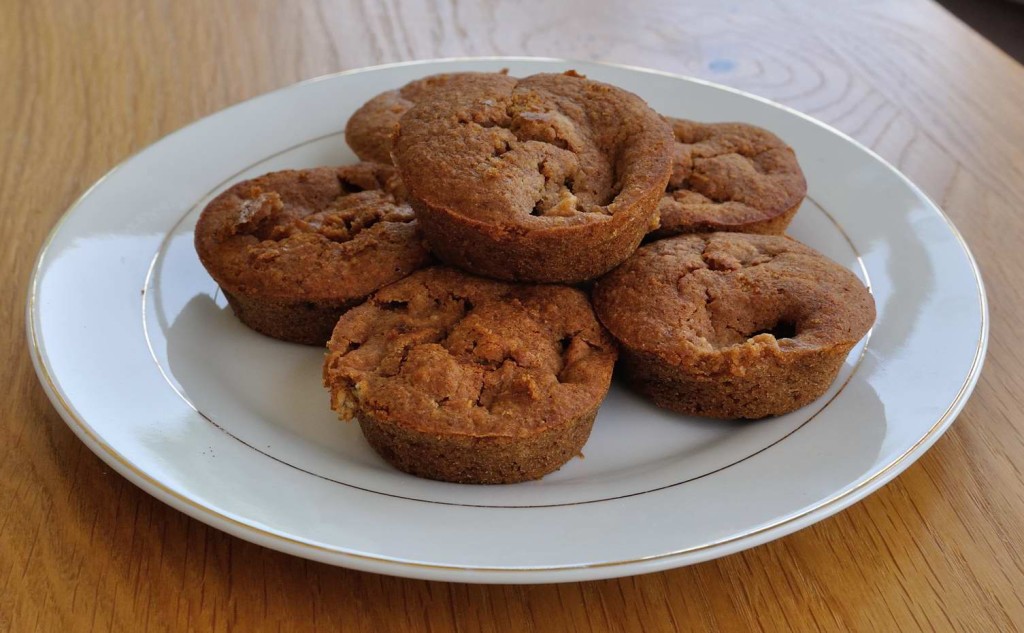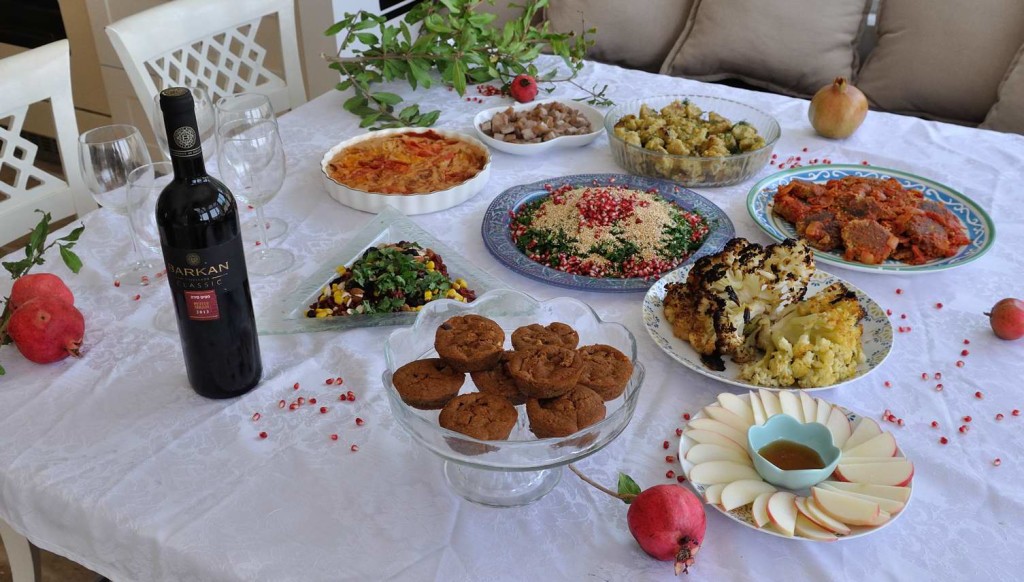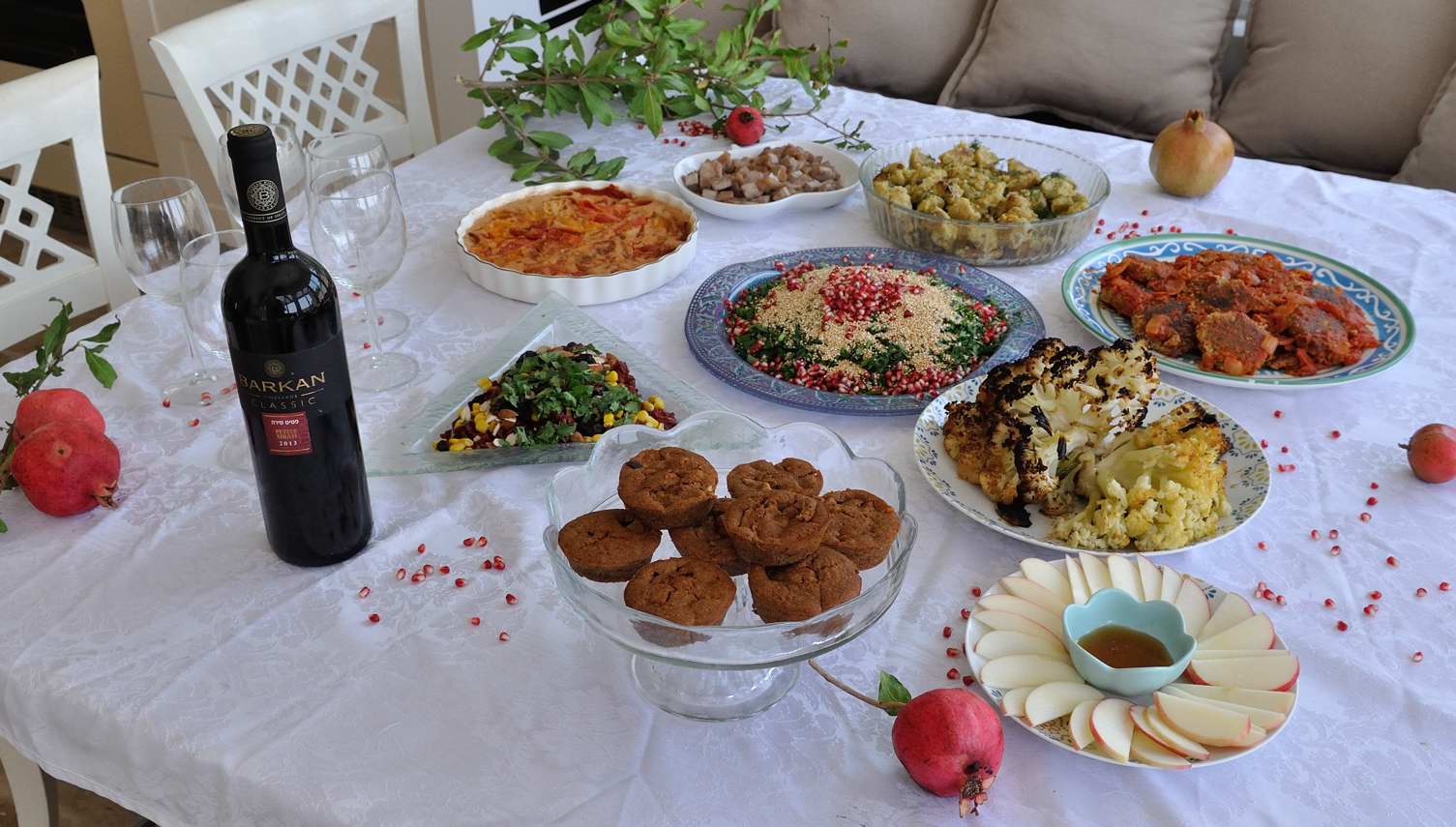 Wishing you all a Happy New Year!
Libby and Moran
P.S. 1
If you likes this content and wish to be updated with new recipes, Like VeganHightechMom on Facebook or register to get updates via email (Recommended option! only recipes and tips).
P.S. 2
The recipes for the rice, tofu, quiche and muffins are Libby's recipes. Libby is a A Certified natural  Nutrition Consultant from Reidman International College for Complementary and Integrative Medicine.  She manages a therapy clinic and uses natural techniques to help clients restore and maintain health and enhance their body's natural healing abilities by using natural methods such as; nutrition, herbal supplements and other therapies. Libby provides phone support as well and can be reached over phone at:+972-050-3053030, via email at: libbyle@gmail.com , or on her Facebook page.